VACAYA, the travel company that wishes to cater to our entire community, launched its inaugural cruise
With the tagline "Open sea. Open mind," new LGBTQ+ travel company VACAYA has a future as bright and as broad as the horizon itself. I've been on more than a couple of lesbian and LGBT-friendly cruises, but I've never been on a cruise that promised itself to be everything to everybody in the community. VACAYA's inaugural cruise up the Atlantic coast to Saint John, New Brunswick, Bar Harbor, Maine and finally, Provincetown, Massachusetts, in August set its sights high.
I joined the trip because VACAYA had reached out to me in what seemed like an earnest appeal to quite literally get lesbians onboard. Attracting gay women to any venture at short notice is hard unless it's The L Word. So I knew I wasn't signing up for a lesbian cruise, and this wasn't billed as such. VACAYA's brand targets "LGBTQIAPK", which means everybody, including the polyamorous and the kink community. But can we all get along on a cruise or in a resort without being irked by each other's specific modes of identification and expression? My answer is: with a bit of work, yes.
Let's be clear, though. On this cruise, women were — as they often are — in the minority. But we can't be present and included unless we show up, and lesbians often won't show up unless they can be sure they're invited and catered to. This is the Catch-22 VACAYA that needs to be overcome.
I'm the kind of non-separatist lesbian who enjoys mingling with gay men and straight women who love them. Or at least, it's how I was raised, and perhaps that's generational. The gay men I met on this cruise were diverse: Retirees, younger gays, married couples, swingers, exhibitionists, introverts, bears, twinks, models, super-plus-size people, differently-abled folks, and a porn star or two. A few times when chatting, I inquired about the person's gender expression or sexuality because this was not, by any means, a cookie-cutter cruise situation.
The men I met were kind, polite, accommodating and good-humoured. Some even felt bad that they were "the loudest voices" on the ship. They most certainly had the vessel run, including a designated sex space, and there was no such space set aside for women — sexual or otherwise (more on that later). I encountered the other female passengers when pushing through a sea of semi-clad male bodies or at mealtimes when we would offer spirited "high fives" of solidarity in the dining room. Sometimes it felt like women on this voyage passed each other, quite literally, like ships in the night.
But finding my lesbian community onboard the Celebrity Summit was not the trip's focus. Finding community was, and I revelled in the sense of harmony, fun, goodwill, and some superb entertainment. As a group, we marvelled at the launch performance by the godmother of VACAYA, Broadway star and Tony Award winner Kristin Chenoweth. I'll never forget her duet with Katharine McPhee — "For Good," from Wicked — which embodied the importance of allyship, as these two straight women singing (Chenoweth in a rainbow-sequinned mini dress!) somehow became the gayest thing ever.

But the most prominent, truest lesbian performer was singer/entertainer Susie Mosher whose floating version of her Manhattan nightclub show "The Lineup" was a firm favourite not just with guests but with the stars themselves who came along to revel in the energetic host's improvised singing, hilarious banter, and careful selection of vocalists. Admirers included Katharine McPhee and her husband, multiple Grammy-winning composer David Foster. McPhee's performance concert — warm, feel-good, pitch-perfect — included an incredible impersonation of Celine Dion's "My Heart Will Go On," which could indeed have gone on (parallels to the Titanic notwithstanding). McPhee was a class act with her impeccable vocals, immaculate cream suit and orchid boutonniere.
Also revelatory was Alex Newell, who played a groundbreaking male-to-female transgender character in Glee and possessed a voice that could raise the rafters. Alex presents as trans, but I understand that he identifies as male. His presence helped to emphasize that snap judgment, both outside and within our community, shortchange the multitudinous beauty of who we are.
For example, whoever thinks women (especially lesbians) are not funny or can't take or deliver a joke would have done well to witness an entire theatre of (mostly) gay men throw their heads back and howl at standup comic Jessica Kirson as she made fun of men, and even herself. And there were many other "you had to be there" moments, such as Alex Newell and Tori Scott (she's been billed as Bette Midler for the new millennium) do an impromptu duet (Judy and Liza's "Happy Days Are Here Again"); the stateroom balconies festooned with coloured panels to make up a giant rainbow flag; and the actual Rainbow Flag reunion in Provincetown. And it was just luck that I got to catch Lea DeLaria performing her unique singing style (jazz cover of David Bowie!) at her new club on Commercial Street.
And, of course, back at sea, the circuit party-influenced T and V dances kept popping with every lesbian's favourite DJ, Whitney Day. I always enjoy DJ Lady Bunny's pop-centric playlist, which wouldn't be complete without some Kylie Minogue.  
It was quite by accident that I found myself one night in the Jacuzzi with two gorgeous female performers from Nautique Burlesque, and that got me thinking: While there was a designated men's sex space onboard — sports deck, 10 p.m. to 5 a.m. (and boy, did Tori Scott and Jessica Kirson have fun making fun of it!) — there was no such space for women; not even one for doing what we did, which was, have a couple of drinks and chat among the bubbles. OK, so I confess I took my swimsuit off! But I think there's room for something energetic and female, so I spoke to VACAYA management to see if they might turn over the Solarium to the girls for a few hours one evening for a spell of pampering, pleasure and relaxation with likeminded femmes. Maybe we'll call it the Isle of Lesbos!
The Celebrity Summit was recently refurbished, and it's a pleasure to roam. It also has one of the most beautiful and well-designed theatres I've seen on a ship. The staterooms are home-away-from-home. My most tranquil and joyful moments were onboard — to the extent that ports were fine, I enjoyed them. In LGBT-friendly but frontiers Saint John, I brushed up on my Canadian history; beautiful Bar Harbor was the place for a lobster roll and a coastal walk, and Ptown needs no introduction — it is and always will be our ancestral gay vacation home. But I was always happy to embark again, especially at martini time.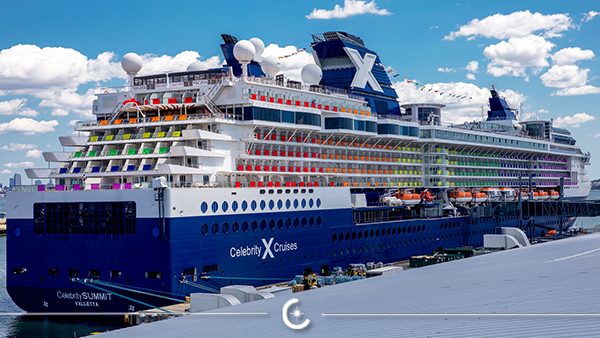 All this now needs to truly reflect the diversity of our community is … more women! But in the meantime, I'm pleased with my experience, and while our alphabet soup acronym is already quite extensive, I can now add another letter — "V" for VACAYAN. Here's to my next VACAYA experience. The song says: "Who can say if I've been changed for the better. Because I knew you, I have been changed for good."
Check out future trips at myvacaya.com.