For a hot and spicy culinary and cultural adventure, this Asian oasis has it all.
Start your exotic journey in Singapore, an island country off the Straits of Malay. It's no surprise that this country has been called the most globalized country in the world. The cosmopolitan city-state has a very rich and diverse culture that is reflective of its population, which consists of Chinese, Malay, Indian, Caucasian and Asian (of various descents). Small in size, Singapore boasts big amenities. With its five million citizens, Singapore is a financial force and the fourth wealthiest country, offering a very high quality of life index.
If you are looking to live like a local, slip into the uber-exclusive Valley Wing at The Shangri-La Hotel in the tony Orchard Road district. This 5-star hotel plays host to heads of state and global celebrities. Whether it's Obama or Becks, it's the premier hotel in Singapore. Their world-class service starts the moment you walk through the door. Your private butler will escort you to your sweeping suite overlooking the pool and gardens and assist with your unpacking while your stunning masseur prepares your table. There's no better way to shed jetlag.
If rain is on the tropical schedule, indulge in an ambient afternoon nap or a romantic window before heading downstairs for complimentary champagne and cocktails in their luxe lobby. It's the perfect warm-up to The Line, a foodie's playground and their hip trendy restaurant on site. The food is as artful and evocative as it is delicious. Play the field hitting the 16 stations of international food offering several small bites from the noodle to raw bar to their endless display of desserts.
After an evening of sweet dreaming get ready to explore the city. Singapore is a well-known foodie capital. Yet unlike other international outposts, in Singapore, you not only eat from the street but also eat off the street, as it is equally known for its cleanliness. So rest assured those food stalls and hawkers are good to go.
Head to The Maxwell Road Food Centre, once a wet market, for your local foodie fix. Try signature dishes Won Ton Mee (noodles with dumplings and pork), ngoh hiang (local sausage) and Char Kway Teow (fried noodles in soya sauce with cockles and eggs).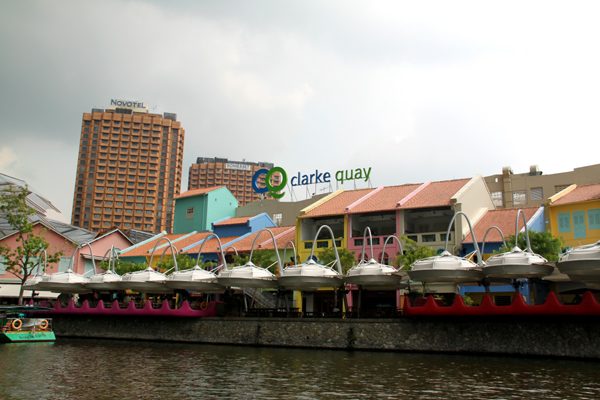 Mid morning hop on the River Cruise to get a full view of the city and its many sights from Merlin Park, The Esplanade, Singapore Flyer, the vibrant Clark Quay and the new Marina Bay Sands Hotel and Casino, which looks like a surfboard in the sky. It's an interesting and mad mix of both old and new. Once a busy warehouse district, the Clark Quay today boasts an array of ethnic restaurants, English pubs and cocktail bars. After hours, it's a great window into the local, bustling ex-pat life.
If you're looking for a more dramatic view, hop on the Singapore Flyer for a breathtaking panoramic view of the city where many host parties in their VIP capsule. It's available for an exchange of vows, a romantic rendezvous or the simple sipping of champagne.
Now that you've got the lay of the land, it's time to dig deeper. Pop into the Peranakan Museum. Peranakan is not a term often heard outside of the region, yet it is very common to locals in Singapore and Malaysia. It refers to the many hybrid cultures that have since developed due to the mix of foreign traders who married local women through the years. This new boutique museum offers a look into the cuisine, culture, and many rich traditions. Finish off the tour with lunch next door at Tru Blu a traditional Peranakan restaurant. Feast on the delicious local fare full of flavour and spices. Indulge in otak-otak, a blend of fish and coconut milk, chilli paste, galangal and herb wrapped in banana leaf or itek tim, a classic soup of duck, tomatoes, green peppers and preserved sour plums. This is true fusion food.
If interested in the cocktail culture, try an array of different flavoured Singapore Slings on their cocktail menus at the historical Fullerton Hotel overlooking the river or slip into Raffles Hotel where it all began, the city and The Sling itself. The hotel is named after Singapore's founder Sir Raffles. The Long Bar at Raffles, home to the Singapore Sling is a must. It's a definitive window into the old colonial Singapore and its English influences. Beware, as the drink is a bit pricey ($27 to $30 USD).
After happy hour, be sure to explore the grounds and the many shops. You'll find Louis and Tiffany's, but the real finds and surprising travel bargains on site are the one-off shops where summer hats and vintage travel Singapore posters are sure to please.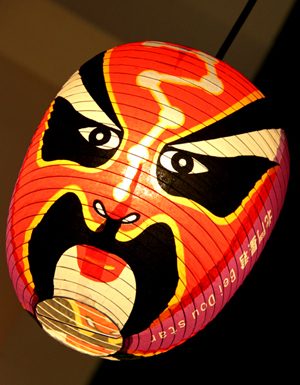 Before returning to your local castle, get lost in the many ethnic neighbourhoods in the city, as there is no better way to wrap your head around this multicultural melting pot. From Chinatown to Little India and the Malay and Arab District you can slip in and out of temples and mosques, hit high-end boutiques, craft and souvenir shops, or simply take in the local lure on the street, at tea shops or with food hawkers. It's a great city to get lost in, in order to find the real soul of the city.
One word to the wise, forget about haggling. Their economy is strong. So, if you walk away from a booth all high and mighty on top of your game, know that you are the only one that is playing. Please believe that you will not be missed. A fixed price is a fixed price in Singapore. Don't worry market prices are really cheap and full of local finds.
For an adventurous evening, it's a toss-up between Singapore's famed night safari or dinner at Shangri-La's own BLU. BLU's Canadian chef Kevin Cherkas has an impressive international resume from Daniel Boulud's Daniel restaurant in New York to the three-star Michelin Arzak and El Bulli, both in Spain. His inventiveness and creativity literally pop off the plate and explode on the palette. This cutting edge culinary experience is complemented by the sexy atmosphere and city views.
It's easy to see why Singapore is one of the happiest places on earth and 5 million people are happy living there. Enjoy your regal sleep before bidding adieu to this sophisticated and blissful city and state.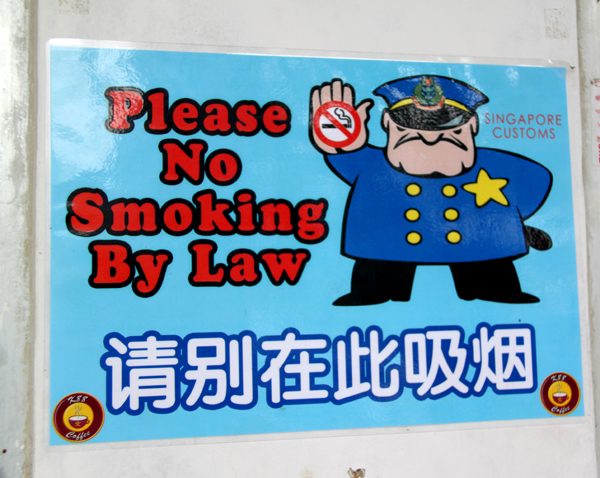 Girl Talk – As hip, progressive, international and multicultural as Singapore is, it is still a very conservative society. The ex-pats in residence have certainly shaken up the landscape yet it remains a conservative place with no gum chewing, strict drug laws including marijuana and antiquated sexual politics. In recent years, the gay scene has grown in leaps and bounds for the boys and is largely based in Chinatown yet most bars are for guys. There are several that are gay friendly with a mixed gay and straight crowd that you would typically see in West Hollywood at The Abbey.
The documentary based on three lesbians in Singapore, Women Who Love Women, is sure to change the landscape or at least open the conversation.
If looking for the local lesbian scene check listing when heading over as some clubs such as Zouk have lesbian-themed club nights.
To Stay  – The Valley Wing of the Shangri-La Hotel is an uber-exclusive enclave off of the tony Orchard Road shopping district in Singapore. Shangri-La offers unrivalled service and stunning suites and a candy concierge who replenishes your room's chocolates throughout the day. That's reason enough to click your well-travelled heels and say, "There's no place like Shangri-La. There's no place like Shangri-La."  (shangri-la.com)
To Play – Having experienced a real African safari I failed to see the intrigue in a night safari in Singapore. Well, I must say I was pleasantly surprised. There is no tracking of the animals as they are all right there, right before you, a plentiful bunch roaming free but a few feet away for your viewing pleasure. It's a definitive can't miss. (zoo.com.sg)
Flying High –Slip into a Cathay Pacific flight. Hong Kong's national airline is seamless in service and provides you with one of the best cinema selections in-flight complimented with the best wines from around the world. It's a blissful window of travel that will have you in top form, ready for action once on the ground.. Flights to Hong Kong leave daily from LA, New York, San Fran. It's an easy connection to Penang from there. (cathaypacific.com/us)
For more information on Singapore and all that it has to offer, visit yoursingapore.com.