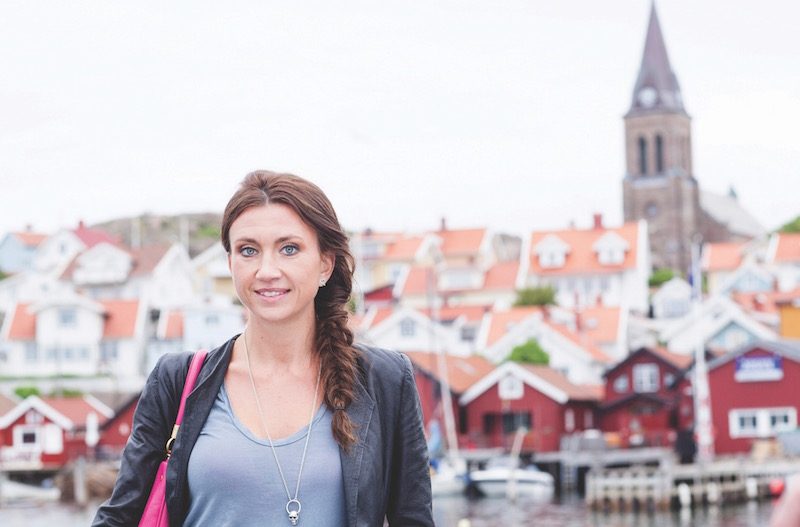 Go west, go Sweden; as seen in our Feb 18 issue!
Only an hour out of Gothenburg, the capital of West Sweden, nature-loving women can venture along the coast to sample the seafood, scenery, and Swedish culture in the raw.
Approximately the size of Belgium, West Sweden is its own destination. On this trip, I experienced the province of Bohuslän on the picturesque and rocky coast that extends North to the Norway border. The Bohuslän coast is distinguished by its granite boulders and outcrops which create an otherworldly landscape in muted greys, pinks or gold at sunset against a slate-and-sapphire coloured sea. Stark Swedish beauty at its best.
Unspoiled by mass tourism, the Bohuslän Coast has long drawn adventurous souls to it—rock carvings date back to 800 B.C., and in 1731 the Swedish East India Company was founded and the area became a centre for fish production, shipping, trade, and resorts featuring bathing and amusement parks. It's also a place of mystery: Sweden's bestselling crime author, Camilla Läckberg, comes from a small summer resort town in Västra Götaland.
This portion of the Swedish coast boasts 8,000 islands and natural harbours, little red cottages and lighthouses. Famed for its herring, today it's more known for mussel farming in the cold, clear waters and when in season, prawns, oysters, lobsters, and langoustines (also known as Norwegian lobsters).
This is a pescatarian's paradise, where the day boat catch ends up as your fine dining experience. Swedes believe in everyday luxury—not opulence, but rather simplicity and freshness equals sophistication. Everyone should have something good on their table. That's the Swedish belief.
If you're a fan of Swedish-American screen legend Ingrid Bergman and want to understand why she always had that healthy glow, a charisma befitting the feminine divine, and advanced politics regarding women's and children's rights, you're not too far from the island where she spent 25 consecutive summers in a cottage in Dannholmen in the Fjällbacka archipelago.
Here's what I did on my West Swedish adventure. About a 40-minute drive from Gothenburg to Lyckorna I embarked upon a mussel "safari" at Musselbaren (the mussel bar). My small group met up with Skipper Janne to sail the fjords to the mile-wide mussel farms where he explained the sustainable practice of farming blue mussels, and why, of all things, they're a good and delicious choice of sustenance.
Back at the Musselbaren, Janne cooked up the catch with wine and herbs, served with freshly baked bread and fries and we enjoyed our lunch in a quintessentially Swedish environment.
An hour's drive to Nösund is the family-owned Nösund Havshotell, situated on rolling lawns that go right to the edge of the sea. At the beginning of the last century, Nösund was a holiday resort where folks came to enjoy steaming seaweed baths and hearty, home-cooked food. Today, Nösund Havshotell carries on the tradition of offering self-contained, simple accommodation and a spa with views and a genuine seaside atmosphere.
After soaking in the heated pool, I took the ladder down and dunked myself in the bracing, briny sea. To actually get out on the water I took a guided kayaking tour with Kayak in Grundsund and the delightfully outdoorsy Christina Ingemarsdotter. We enjoyed a coffee break or fika in our kayaks, surrounded by the stunning beauty of Boshulän's archipelago and its rocky forested coastline. All that paddling made the three-course dinner and wine at Nösund Havshotell extra delicious.
From there it was an easy one hour drive to LaÌŠdfabriken, which means "fish box factory." This gay-owned and operated B&B has been lovingly converted from a very humble structure into an impeccably designed abode full of hand-selected artworks and curios. Located on the edge of the Skagerrak Sea in Bohuslän, LaÌŠdfabriken offers four distinctive rooms, each with a private bathroom.
It was heaven to relax in a midcentury designer chair, chat with the handsome and charming hosts, and gaze out at the sea. During high summer I can imagine relaxing on the terrace or strolling the manicured gardens and possibly even taking a refreshing dip!
To continue the artistic theme we headed to Pilane sculpture park on the beautiful and windswept Tjörn Island. We wandered uphill and down dale through a majestically curated collection of modern environmental sculptures. It's a significant site not just because of these imposing artworks; ancient tribes chose this rocky, elevated spot as a meeting place and today you can still see 90 'judgment circles' and raised stones dating back to the Iron Age.
This being Sweden, of course art is all around you even when you're up a hill or by the sea. The spartan and stunningly designed Nordiska Akvarellmuseet (the Nordic Water- color Museum) exhibits artists such as local legend Arne Isacsson and touring exhibitions. This museum was environmentally certified in 2014 and the building blends in with nature to tranquil effect.
It is a local landmark that sends out a positive message of cultural diversity, inspiration, heritage and accessibility. At Restaurant Vatten (water in Swedish) lunch consists of fresh, locally caught seafood and views of the gentle Swedish light bouncing off the water.
Only 15 minutes down the road is another island and the quaint town of Klädesholmen. Its pride and joy once was herring and now is the very chic Salt & Sill, Sweden's first floating hotel. The property consists of six two-story structures built on pontoons affording sparkling vistas over Bohuslän's outer archipelago.
Decorated with nautical simplicity the cabins on the lower level have ladders that descend right into the sea. On an upper level is an outdoor hot tub and sauna for relaxing and socializing. Explore the town at sunset and soak up the atmosphere of this fishing community. Then tuck into dinner at Salt & Sill's excellent restaurant. Yes, West Sweden is a catch in more ways than one.
If you go:
Summer, June to August, can be cool especially at sundown, so bring a warm jacket and hat. To dine well and inexpensively, make your main meal lunch and eat for less than you pay at dinner. Alcohol can be pricey unless you drink moderately or shop at the state-approved liquor store (Systembolaget). Tipping is not expected although it is customary to "round up" the bill. Getting around is easiest by car but speed limits are enforced and roundabouts are used rather than traffic lights. If you don't wish to drive it's also possible to see a lot by ferry, rail and tram.