Located at the base of the Hollywood Hills and adjacent to Beverly Hills, the city of West Hollywood is just 1.9 square miles in size and has a population of 39,000.
A creative and progressive city, West Hollywood embodies the quintessential L.A. lifestyle.
The city is comprised of three main districts: the world-famous Sunset Strip, eclectic Santa Monica Boulevard, and the West Hollywood Design District – known for its design showrooms, restaurants and shopping.
Situated at the geographical heart of Los Angeles and nestled between Beverly Hills and the famed Hollywood Hills, West Hollywood is a hotbed of activity for the nightlife aficionado, gourmand, and fashionista alike.
But aside from the glitz of the Sunset Strip hotels and renowned restaurants sprinkled throughout the city, LGBT culture is alive and thriving in WeHo with hundreds of hotels, nightclubs, watering holes and shopping experiences catering to the diverse LGBT community.
The Abbey
Santa Monica Boulevard, which runs through the center of West Hollywood, is also the epicenter lesbian nightlife in Los Angeles. With dozens of gay-centric nightclubs, lounges, restaurants and shops, there is always something fresh and exciting to see or do in West Hollywood. Known for their delicious Tex-Mex cuisine and ice cold margaritas, Marix is a lesbian-owned neighborhood favorite right behind their other WeHo gem, Basix.
Both restaurants have long been a part of the community and continue to serve locals and travelers alike with their signature friendly service, great food and WeHo charm! If nightlife is what you're after, a few blocks down Santa Monica Blvd. and off Robertson Boulevard is internationally known club The Abbey.
For over 20 years, The Abbey has been the quintessential lesbian and gay meeting point for patrons the world over. Girl Bar at The Abbey, founded by Robin Gans and Sandy Sachs, has brought together women from every corner of the world and is one of the most prominent examples of lesbian nightlife in the Greater Los Angeles area.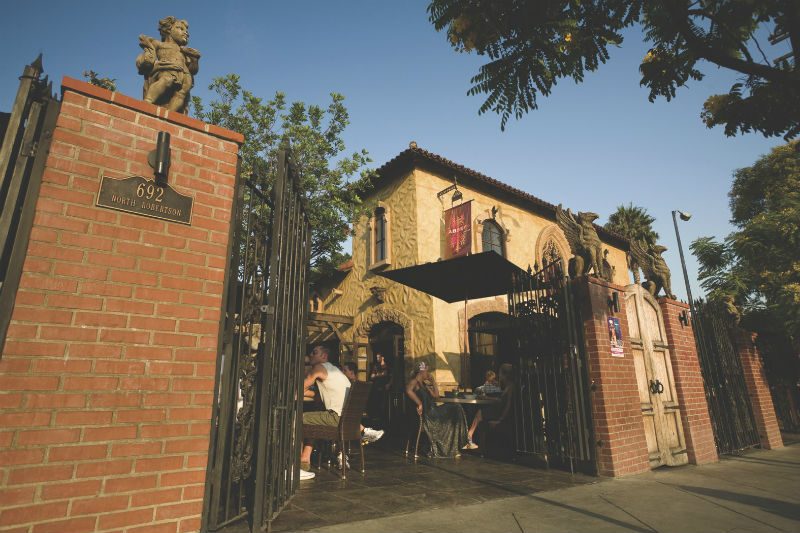 Culinary marvels and exhilarating nightlife aren't the only parts of the city guests come to enjoy. If fancy retail and stunning design is what catches your eye, Melrose Avenue, Robertson Boulevard and Beverly Boulevard converge in an area known as The West Hollywood Design District – the art, fashion and epicenter of West Hollywood.
The West Hollywood Design District has become the West Coast's premier high-end destination for fashion, interior design, art, and cuisine. Because of its fresh, youthful energy, world-renowned designers such as Christian Louboutin, Alberta Ferretti, Balenciaga and 3.1 Philip Lim have chosen West Hollywood for their exclusive boutiques The Avenues district also features a wide array of local designers, salons, spas, galleries and outdoor cafes.