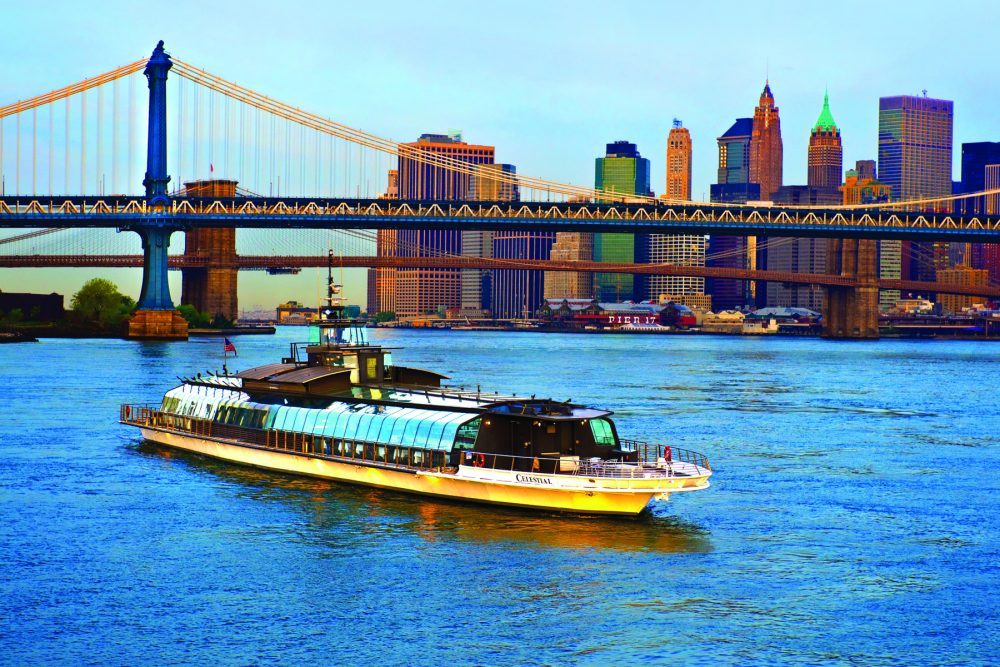 See New York City in all its glory from the water this WorldPride
If you're visiting New York this Pride, and want to see the city skyline from an unbeatable vantage point, consider a cruise with Bateaux New York. This is not an ordinary harbour cruise! This is on a sleek and stable, all-glass, European-inspired ship that is your portal to seeing the city as you've never seen it before.
Departing from Chelsea Piers, Bateaux New York takes you and your date on a leisurely three-hour cruise along the Hudson River and New York Harbor as you marvel at the city skyline reflected in the setting sun. While most cruises offer food that's underwhelming, to say the least, Bateaux New York offers an extensive a la carte menu boasting gourmet cuisine freshly prepared by an onboard Executive Chef.
From the moment you board the vessel, the waitstaff, whether host or servers, are incredibly friendly and knowledgeable and assist with your choice of food and wine. The meals are delicious and if you're in the mood to spring for fresh seafood such as oysters and lobster paired with some French champagne — that's an option, too!
As my date, I took a dear friend who loves New York, especially the Statue of Liberty, as much as I do. And while many such cruises have a distinctly 'hetero' vibe, I'm pleased to report that the Bateaux New York is very LGBTQ friendly — and also pretty gay! Seated behind us a young gay couple were celebrating their anniversary, and your entertainment for the evening — the Sterling Band — are an out lesbian couple. More on them below!
While we dined, we enjoyed the live music, singing, piano playing and watched some folks dance, and we continued to marvel at the iconic skyline views of the Empire State Building, the Freedom Tower, the Brooklyn Bridge, and once the sun had set, the stunning Lady Liberty herself.
If you're enjoying a special occasion such as a birthday or anniversary, you might just be invited by the First Mate up onto the bridge where you can enjoy private and unobstructed views of New York. It's a special night I'll never forget, and while I live in this city and can see it any time I choose, I've never seen it quite like I did that night.
I was also very impressed with the onboard entertainment duo and real-life couple Kyleann Burt and Joey Douglas of the Sterling Band. Kyle is magic on the keys and backing vocals, and Jo, who moves throughout the cabin, singing standards and covers with mellifluous grace (think everything from Alicia Keys to Frank Sinatra), is more than a cut above the usual. I was so delighted to meet them that I chatted with them both to grab their thoughts on why Bateaux New York is such a good fit for LGBTQ couples:
How long have you been working with Bateaux New York?
Jo: We have worked on the Bateaux since 2001 pre-9/11.
Kyle: I started with the company in 1987 and Jo started in 1996.
How did you two meet?
Jo: At the time Spirit cruises had live bands. Each ship had a band per deck and all the ships had two decks. My band was hired for one deck and Kyle's band was hired for the other. The first time both bands worked together I walked to the top of the stairs with the intention of introducing myself, took one look at her behind the piano and instantaneously just "knew."
Kyle: And when I looked up to greet her, all I knew was that I was in for some big trouble! [laughing] We've been together ever since.
How long have you been working together and when did you start The Sterling Band?
Kyle: In 2000 the product for Spirit Cruises changed to DJs. By then the Bateaux had come to New York and in 2001 Jo and I combined forces to start The Sterling Band aboard the Bateaux.
On average, do you notice many LGBTQ couples on the cruises?
Kyle: There are LGBTQ couples nightly. Aside from couples out to have a nice night, we frequently witness proposals, host both weddings and receptions on a regular basis. It is very much the norm on the Bateaux New York.
How LGBTQ friendly would you say the cruise company is?
Jo: The company as a whole has always been LGBTQ friendly. At one point our general manager, and our food and beverage director were both gay. Our current Food and Beverage Director married his husband on one of our sister ships and several heads of departments are LGBTQ. It is the most gay-friendly, supportive LGBTQ company for whom we've ever worked.
Kyle: On a more personal note, they gave us our reception at the Bateaux as a wedding present! We've enjoyed watching our former GM ride with his husband and slow dance very sweetly on the dance floor. The point being that LGBTQ folks are welcome to make themselves comfortable in Bateaux New York.
Jo: It's not only the New York operation that has this vibe, but inclusivity is a big part of the entire culture all the way up to corporate offices in Chicago. We're excited about our company's upcoming pride party for all the staff at the end of this month.
Anything you'd like to add?
Jo: Overall, it's a very international experience and we've enjoyed meeting LGBTQ people from all over the world—we've had lesbians from Australia, we've met gays guys from Brazil, last year we had a large party of beautiful trans models joining us one evening. We could go on and on about this subject because we've always been given so much support.