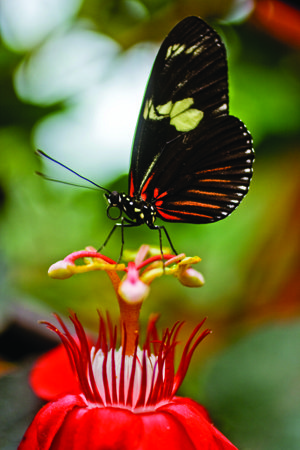 Turn over a new leaf in this Central American, ecological paradise.
For years, I'd been salivating at the thought of going to Costa Rica. Everything I'd read about this tiny country spoke to me. Its abundant wildlife, its close proximity to the United States, the lack of political strife and, of course, its eco-friendly approach to tourism all combined to make it a win-win destination.
My partner finally conceded that it might be fun—agreeing to forgo her annual European cathedrals fix—and we began making plans for Central America. We had only a week to spend there, and I wanted us to get the most out of our trip.
First of all, there are two seasons in Costa Rica, the wet season (low) going from May through November, and the dry season (high) going from December through April. Most people travel to Costa Rica in the spring, but that's also when it's more expensive since there's less rainfall and humidity. We opted to go in early December before the swarms of Americans arrived and after the rainy season—we hoped it would be mostly dry.
Although Costa Rica is relatively small, roughly the size of West Virginia, it contains a number of geographical regions, all with their own climate zones, amounts of rainfall, ecological advantages and navigational challenges. Where you decide to go depends on what you want out of your trip. There are beaches, volcanoes, heavy rainforests and an abundance of wildlife, all within a few hours' drive. But no matter when or where you go, Costa Rica is an ecological paradise for many reasons.
Costa Rica has taken a pledge to become the first carbon-neutral developing nation in the world, joining such countries as New Zealand, Norway and Iceland in taking on the challenge to become carbon neutral.
What is carbon neutrality? In simple terms, it involves achieving net-zero greenhouse gas emissions by balancing the amount of carbon dioxide that is released from fossil fuels with the amount of carbon dioxide that is offset—say, by planting trees.
It's estimated that Costa Rica contains over 5 per cent of the world's plant and animal species, and since 80 per cent of its energy is currently generated through renewable sources such as water and wind, carbon neutrality is the next logical step in this ecological progression.
But tourism in Costa Rica is escalating every year, and because of this so are the greenhouse gas emissions from jet fuel, due to all the air traffic into and out of the country.
In an effort to combat this, FONAFIFO encourages tourists to donate between $5–60 to Costa Rica's forestry financing fund. The money is used for reforestation throughout Costa Rica, which helps with carbon absorption.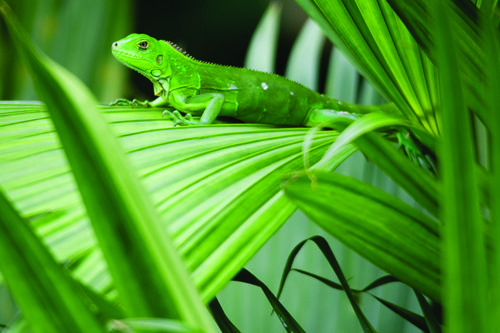 Besides FONAFIFO, there's also a small transportation company called NatureAir, based in the Costa Rican capital city, San Jose, which flies between major airports and many smaller destinations throughout Costa Rica, including tourism and eco hotspots such as the Osa Peninsula, Tamarindo and Tortuguero National Park. Although its rainbow-coloured planes still utilize jet fuel, the company is focusing a great deal of effort on reforestation and conservation measures. Together with Aerotica, an aviation fuel company, NatureAir has opened up the first private biodiesel filling station in Costa Rica.
In fact, all its land vehicles use biodiesel fuels, such as cooking and vegetable oils. This measure alone saves 160 tons of carbon dioxide emissions a year and helps the country greatly in its efforts to achieve complete carbon neutrality. Eat a French fry while you're travelling through Costa Rica and you're actually improving the environment. How cool is that?
When you're travelling to Costa Rica, there is another way you can lower your carbon footprint. When choosing where to stay, you'll see that there's a sustainability index for each property. Five green leaves are the best rating, one leaf is the worst. It's based on how actively the property promotes recycling, reforestation, waste management and environmental education.

Photo: Andres Ojeda
If you have the time, try to visit a few different climate areas. Within a few hours, you can be immersed in a rainforest, hiking near a volcano, surfing at the beach or zip-lining through the trees. If you want the creature comforts, check out one of the many all-inclusive resorts, such as Barceló Langosta Beach in the town of Tamarindo. This area, with its near-perfect surfing and windsurfing conditions, is quickly becoming very popular since the cost of living is still low and the climatic extremes are less prevalent than in other parts of the country.
But if you want a more rustic experience, check out some of the outlying areas near the volcanoes, the other beaches and the rainforests. We met a couple who had taken a shower while a sloth gazed at them from the trees! All levels of comfort are available throughout Costa Rica.
The roads can be primitive, except for the main arteries around airports and major cities, and the driving style in this normally laid-back country is very aggressive, so driving can be a challenge. Many of the smaller roads are often unpaved, unmarked and riddled with potholes. It can be charming, though, as the forest engulfs you in its thick evergreen arms. Jaguars, iguanas, crocodiles and all types of birds can be seen, and if you're as lucky as we were, a howler monkey may pee on your car if you get too close.
Many places we had intended on visiting were just too far away, so we'll have to plan better when we return again. But whether you want to chill or thrill, it's all available in Costa Rica, the country with a carbon-neutral conscience.