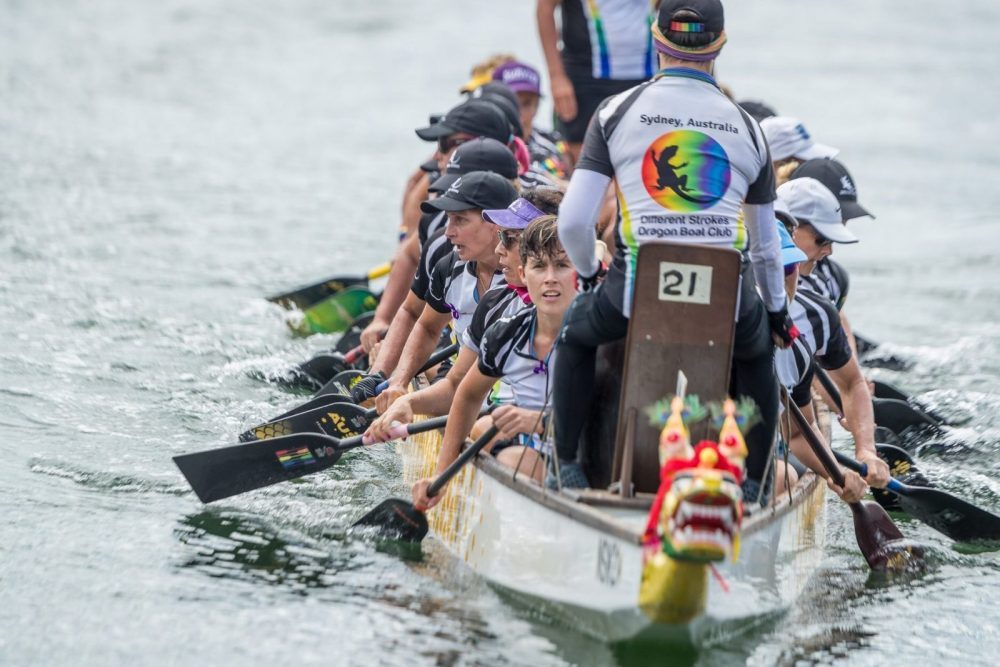 The rainbow team bringing inclusivity to dragon boating.
I started dragon boat racing after a few mates of mine found out about it at Sydney's Fair Day.
I needed to get my mental health and physical health back on track, so I joined Different Strokes Dragon Boat Club. As I made friends and improved my fitness, I found my confidence.
I decided to trial for The Australian Team after watching many of my fellow Different Strokes family compete at the world championships. I prepared and trained hard, with the help of our dedicated coaching team.
The day I found out I had made the Team was just unbelievable. Six months later I was in China and ready to race.
While in China, we had the privilege to meet and train with the Chinese women, the top women's crew in the world. We organised some gifts for the women, including opal koala pins and gold kangaroos. The Chinese women don't meet other countries often, let alone invite them to train with them, so this was a special moment for us. They not only let us into their home but literally gave us the shirts off their backs. It was a beautiful and humbling experience I'll never forget.
Our first-day racing was full of excitement and nerves.
Day 1 was 200m racing.
My first race was the women's 20, standard boat.
Sitting in stroke with my heart in my mouth, we paddled up to the start line, passing hundreds of people as we went. You have this moment where you realise that we're in China, the home of dragon boat racing, and I am here representing my country. As we get into position at the starting line, I try to tune out all the noise. We breathe in together, breathe out together.
"3 minutes to start"
My stomach drops. I breathe deeply, close my eyes, and visualise the race.
"Lane 1 – Macau China"
"Lane 2 – Australia"
"Lane 3 – China"
"Lane 4 – Indonesia"
"Are you ready, attention…*buzzer sounds
This was probably the scariest race of my life. But my body took over and my mind went with it.
The crew were walking back after our race and someone yelled at us to get to the podium, women's 20 had won silver! As we ran to the podium my face hurt from smiling so much.
At that moment, nothing else mattered, we were on top of the world.
We went on to win 13 medals, out of 15. With myself in 8 of these categories. Each time we stepped foot on that podium we reflected on the months and months of training. All those cold windy winter mornings, and the sacrifices we had each made.
I stood tall in the Australian Coat of Arms, as a proud and open queer athlete representing my country in a sport that changed my life.