Viayoga's one week Surf and Yoga Retreat in Sayulita, Mexico
I flew into the airport with just enough time to check in and get to the gate. Fighting the unforeseen lines at LAX early on a Sunday with a fast ticking clock threatening everyone's 40-minute required bag check-in was enough to challenge the most balanced of yogis. What was the point of self-check-in if we all end up standing in long lines anyway? Note to self, please arrive earlier and pack lighter.
Aside from the crowd, there was an army of boards. A sea of surfers was heading to Mexico to get their wave on. According to the ex-hippy, now exec, still surfer in front of him, his buddies, his son and his son's buddies do a men's only surf retreat every year in an undisclosed, remote location in Mexico. No addy's were mentioned for fear that a flurry of females would crash their Iron John meets Beach-Boy retreat.
When I disclosed my soon-to-be to be surf oasis in Sayulita, he confirmed that it was a very cool, remote fishing village, a longstanding fave of the serious surf community. That very day the paper ran a huge story on just how hip Sayulita is. No wonder the terminal's crowded. I needed to catch this wave before the inevitable commercialism comes crashing down.
As I arrived in Puerto Vallarta, a mix of ego and the first day of school jitters set in. Will I like them? Will they like me? I had no idea who was going to be on the trip. I assumed a bevy of overly serious crunchy granola yogis, talking karma and counting calories.
As I stood at our designated meeting point, our group slowly took shape. I could spot them from a mile away. No one mentioned caloric activity, but the group was pretty yogi-esque. I reminded myself that this week was about chilling by myself, getting backing into yoga after a long break and awakening some creativity in me. Forget friends.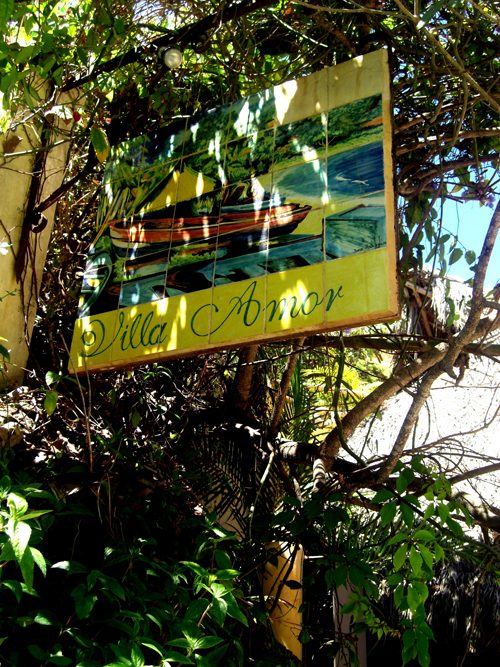 An hour after we pulled away from the busy Puerto Vallarta airport, we slowly crawled into the edgy and interesting centre of Sayulita. The sun was just setting as we bounced along the unpaved dirt road. At the end of this seaside journey was the appropriately named Villa Amor. It was a slice of Mexican heaven right on the water's edge, away from the beach bustle and the centre of the tiny town.
I didn't know what to expect, but upon arrival, it was just what you would imagine. It felt like a fit. Michelle the Seattle based proprietor of Viayoga and her flowing sinewy limbs were waving us warmly into the gate. After a quick check in to my expansive, authentic Mexican villa, we all met in the open-air yoga studio down the dirt road for our welcome and intro.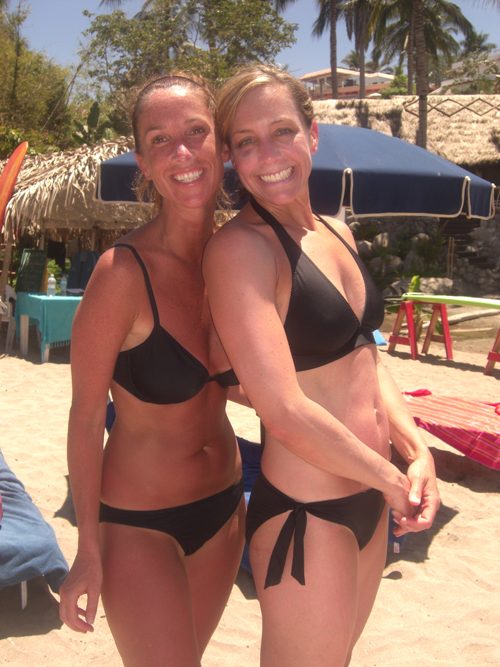 It was a larger group than I expected, an eclectic and interesting group of 19 or 20 people. There were a few BFF's, girl duos turning 40 together, both married moms, the other duo, one a mom, one not, an older couple, a flurry of singlets, mainly gals, a few guys and of course our yoga instructor for the week Matt who brought his lovely wife Amy with him. They looked like two little yoga dolls. I immediately wanted to put them in my pocket.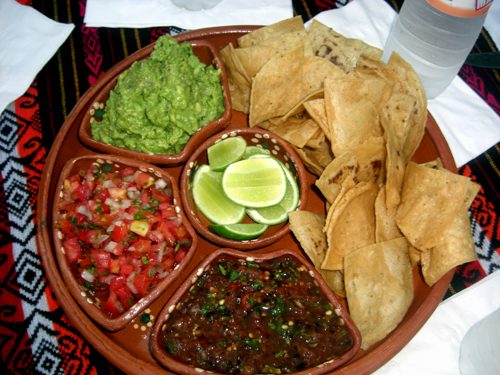 After a round-robin of intros, we hobnobbed over the best chips, homemade guacamole and salsa I have ever had in my life. As I eagerly reached into the ceramic bowl, there was a sea of hands heading in the same decadent direction. We were going to get along just fine.
After dinner by the water's edge at the hotel, we ran like schoolgirls from suite to suite to see each other's digs as no two rooms or villas are alike. The place looked like it was artfully designed by a bunch of happy, hippy people that decided to build a little something, something mid-trip. It's an unapologetic place, filled with whimsy, creativity and individualism at every turn.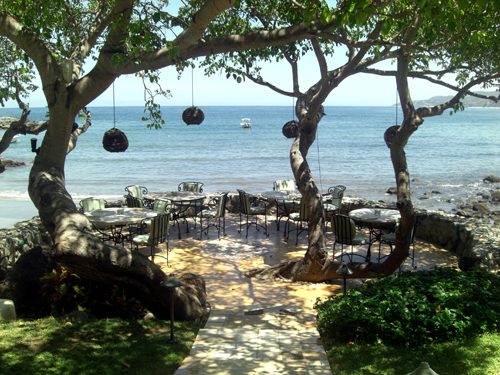 I felt sinfully spoiled until I saw the other suites. I adored my sweeping one-bedroom villa complete with kitchen, dining room and a deck the length of a bowling alley. I could have lived there happily ever and after. Then the envy set in once I caught wind of the others. If sharing, which is an option with Viayoga; you get put in one of the larger, upstairs-downstairs or expansive wraparounds with incredible decks. Regardless of your room, we all looked out at the same sea each morning and evening.
Each yoga retreat comes with a different yoga instructor. I felt lucky that I was in the last retreat of the season with Matt Pesendian, an LA-based yogi. I had been taking yoga for fourteen years and have studied many disciplines, but Matt brought a whole different flavour to the table.
With two yoga classes in a day, one morning (8:00 a.m.) and one evening (5:00 p.m.) we did enough sun salutations to make your arms border on a buckle as the sun was setting. In addition, Matt added his Shadow yoga and Qigong to our classes. As a practising acupuncturist, he wove in several relevant lessons about the body and Chinese herbs. It was as much of a lesson as it was a test. After a surf lesson between the two, I craved the final corpse pose of the day. We deserved to play dead, if only for a minute.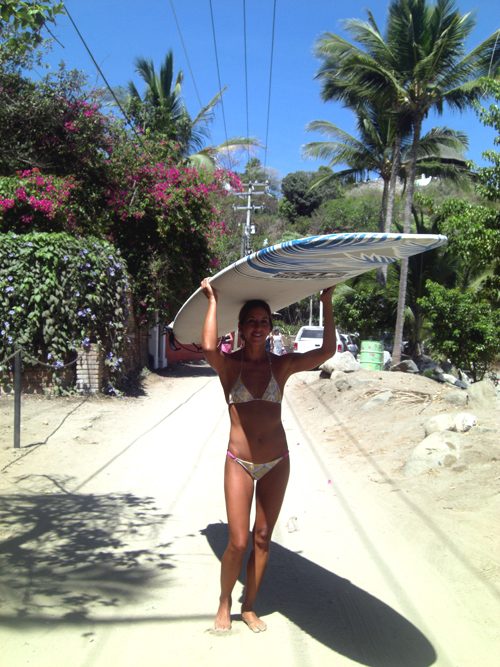 Surfing was another story. I was not only away from yoga, but I had been away from working out on a regular basis for some time. I was both weak and wildly out of shape, but I still had my athletic ego in check. I'm used to being good at whatever sport I play. Cut to my first surf lesson.
I tried to ignore the fact that everyone except the three men wore a bikini, moms and all and quite well. I was rocking my friend's husband's sort of surf shorts and a borrowed rasher from Viayoga. Fair to say, I've looked better and cuter.
That was only the beginning. Everyone was getting up and I mean fully riding the board, arms in the air like they just don't care, including someone in their 60's day one. I'm fine. Seriously. I just wanted to get up by the end of the week. That was my goal. Keep it simple.
Everyone approached me as if I had been in a tragic accident, after lesson one. Are you okay? I was fine. I had a few fun wipeouts. Who doesn't? I was happy to ride my board in, in any which way, half on, half off, leaning, on one knee, in a ball, whatever.
Day two, my own exuberance and everyone's concern over my falls and lack of leverage suddenly had me pushing myself to get it up. The union of yoga and surfing is no mistake. Not only do you need yogi strength of the upper body to pull you up, but you also need your core to centre and balance you. The other muscle that you strengthen in both practices is patience.
I had none of the above. In a desperate attempt to keep up with the Jones', I got halfway, sort of, could look like or even feel like, but not really up, but up enough to take an ungodly, potentially fatal fall.
Minutes later after being tossed around in a full-blown brawl with the wave, the sea spit me out in a state of disgust. I looked like I had been in a wet war. My hair was running from my head in every direction and my knickers were in a literal twist. Now was the time when I wanted everyone's concern. Yet no one surfaced, no instructor, no fellow surfer, nobody. The people that passed by on the beach all but ran.
Meanwhile, I had an army of tears at the tip of my ducts awaiting the cry command. I ditched my board (the enemy) after a wrestle to get rid of the surf ball and chain on my ankle.
We surfed in three different groups. The remaining two, the well-groomed bikini brigade on the beach looked poised, puffed up and proud of themselves after their surf lesson. They made no effort, nor did they show any interest in my now likely concussion and obvious near-death experience. They were busy reading and drinking coconut juice out of a shell.
My so sad clown, solo walk of shame back to the villa was a long one with an inner monologue at full throttle and volume. What was I trying to prove? What am I on a surf tour? How old are you? Meanwhile, my super safe, non-athletic Mom's voice was interrupting with, What's wrong with you?
By dinner I felt so disenfranchised and semi-conscious, the mere mention that they ran out of my dish at the restaurant, I all but bawled. I didn't know if it was my walking concussion, near-death or the tears on the mat. With a few days of intensive yoga and the peeling of the layers, I was a walking nerve with a bad head of hair.
By breakfast the next day I was in a state of silence. I felt no need to talk. Everyone wondered why I was so silent. It was on the yogi roller caster, whether you're in a wave or riding it out on dry land, it's a journey. Yesterday was tear time, today was quiet, no need time. After a reluctant and slow return to the wave and my board, I landed on the other side and found the fun.
Our odd lot group really started to gel. Everyone's layers were dropping off left and right. By midweek there was a lot of bonding going down. That night we walked leisurely along the dusky beach like a band of roaming gypsies, to the evening's restaurant. The Oregon owned spot served authentic Italian food, lots of pizza, pasta and even more wine. We weren't to end the evening. So, we ordered bottles of wine at Villa Amor's beach bar. It was bliss.
Day four was the pro-surfer day. I oddly felt cockily ready. We drove to Punta Mita, about an hour away to catch real waves with real surfers. Some in our group sat this one out, sunbathing while others snorkelled. My posse, my new BFF's, the fearless trio of Carrie, Stephanie and me hung with the bad boys and went out to ride real waves.
We three nearly died paddling a million miles out to sea while our surf instructor, the effortlessly sexy and stunning Andrea in her surf ensemble almost floated as flew over the water. She ended miles away only to look back at us like the embarrassments that we were.
Once out there we felt so badass just sitting on our boards awaiting the waves with the locals. When her surfer pals paddled out to join in, they looked at us like What the…?
Our instructors Andrea and Israel were night and day different. Israel was all intense, on it, in it and full of tough love. He would throw you and your board into a wave but you felt his confidence in you in his shove. Andrea was the aloof one. I never felt she was that interested or invested, at least not in me.
An hour into our pro surfing tour, I was getting antsy and wanted to ride one in. She calmly with her patience in place let me know that "This is surfing. It's about reading a wave and knowing when to ride one in." They weren't shoving us into waves that day. We were on our own. This was the real deal. We had to read and find them ourselves. I couldn't read, see or catch a thing.
As we sat calmly, all of us on our boards, out at sea, not a wave in sight, she said in a Zen-like manner, "This is surfing." At that moment, I got her and I finally got surfing. I was so pleased; I no longer needed the wave. I stopped looking and was ready to call it day and head to shore. As I did, this big wave found me as I was paddling in and not looking and rode me in. It was a long stretch. So, I had plenty of time to get up (on my knees). It was the biggest thrill of the week.
In our last lesson, everyone wanted me to get up, as in stand on the board. It would be a little embarrassing to leave as the only one that didn't. I was confident that I would get up. Michelle of Viayoga was busy photographing everyone in the water. So I asked her boyfriend to stand with her and get me on my video camera up on the board.
Our hour was up and everyone else was out or heading out of the water, but I couldn't leave. I had taken many a wave all the way in, no-spill, on my knees, but I didn't get up. I asked if I could do one more. Andrea, who I now worshipped, said yes. My girls, my surf posse Stephanie and Carrie were in the water with me.
A wave came and like a mother birthing a child, tough love Israel pushed me into the world and a wave, yelling Go! I immediately got up, fully standing, hands in the wind screaming the whole ride into, only to fall in an inch of water at the end. He had finally birthed a surfer.
Israel, Andrea and my posse were cheering while the bikini brigade caught it from a distance. As I stood up, Michelle said, "We missed it." Missed what? She and her BF were photographing and shooting a statuesque brunette, a fellow surfer and a lovely gal worthy of a lot of camera time and attention, just not then.
My famous surf video is a shot of their feet with my wave washing over their toes with a voiceover of them saying, "I missed it." "I know I missed it too." In the BG you hear me screaming with accomplished joy. It's the best video of the trip.
I have no proof that I got up. You'll just have to take my word for it.
For more information:
Viayoga
Yoga instructor, Matt Pesendian
Surf Instructor: Israel Presiado
Surf &Yoga & Pilates instructor: Andrea Arriaga
To stay:
Villa Amore
Sayulita