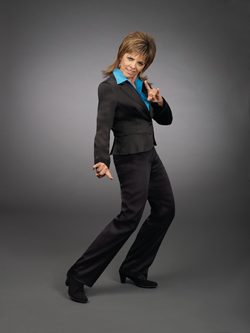 HLN's "Issues" host and out lesbian, Jane Velez-Mitchell, accepted the Ruby Award for her work in fighting human trafficking.
HLN Issues host and out lesbian Jane Velez-Mitchell accepted the Ruby Award at the Soroptimist International Northwest Region Conference Against Trafficking (NWCAT), early this month in Portland, Ore. The conference seeks to inform, educate and protect women and girls from the human labour and sex trafficking industry. She was selected as the recipient for her work to make a difference for women and girls through the topic discussed in her program.
The award was presented to Velez-Mitchell by the Southwest Washington and Vancouver Soroptimist clubs, part of an organization of some 95,000 people in 120 countries that works to improve the lives of women and girls through financial aid, education and public awareness initiatives.
"She makes a difference for women and girls on the air five days a week…we're proud of her," says conference co-chair Michelle Bart. "I think it is imperative that the LGBT community, in particular, starts to highlight some of the people making a difference in our community."
"On Issues," Velez-Mitchell says, "we cover The War on Women, the seemingly endless stream of violent crime against women… from rape to murder to domestic violence. On my show, I argue that we must stop accepting male violence as business as usual and recognize it for the crisis it is. This is touching a nerve with women across America who are tired of living with what I call the psychological burka of fear. Together we can demand an end to the violence," she adds.
The 56-year-old journalist who has won several Emmy Awards for her work has been a reporter and anchor in Los Angeles and New York and appeared on the Nancy Grace TV show during the Michael Jackson molestation trial. She has written two books: Secrets can be Murder: What America's Most Sensational Crimes Tell Us About Ourselves and a memoir, iWant: My Journey from Addiction and Overconsumption to a Simpler Honest Life.
Velez-Mitchell has made no secret of her battles with alcohol and breast cancer or coming to terms with her sexual orientation. After getting sober and becoming a vegan, she has said that coming out as a lesbian was transformative and rooted in her desire, to be honest with herself and her audience.
Velez-Mitchell says, "Receiving the Ruby Award means a lot to me personally, of course. What incredible company to be in — but on a broader level it may bring more attention to this war on women."
Human trafficking is a $32 billion annual industry that involves millions of men, women and children around the world who are enslaved into forced or bonded labour, child labour, or sexual servitude.
Bart joined the Soroptimists about 12 years ago as a work requirement, but her continuing membership has become a personal commitment. "There are not too many women on television who have utilized their own celebrity or their own show to actively embrace and be an advocate for women and girls and every day Jane has brought to life what is going on in America and around the world with the war on women… I can't think of a better recipient for this award … It happens to be that she is gay … this is the kind of empowerment that we need to start talking about … It sets us apart … the way that everyone perceives the gay community. I think it is very empowering."
Past Recipients of the Ruby Award have included former U.S. Congresswomen Patsy Mink and Patricia Schroeder, former child actor and U.S. Ambassador Shirley Temple Black and former Philippines President Corazon Aquino.