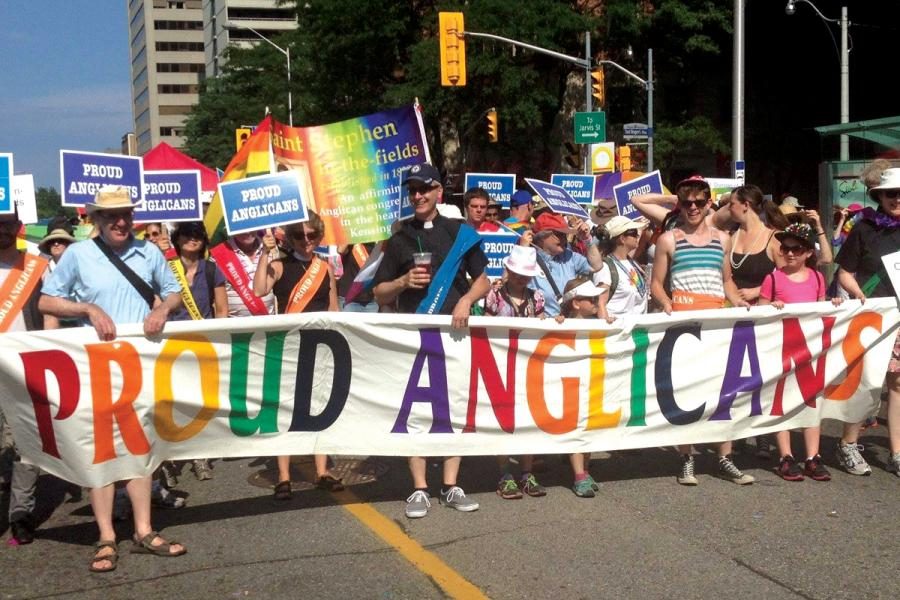 Equal Voices Christians have responded to the recent Sydney Anglican diocese's decision to promote, as a doctrine, forms of conversion practice ideology against gender diverse people.
Equal Voices calls instead for urgent recognition by all Churches of health care standards accepted worldwide, while also celebrating the wonderful gifts of gender diverse people as fully equal images of God.
Equal Voices, the national network of LGBTIQA+ Christians and allies, laments the failure of Churches to affirm the realities and gifts of gender diverse people in a time of great stress upon them.
Anglican priest the Rev. Dr Josephine Inkpin states, 'The Sydney Anglican resolution is cruel in its implications'. Herself a transgender female, she further stated that 'this action represents a disturbing precedent in the light of current religious discrimination discussions.'
The Sydney Anglican diocese has instructed its schools, agencies and parishes to implement policies and practices which run directly counter to the spiritual, mental and physical health of gender diverse people, encouraging teaching which denies their identities and experience.
'Thankfully a wider societal sea-change is happening in affirming gender diversity', said Dr Inkpin. 'We understand Churches may be wary of what has so long been hidden. However, reacting so negatively, and excluding the voices and lived experience of gender diverse people themselves is disastrous for all. This is further distressing as we approach Intersex Awareness Day (26 Oct).'
Unprecedented attacks of many Christians
Equal Voices draws attention to the unprecedented attacks of many Christians, which appear uninformed, with views that have no sustainable basis in scripture, tradition, reason or experience. The Sydney Anglican diocese has simplistically affirmed binary definitions of gender, believed to be fixed by certain assumed biological characteristics at birth.
Yet this is manifestly contradicted by contemporary science, established medical and psychological wisdom, and gender diverse people's own experience of their lived identities. It also represents a very modern phenomenon, running against diverse understandings of gender across all kinds of cultures for thousands of years.
The Bible itself references gender diversity, particularly in relation to eunuchs and others. Christ in Matthew's Gospel affirms three types of 'eunuchs', reflecting God's diversity in creation, Jesus' awareness of gender and sexual complexity among human beings, and the biblical call to justice and the flourishing of all.
Equal Voices, therefore, calls on all Christians to engage in listening and dialogue, rather than condemnation or demanding attempts to change orientation, which overwhelming evidence shows leads to increased mental health issues and significant increases in suicidality.
Equal Voices asks that Churches operate in line with nationally understood Australian Standards of Care and  Guidelines and agreed WPATH (World Professional Association of Transgender Health) guidelines (https://www.wpath.org/publications/soc) and that they look for constructive ways to support gender diverse people in issues and costs of transition, education and legal rights.
For, as with sexually diverse people, the Rev. Dr Inkpin stated that 'orientation change efforts need outlawing. We call on the Sydney diocese to repent of its callousness, and to join the increasing demand, led by the Survivors of SOGICE (Sexual Orientation and Gender Diversity Change Efforts) for an end to conversion practice ideology.'
Sign The Petition
Equal Voices points to examples of Australian Christians showing the way forward, including the welcome adoption of best standards of care for gender diverse young people in southern Queensland Anglican schools, the growing encouragement of gender diverse people in life and ministry in some Australian church spaces, and the positive work of its member groups. It further encourages anyone who agrees to sign its petition to Anglican leaders across the country at https://www.change.org/p/anglican-church-of-australia-choose-love-not-exclusion-it-s-time- anglicans-embraced-lgbtiqa-people