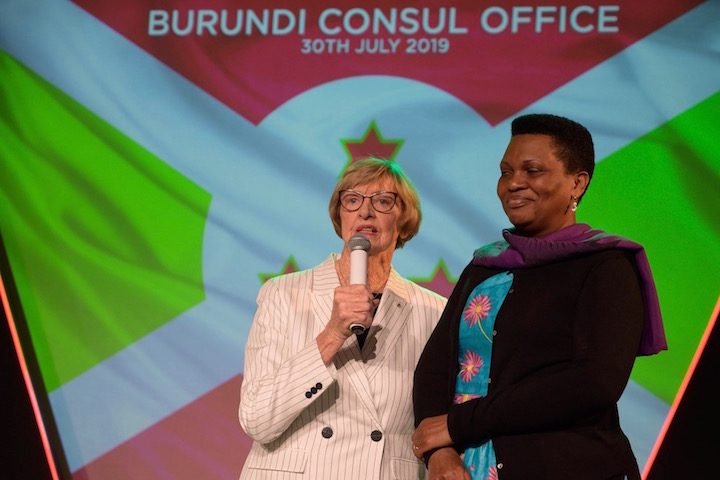 Despite a new government taking office in Burundi, the atrocities and human rights abuses continue unabated.
Over 500,000 refugees have fled the country to neighbouring Rwanda, Uganda, Kenya and Tanzania, plus as far afield as Australia.
In ignoring what is happening to these destitute people, the Australian government has allowed a Burundian Consul to open. This consulate was invited to locate at the Victory Life Centre, a church which was founded in May 1995 by the Rev Margaret Court of tennis fame.
Her husband Barry Court has become the Consul General.
This office is the one and only official representative of the country of Burundi to be located in Australia.
Whilst east Africa is an enthralling place to visit, where the gorillas live in peace and treat visitors with mutual respect, the atrocities down the mountain are not as spectacular. The mainly Hutu regime continues to intimidate, torture and murder many of their own citizens, the Tutsi people of Burundi, and other opponents. The fear under which they survive cannot be tolerated resulting in a mass exodus over the past 5/6 years. There are even torture houses where blood has been seen spilling into drains.
The church opened a consulate for the anti-gay African country in August last year. Falling in line with her own anti-homosexual stance, Margaret Court welcomed Denise Bucumi Nkurunziza, the First Lady of Burundi at that time, to the ceremony – her husband, the President (now deceased) did not attend because he was wanted to stand trial at the International Criminal Court in The Hague and risked being arrested.
Apart from being a government that is anti-gay, fraught with danger attributed to the ongoing unrest, and plagued by Covid-19 (despite current leadership denying the existence of the pandemic), Barry Court, Australian Consul to Burundi, is advising potential Australian tourists on the phone that Burundi is a safe haven. On calling him he advises:
 "Everything is just fine – ignore the hostile warnings by DFAT which are fabricated – it is completely safe".
Is this not putting Australian lives at risk?
Regard Regarding the Corona Virus, Court said: "It's all made up – everything is under control".
It should be noted that although the past President Pierre Nkurunziza was reported to have died from a heart attack 3 weeks ago, there is speculation of a different sort: Mr Raphael Manirakiza, a leading figure amongst Burundi refugees in Australia said: "Different reports indicate that he died from the Corona Virus whilst being treated at a hospital in Karusi, east of Burundi."
In posing the question 'What will the Australian government do about these issues?', Mr Manirakiza also asks: "How can a government of a secular Nation like Australian allow such a consulate to operate?"
In the interim, Mr Philip Feinstein, another leading figure in the fight for the rights of Burundian refugees, has been in contact with the office of the Australian Department of Foreign Affairs and various Human Rights organisations.
"Burundi is being investigated for 'crimes against humanity' by the International Criminal Court" said Feinstein. "That government has been accused of persecuting homosexuals, abductions, torture, sexual violence and summary executions – when will this end?" he asks.