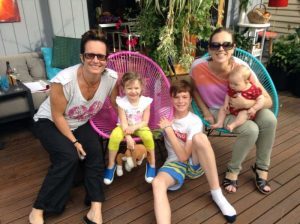 October is Breast Cancer Awareness Month, a time to acknowledge and support lesbian families across the country affected by breast cancer.
Breast cancer is the most common cancer in Australian women, with one in eight women expected to be diagnosed before they turn 85. This year alone over 15,000 Australian women are expected to be diagnosed with breast cancer. This means the disease affects many lesbians – both singles and lesbian couples.
With the help of Breast Cancer Network Australia (BCNA), LOTL is highlighting the impact this disease has on the lesbian community.
BCNA's website includes personal stories from lesbian women diagnosed with breast cancer, helpful websites, books and online support groups all designed to support lesbians affected by breast cancer.
Cass & Kel's story
Were there any challenges, in particular, you faced as a lesbian couple during your breast cancer experience?
When I was diagnosed with breast cancer, Kel was 7 months pregnant with our first daughter. I had my first round of chemo on January 11th and our daughter Sydney was born just over a week later on January 19th. In those early days, we spent a lot of time going over our situation each time we met a new specialist, explaining the dynamics of our family and so on.
Breast cancer is largely a woman's disease, was your experience made any easier because your partner is also a woman?
I don't think there are many things that can make being told you have cancer any easier. I feel blessed to have a partner who knew the devastating effects of losing your breasts if you're a person who values them. We're like-minded about our bodies and she definitely had her own mourning experience for me. You read all sorts of stories, good and bad about how partners react to the loss of breasts and I'm just so thankful to have a partner who was full of empathy.
We have heard of same-sex couples experiencing discrimination from health professionals – have you experienced anything like that?
Quite the opposite – we researched and sourced what we believed to be the best medical team we could. The team we went with were mostly a very different demographic to ourselves but we now consider all of them an extended part of our family.
What advice would you give to other lesbian couples going through a breast cancer experience?
I found an amazing support network that I continue to lean on four years later. The women in the group come from all walks of life. It's important to have a support system at hand and to know that you don't have to do this alone.
If there is anything else you would like to add?
Cancer robbed me of my ability to give birth, something I've spent my life wanting to do. There's not a day that goes by that I don't feel overwhelming glad about my sexuality and the opportunities I've still had to be a mum because of this, and because of my wonderful partner. In November last year, Kel gave birth to our 2nd daughter Billie.