The highest level of magnesium is found in raw cacao, however, on its own, this is very bitter and astringent. So I thought up some simple ways to eat raw cacao but still enjoy it.
So I am doing to the city to surf tomorrow! For those of you not from Sydney, this is an annual 14 km running race that starts from the CBD and ends at Bondi Beach. I am totally unprepared as I signed up only 2 weeks ago and I have never run this far in my life! I am more of a swimmer than a runner. The longest distance I have run is 8km and in the past year, I have gone for a run probably 5 times, 4 of which were in the last 2 weeks lol! But hey, it has been on my bucket list for years and it just felt like the right time to do it! I'm not in it to win it, just to have some fun. It's a bit late for tips for tomorrow but if you have any please share as I plan to do the bridge run in September (thankfully this is only 9km). How do you prepare for a relatively long run?
Now you're probably wondering what has running got to do with chocolate? Well, there is one more setback. This week I hurt my calf while running and I still do not seem to be able to run. Jog maybe but not for long. So it looks like I may be walking all the way to Bondi! And no I do not mean I have been drowning my sorrows with chocolate but it has played a role in my attempt at recovery.
So how do you help calf muscles recover? My wonderful trainer at Enliven Fitness gave me some simple yet valuable advice to rectify a calf injury: rest, stretch, heat, hydration and diet. Rest means I have not run but kept it moving with my walks to work. Stretching means I have stretched it out every night and lay my calf on my lacrosse ball to really release the localised pain in my calf muscles. Heat means I have applied heat with hot baths with Epsom salts and deep heat at night. Having a bath before stretching is especially helpful too as it warms the muscles up, allowing for deeper stretches.
My trainer advised that staying Hydrated is also very important which I am doing by drinking 2.5 L of water per day with a pinch of Celtic sea salt to aid absorption and drinking fresh coconut water after training. For my diet, I should be increasing my magnesium intake by taking a magnesium supplement but I have run out. I remembered though that cacao is high in magnesium, which upon researching online I found that I was right. So whoopee!!! An excuse to eat chocolate! No seriously while it does sound tempting to eat chocolate every night this is not what I did, as chocolate also contains lots of sugar! Which we all know is not good for you.
The highest level of magnesium is found in raw cacao, however, on its own, this is very bitter and astringent. So I thought up some simple ways to eat raw cacao but still enjoy it. All of the recipes are gluten, grain and processed sugar-free and if you omit the dairy they are vegan and paleo-friendly too.
Every morning I made a delicious hot cacao drink instead of a coffee. This was great to have with my breakfast or for morning tea and with the coconut milk, it is vegan and paleo-friendly. It is so simple too: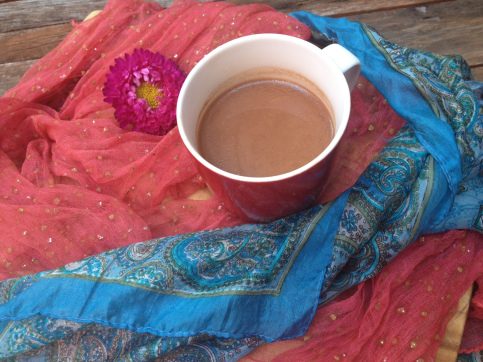 Just heat my choice of milk (full fat dairy or coconut milk are my choices) and whisk in 1 tbsp. of raw cacao. Pour it into a milk frother, froth it up or just pour it straight into your mug. I like it like this but if that's too bitter, you can sweeten it with cinnamon and/or maple syrup, or honey.
Now through my research, I did find that the best combination for magnesium and hydration is coconut and raw cacao, so I also made my coco-berry power smoothie for breakfast, using the cacao variation. With coconut water, this is extremely hydrating and is paleo-friendly too! For a cheeky dessert, I made a simple yet delicious raw coconut chocolate mousse. This is a paleo and vegan-friendly dessert, so enjoy without the guilt!
See below for the recipe: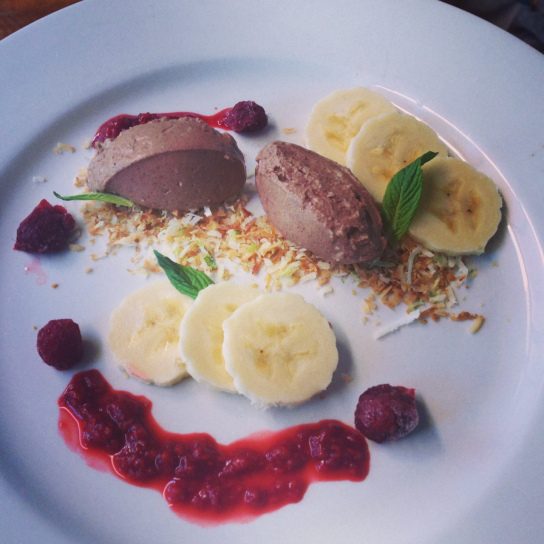 Serves 2
Ingredients
1 can of coconut milk, refrigerated overnight
4 tsp. raw cacao
2 tsp. maple syrup (optional)
Raspberries, mint and/or bananas to serve
Toasted shredded coconut and/or cacao nibs and mint leaves to garnish
Method
1. Take the coconut milk out of the fridge and do not shake it. Open the can and scoop the separated coconut cream from the top into a separate jar and pour the remaining liquid into another jar.
2.Measure out 8 tbsp. of the cream into a small bowl.
3. Add raw cacao and 1 tbsp. of the coconut liquid to the coconut cream and mix to combine. Add the maple syrup if you are using it (I don't use it but for some people, it is a bit too bitter without it). Add more liquid if the mousse is too dry or more cream if it is too runny.
4. Return to fridge for 1 hour.
5. Serve mousse with fruit and garnish of choice.
Variations
Mix some crushed raspberries and lime zest through the mousse.
Drizzle some raw chocolate through the cold mousse that has been in the fridge. Chunks should form throughout the mousse.