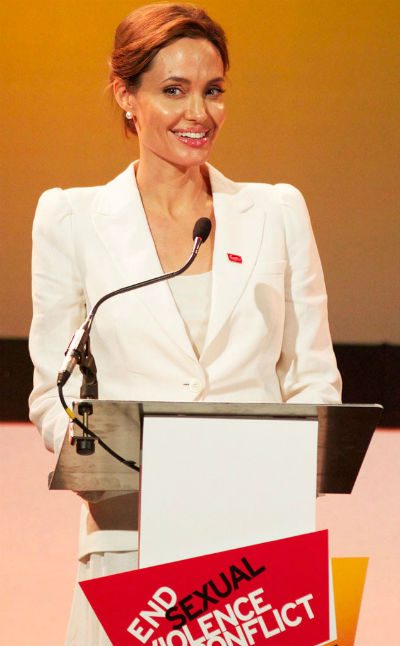 Through an opinion piece in the New York Times, Angelina Jolie has revealed that she has had a preventative double mastectomy to reduce her risk of developing breast cancer.
Actress Angelina Jolie has revealed she has recently undergone a preventative double mastectomy in light of her having a defective gene, BRCA1 which heightens the chances of developing breast cancer and ovarian cancer.  Angelina lost her mother to ovarian cancer at the age of 56.
Angelina decided to go public with her very personal decision to bring awareness to the public about breast cancer and this defective gene. In the opinion pages of The New York Times, she penned a piece titled My Medical Decision explaining her decision and the reason to go public about it.
"We often speak of 'Mommy's mommy,' and I find myself trying to explain the illness that took her away from us. They have asked if the same could happen to me. I have always told them not to worry, but the truth is I carry a 'faulty'gene, BRCA1, which sharply increases my risk of developing breast cancer and ovarian cancer.

"My doctors estimated that I had an 87 percent risk of breast cancer and a 50 percent risk of ovarian cancer, although the risk is different in the case of each woman."
She continued with the reasoning she went through when she found out the higher risk category she was in.
"Once I knew that this was my reality, I decided to be proactive and to minimize the risk as much I could. I made a decision to have a preventative double mastectomy. I started with the breasts, as my risk of breast cancer is higher than my risk of ovarian cancer, and the surgery is more complex. "
Angelina explained she wanted to make public the surgery she had to shine a light on what some women may not be aware of, that they may be at a much higher risk of developing breast cancer or ovarian cancer. To encourage women to get regularly screened and tested especially if they have had immediate family members who have developed these cancers.
"For any woman reading this, I hope it helps you to know you have options. I want to encourage every woman, especially if you have a family history of breast or ovarian cancer, to seek out the information and medical experts who can help you through this aspect of your life, and to make your own informed choices. I choose not to keep my story private because there are many women who do not know that they might be living under the shadow of cancer. It is my hope that they, too, will be able to get gene tested, and that if they have a high risk they, too, will know that they have strong options. "
In Australia, breast cancer is the most common cancer found in Women. With one in eight being diagnosed by the age of 85. Lesley Andrews, a clinician at the hereditary cancer clinic at Prince of Wales Hospital, Sydney said in Australia the test for the mutations was not covered by Medicare.
"Genetic testing for BRCA1 and BRCA2 is individually funded by each hospital," she said. "The criteria for women to be offered testing usually includes that there is at least a 10 per cent chance that a mutation will be identified."
This usually means that the woman wanting to be tested would have two family members who have developed breast or ovarian cancer and one of them being under the age of 40 when the cancer was first detected.
If not covered by the hospital's policy women can pay for the test themselves which usually costs about $2500.
For more information on breast cancer: bcna.org.au
For more information on ovarian cancer:  ovariancancer.net.au