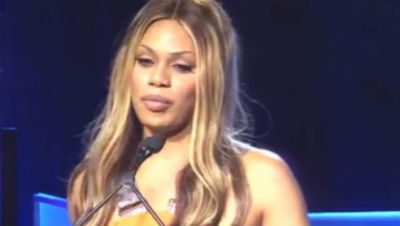 When Activism Hurts Victims
She looked soignée on the red carpet at the August 25 Emmy Awards in a white column gown cut away at the cleavage, a long train behind her. She bantered and joked with reporters that she didn't need to tape up her breasts. What Laverne Cox, Emmy-nominated trans woman guest star of the Netflix hit series Orange Is the New Black didn't say was the name of Ebony Nicole Williams or the name of Williams' convicted rapist/torturer/murderer, Luis Morales aka Synthia China Blast.
Three days before the Emmys, a Twitter storm erupted led by feminists and black activists over a controversial video Cox made for the New York-based Sylvia Rivera Law Project. In the video–removed at Cox's request after she received thousands of irate tweets and a change.org petition to have her fired from Orange Is the New Black went up–Cox read a letter from Blast.
In the letter Cox read, Blast states, "I am a political transgender woman 'slash' prisoner. I strongly support the rights of LGBT brothers and sisters in the community who are imprisoned also."
Part of that may be true, but Blast is no political prisoner. Blast is a convicted murderer and former Latin Kings gang member who murdered Williams after a torture spree with a fellow gang member. Then-Morales was accused of repeatedly slashing Williams body with a box cutter as he raped her. When Morales and co-defendant Carlos Franco were done with Williams, they slit her throat. When they realized she was still alive, Franco stomped on her throat till she died, nearly severing her head.
The 13-year-old Williams' thin 4 foot 2 inch body was then stuffed in a box by the two and dumped under an overpass a 165th Street. Later Morales returned to the scene and set the box with Williams inside on fire.
"The suffering that this poor child went through is beyond belief and puts this crime in the category of monstrous and barbarous," Bronx Prosecutor Hrabsky told the New York Daily News at the time of the conviction in November 1996.
Morales, who had a long-time girlfriend, Destiny Gonzales, at the time of the murder, said at the trial, "Whatever happens here today, I'll take it like a man."
It wasn't until after Morales was in prison that Morales changed names and gender identity and began an affair with serial killer Heriberto "Eddie" Seda at Attica Prison. The two "married" and their affair was depicted in a New York magazine article by Esther Haynes called "Kiss of the Scorpion Woman."
In the article Morales/Blast tells Haynes, "It seems that my only attractions are to society's sickest and most twisted low-lifes. I'm actually hoping to be incarcerated with the Son of Sam so I can sleep with him while awaiting my sex-change outcome in the courts."
Morales/Blast had been acquitted in the arson killings of six people two years before the arrest in Ebony Williams' rape and murder after a witness recanted after possibly being threatened by the Latin Kings gang. But there were never any other suspects in that crime. The New York Times reported that Morales had asked reporters to "take my picture" on the night of the fire. Morales was charged with 12 counts of second-degree murder, first-degree arson and reckless endangerment.
This is the person Sylvia Rivera Law Project and Laverne Cox chose to champion, not the non-violent Chelsea Manning, about whom I reported for The Advocate for three years during her brutal incarceration prior to trial, nor Whitney Lee, another non-violent trans woman serving a three-year sentence at Mansfield Correctional Institution in Ohio on forgery and theft charges nor many other non-violent trans offenders.
Those of us who have long campaigned for better treatment of LGBT prisoners (I've been writing about this issue in Curve and other publications since 1993) certainly agree with the premise of SRLP's campaign for better treatment of gender non-conforming prisoners. And Cox, guest-starring as a trans woman prisoner on the Netflix prison series, seems tailor-made to jump onto that particular activist bandwagon. The choice of prisoner, however, wasn't just a public relations misstep, it was an assault on female victims of violent crime.
In dismissing the true victim–the murdered black girl–and focusing on a violent murderer, SRLP and Cox pitted feminists and black activists championing Black Lives Matter against non-violent LGBT prisoners who are in desperate need of help.
Among those outraged by the support for Ebony Williams killer was Ebony Williams' mother, Yvonne Hill, who had been distraught over the behavior of then-Morales in the courtroom during the trial for her daughter's brutal murder. After the conviction, Hill said, "Ever since the trial was going on, all I see is Luis Morales grinning and Carlos Franco, too. You ain't smiling today. I hope you both rot in hell."
Cox posted a statement on her Tumblr page which read in part, "When I agreed to participate in a recent Sylvia Rivera Law Project campaign, which involved me reading a letter from a member of their Prisoner Advisory Committee, I was not aware of the charges for which she was convicted. If I had been aware of those charges, I would have never agreed to read the letter."
SRLP seemed unmoved by the victim or her family, or even the position Cox had been put in, saying in a statement, "Laverne Cox partnered with us on our End Solitary campaign by reading a letter from SRLP member Synthia China Blast in a video, but has since requested that we remove the video from our site because of her concerns about Synthia's convictions. We understand her decision is based on concerns about violence against children." SRLP added, "We reaffirm our support for Synthia China Blast, and our position on prison abolition and transformative justice."
LGBT prisoners face very real problems in prison which certainly need addressing and Cox said she wanted to address those problems. But violent crimes against women and girls are vastly under-prosecuted. It is really only the heinous nature of Williams' murder that got a conviction for a young, poor, black female victim.
By Morales/Blast's own admission, violence is still very much an "interest" of theirs and has been for decades. In 2004 it was reported that Blast wrote a letter to the New York Daily News stating, "If I was a real woman I could bring about little future serial killers to terrorize NYC like my husband [Seda] did. How [New Yorkers] would of loathed the Zodiac Children."
At the end of the letter Cox read from Blast, Blast wrote, "I want people to know who I am because tomorrow is not promised."
Cox and others now know who Blast is–a violent, brutal killer of a vulnerable child and possibly of the six people burned alive in the arson murders with which Blast was originally charged.
The person we will never know is Ebony Nicole Williams, who would be 34 years old today–if she hadn't been raped, tortured, savagely murdered and had her body burned in a box like trash. Because of Morales/Blast, Williams never got a chance at her life.
Additional links: