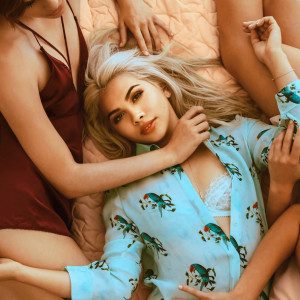 When we caught up with Hayley Kiyoko on tour for her debut album, Expectations, Denver had just grabbed the record: Most bras were thrown onto the stage at a Hayley Kiyoko concert.
As another generation once threw panties onto the stage of lesbian crooner k.d. lang in the 1990s, the women who sell out every one of Kiyoko's concerts—turning up in signature flannel shirts draped in rainbow flags, temporary tats of Kiyoko's signature #20GAYTEEN on arms and faces—show their love by tossing their bras.
It's hot, it's sweet, and it's oh-so-lesbian—much like the artist herself. After years as a child actor doing commercials, film roles and headlining girl band The Stunners, Kiyoko first grabbed our hearts as a solo artist in 2015 with her hit single "Girls Like Girls." Now her hit single, "Curious," off the Expectations album, is destined to be one of the songs of summer.
For those who couldn't get enough of Kiyoko once they discovered her, the artist's acting career ran parallel to her singing career. Fans could follow her between concerts on the iconic lesbian TV drama, The Fosters, watch CSI: Cyber to catch her co-starring with Oscar-winner Patricia Arquette and later on HBO with Issa Rae on Insecure.
And then there were the videos. Oh, the videos.
Kiyoko is a millennial Renaissance woman. She turned 27 in April, but she's been producing and directing her videos for several years, beginning with the break-out hit "Girls Like Girls." Kiyoko's video has 90 million views on YouTube and depicts an edgy, deeply-felt romance between two young women. Beautifully shot with an amber tint, Kiyoko perfectly captures the budding love affair in a pastiche of scenes: one woman shyly watches in the mirror as the other changes clothes; they sit on the bathroom floor sharing makeup and nail polish with quick, flirtatious looks. With its chorus, "Girls like girls like boys do, nothing new," Kiyoko's song flips the trope of a guy stealing another guy's girl with a girl stealing a guy's girl.
The video has a subplot of fighting back against domestic violence but is, in so many ways, the lesbian music video every young lesbian was waiting for. No wonder Kiyoko's fans call her "lesbian Jesus."
A lot was folded into that video when she made it; Kiyoko told LOTL, "I deliberately chose to include 'Girls Like Girls' when I was writing for my This Side of Paradise EP because it felt right. That song was just a piece of my story and my truth as an artist. And then, when my fans were even more supportive of that song and its video, I knew that being honest in my art was the only way to go. It's a dream to be able to share my stories and have people relate to them."
A dream for all the women tossing their bras at her, too.
With her compelling tunes and her fearless persona, the immediacy of her Twitter feed and her willingness to pose in group shots with her fans, Kiyoko has quickly risen to iconic status as a lesbian artist—even though many artists stay closeted. She says for her "it wasn't necessarily a decision between being out or not, and for a long time, I didn't want to be categorized as just a gay artist, but rather an artist—period."
If you watch Kiyoko's videos back-to-back—"Girls Like Girls," "Gravel to Tempo," "Cliff's Edge," "Sleepover," "Feelings", and "Curious,"—you see the trajectory of Kiyoko's determination to present lesbian relationships as the everyday affairs they are for most of us.
Kiyoko loves to flip narratives, and "Curious" begins with the singer lying down and singing to us as several women caress her. It's edgy; it's playful; it's impossible to resist. But why make her videos in addition to her music when it's so much work?
"Honestly, I began directing my videos out of necessity," she told us. "I have a particular vision for these songs, starting with the colour palettes and themes. And since I couldn't afford to hire the directors I wanted, I just took things into my own hands and haven't looked back."
One of the most striking elements of Kiyoko's videos is the storytelling. She invites us in and unfolds her tales in a way that sears the images into the viewers' heads whenever they hear her songs. That's intentional, of course.
"I love everything about telling stories…writing songs, directing videos and performing live are all different mediums that I love equally," she says.
When we tell her we can't stop singing "Curious," she laughs, "That's awesome, I'm glad you like it!" and then explains what she wanted from the video.
"I co-directed the 'Curious' video because I wanted to capture my signature narrative style, plus have a cool dance performance aspect."
And the dancing in the video is, of course, fabulous, intercut as it is with the song's chorus. It's a dance-worthy tune, but it's a story first.
Kiyoko says, "The song plays with the theme of laughing at a situation where someone is playing games—something that many people can understand. So it was important to show that in the story, but still have it aesthetically beautiful and fun to watch."
Expectations are Kiyoko's giant baby to date, and she wants everything just right. The album cover is so striking—destined to be a poster in the bedrooms of many a young lesbian and wallpaper on the computer screens of others.
"It took four different photo shoots to get that cover right!" reveals Kiyoko. "Releasing an album was a lifelong dream, and I am so proud of everything about Expectations. It's amazing to see such a positive response, too."
Being a lesbian of colour directing her music videos hasn't been easy. Kiyoko got pushback initially from people asking her why another video with two women, but she clapped back, saying that she was never asked about men making yet another love song featuring women.
When we asked what it's like being an out lesbian working in a mostly male, mostly straight industry and whether it's hard to convince the money people to support her music, Kiyoko reveals, "I'm lucky to have a supportive, hardworking team around me that encourages my art in every way. I signed to Atlantic because the executives understood my vision and continue to give me the resources to make the music I want to make."
It's the kind of working environment many artists envy. Kiyoko adds, "Plus, it doesn't hurt that the company is co-headed by a woman—Julie Greenwald."
The pressure on Kiyoko to meet her fans' expectations and to be an iconic figure of authenticity is something Kiyoko is keenly aware of. But she's undaunted. Knowing she's "lesbian Jesus" that she's impacted people's lives dramatically, and that her fans love her deeply for the model of an authentic life she's giving them is a lot of responsibility. But it's a responsibility Kiyoko's willing to shoulder and one she embraces. As much as her fans love her, she's sending love right back.
"Yeah, truthfully, I want to create art that inspires people to find comfort with whatever they're going through in their life journey. For them to feel included and validated."
Kiyoko says she's on tour throughout the summer promoting Expectations, but she teases that something else is already in the works. "I've got more new content coming shortly."
As the interview ends, we ask her if she has a message for women struggling with coming out.
"Be kind to yourself. Know that you are enough and your feelings are valid."
Amen.