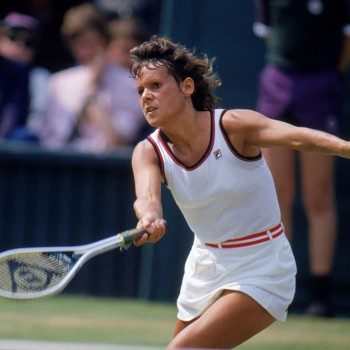 Tennis is one of the all-time greatest sports.
It's easy for audiences to follow, the rules are simple to learn. It requires the most from its players: skill, endurance and intellect. And the one-on-one nature of the game gives it a gladiator quality that cannot be denied. Nothing is more exciting than that buzzer-beater final set.
So why would one iconic woman player claim that other women are "ruining" the sport as Margaret Court, the fifth greatest woman tennis champion of all time, asserted on May 31 about lesbian tennis players? Her claim has prompted two iconic tennis greats, Martina Navratilova and Billie Jean King, both lesbians and the first two people to come out in professional sports over 35 years ago–to demand Court's name be stripped from the Margaret Court Arena in Melbourne Park, Australia.
Martina Navratilova suggests a name change from Margaret Court Arena to Evonne Goolagong Arena. What do you think? https://t.co/mt3Zba3zbq

— ABC Indigenous (@ABCIndigenous) June 1, 2017
It's an ugly, unnecessary story. It's 2017. If anyone has ruined anything, it's Court. What's more, this is a pattern with Court. She previously attacked Martina and in 2013, wrote a public letter damning Australian tennis player Casey Dellacqua after she announced she and her partner, Amanda Judd, had just had their first child together. Court called the birth "social engineering."
First some background on women's tennis and how it became the most-watched and best-paid of all sports women are allowed to play (I say "allowed" since we know baseball and football have yet to open up for women players.)
Personally, I love tennis. My father played well and tried to get us kids to play, but his flair for the sport which he played in college and beyond skipped a generation. I was great at other sports, but that racket and ball eluded me. Nevertheless, I've followed the sport since I was a kid when women's tennis broke through the glass ceiling of professional sports to capture the attention of a whole new sports market and a whole new generation of girls who loved sports.
The 1970s is when women's tennis gained both audience and prestige.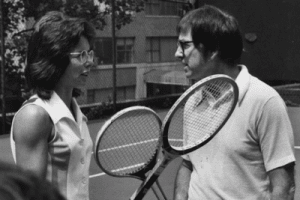 Billie Jean King, the first out lesbian tennis player and first female professional sports figure to come out publicly, revolutionized the sport when she won a tennis match called "The Battle of the Sexes," beating male tennis great Bobby Riggs in 1973.
Riggs had been retired for years when he asserted as a tennis promoter that women's tennis was an inferior sport not worth watching or paying for and that at 55 he could still beat any top player.
King, then 29, declined his offer. Australian Margaret Court, then 30, and the top female tennis player in the world, took on the challenge in a Mother's Day match. And lost. Riggs landed on the covers of Sports Illustrated and Time magazine.
But he still wanted King and she now wanted to best him.
In September 1973, King took him on in what was then the most-hyped tennis game of all time. This time the prize was $100,000 and a slew of endorsements.
King won, taking Riggs in three sets in what was, with 90 million viewers, the most watched match in tennis history through 2012.
A third match in the "Battle of the Sexes" took place in 1992 between Jimmy Connors and Martina Navratilova. Connors won the match in two sets, as Riggs had against Court in 1973.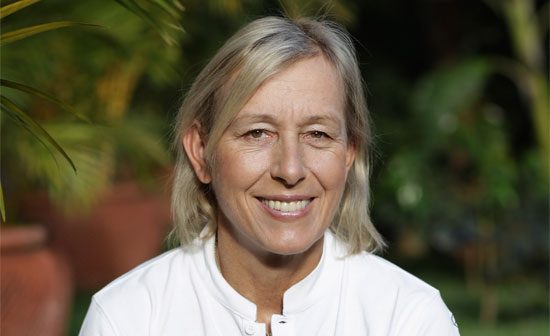 Since Billie Jean King and other women players from Martina Navratilova to Serena Williams, no sport has drawn international attention to women athletes like tennis.
Serena Williams may now be the greatest female athlete of all time. She's so great that male sportswriters tried to claim her winning the Australian open in April while pregnant with her first child was some form of gestational cheating. (Any woman who's tried to do anything physical but walk and chew peppermint gum and try not to vomit in her first trimester knows how ludicrous a claim that was.) 
Anyone, female or male, who follows tennis can name at least the top ten best women players of all time. They are, in descending order of amazing wins: Williams, the all-time number one greatest, followed by Steffi Graf (2), Martina Navratilova (3), Chris Evert (4), Margaret Court (5), Monica Seles (6), Billie Jean King (7), Evonne Goolagong Cawley (8), Venus Williams (9) and Justine Henin (10).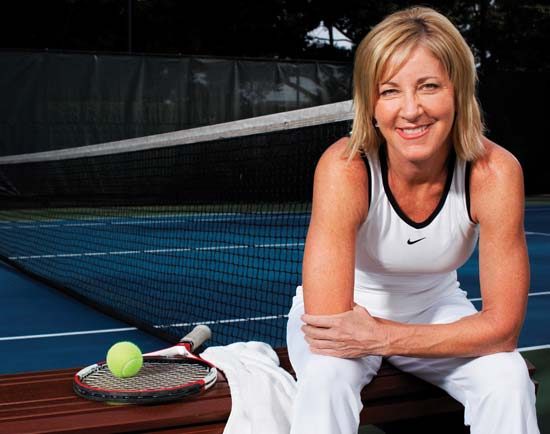 Chris Evert
Other iconic players whose names are household to tennis afficionados are Maria Sharapova, Martina Hingis, Li Na, Jennifer Capriati, Gabrielle Sabatini, Helen Wills, Tracy Austin, Eugenie Bouchard and the groundbreaking Maria Bueno and Althea Gibson, who took on the color barrier in the sport.
Billie Jean King and Martina Navratilova broke a different barrier in sports: they came out as lesbians when no one was out in any sport. King was first, followed closely by Martina, both in 1981.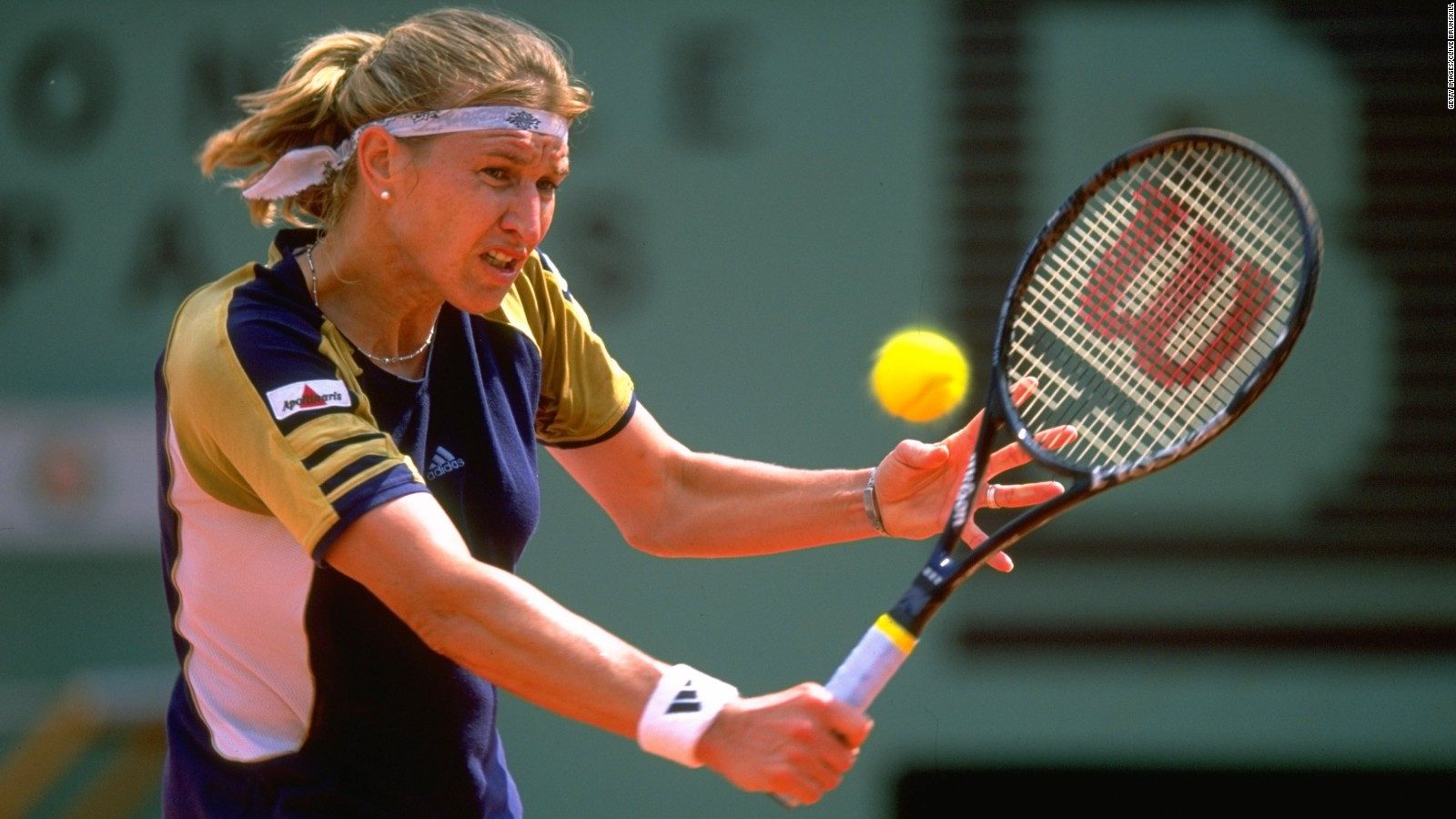 Steffi Graf
But King was outed by a former lover who filed a palimony suit and the circumstances hurt her deeply, both personally and financially. She had wanted to retire, but couldn't afford to. But being outed as a lesbian damaged her career irreparably. She retired in 1983.
In an interview in 2007, King said, "Within 24 hours [of the lawsuit being filed], I lost all my endorsements; I lost everything. I lost $2 million at least, because I had longtime contracts. I had to play just to pay for the lawyers. In three months I went through $500,000. I was in shock. I didn't make $2 million in my lifetime, so it's all relative to what you make."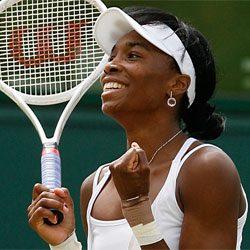 Venus Williams
Martina didn't fare much better. She gave an interview in 1981 in which she said she was bisexual. She had just become a U.S. citizen after defecting from the Czech Republic. She asked that the interviewer wait until she was ready to come out publicly. He didn't.
She continued to play until 2006 and has been an outspoken advocate for LGBT rights.
Now she's penned an open letter to Margaret Court as the two have their own battle, court side.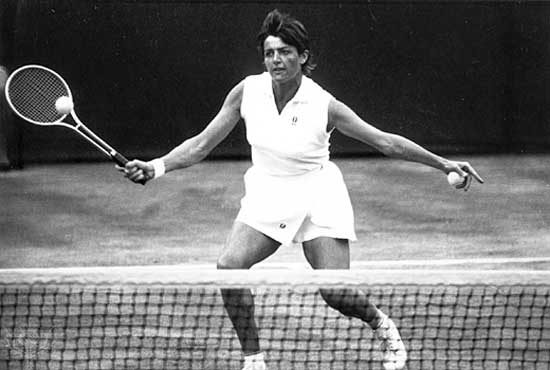 Margaret Court
Court has made some stunning assertions, claiming in a May 31 interview that "Tennis is full of lesbians. Even when I was playing there were only a couple there, but those couple that led [she's referring to King and Martina] took young ones into parties. And what you get at the top is often what you'll get all through the sport."
Court added that a "gay lobby" is "trying to get into the minds of children" through Australia's Safe-Schools program which is an anti-bullying initiative.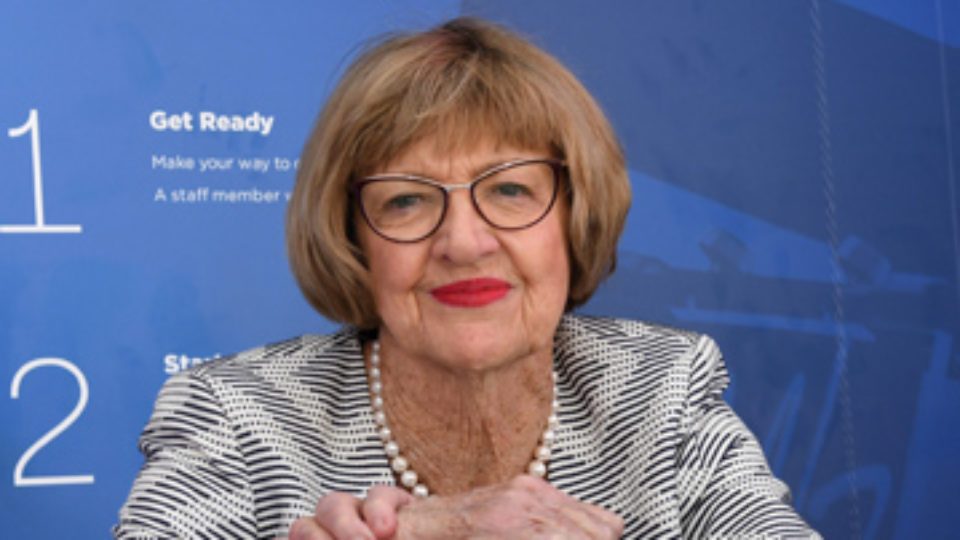 Margaret Court
Ironically, Court asserts that Martina and King, who have both called for her name to be stripped from the arena, are bullying her.
"I think it's bullying. I've got nothing against homosexuals. As individuals they can do what they want to do. But my belief as a Christian is that marriage is the Bible way and I think it's sad that these people are using that to try to hit below the belt."
Court is a pastor in a fundamentalist Christian church in Perth.
Court also noted in her much-publicized interview with Australia's Vision Christian Radio that the quest for marriage equality in Australia is about converting kids to being lesbian or gay–something she previously accused Martina of doing with her activism.
Court said, "Everybody knows that it is wrong, but they're after our young ones, that's what they're after." She also called homosexuality "a lust of the flesh."
Court segued briefly from lesbians to female to male trans persons, saying, "You can think, 'Oh, I'm a boy', and it will affect your emotions and feelings and everything else. That's all the devil."
If Court weren't herself a role model, this might be just one more rant from a 74-year-old fundamentalist Christian homophobe. But there's the matter of that Arena with her name on it. And her place in tennis history and Australian sports history.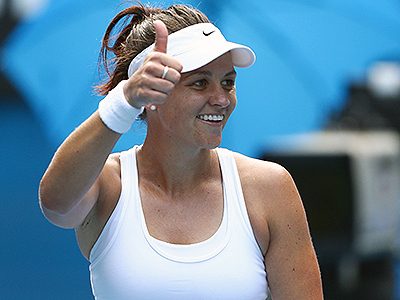 Casey Dellacqua
Casey Dellacqua, is one of those out lesbians on the tennis circuit Court was talking about. She and her partner, Amanda Judd, just had their second child together April 27. Dellacqua, a native of Perth, told the Guardian she was deeply hurt by Court because she used to play with her when she was learning the game. Court had previously attacked Dellacqua in a public letter when Dellacqua and her partner had just celebrated the birth of their first child. Court claimed "this child has been deprived of his father" and accused Dellacqua of "engineering social norms."
Dellacqua said, "At the time I was really hurt. I mean, I was hurt because I actually know Margaret personally; I used to hit with her back in Perth so I know her." Dellacqua said, "I did read the article and I left it alone. I thought, it's not worth responding to. But then obviously more and more stuff just keeps coming out."
After Court's latest volley, Dellacqua told the Guardian, "I'm fine and I'm very conscious of the fact that everyone is allowed their opinion, but when you start singling out my family especially, that's when it's not okay. And my family does not deserve to be subject to that." But it is Martina who has been the driving force on the name change of Margaret Court Arena, and no matter what Margaret Court herself says, Martina's arguments are valid on more than one issue.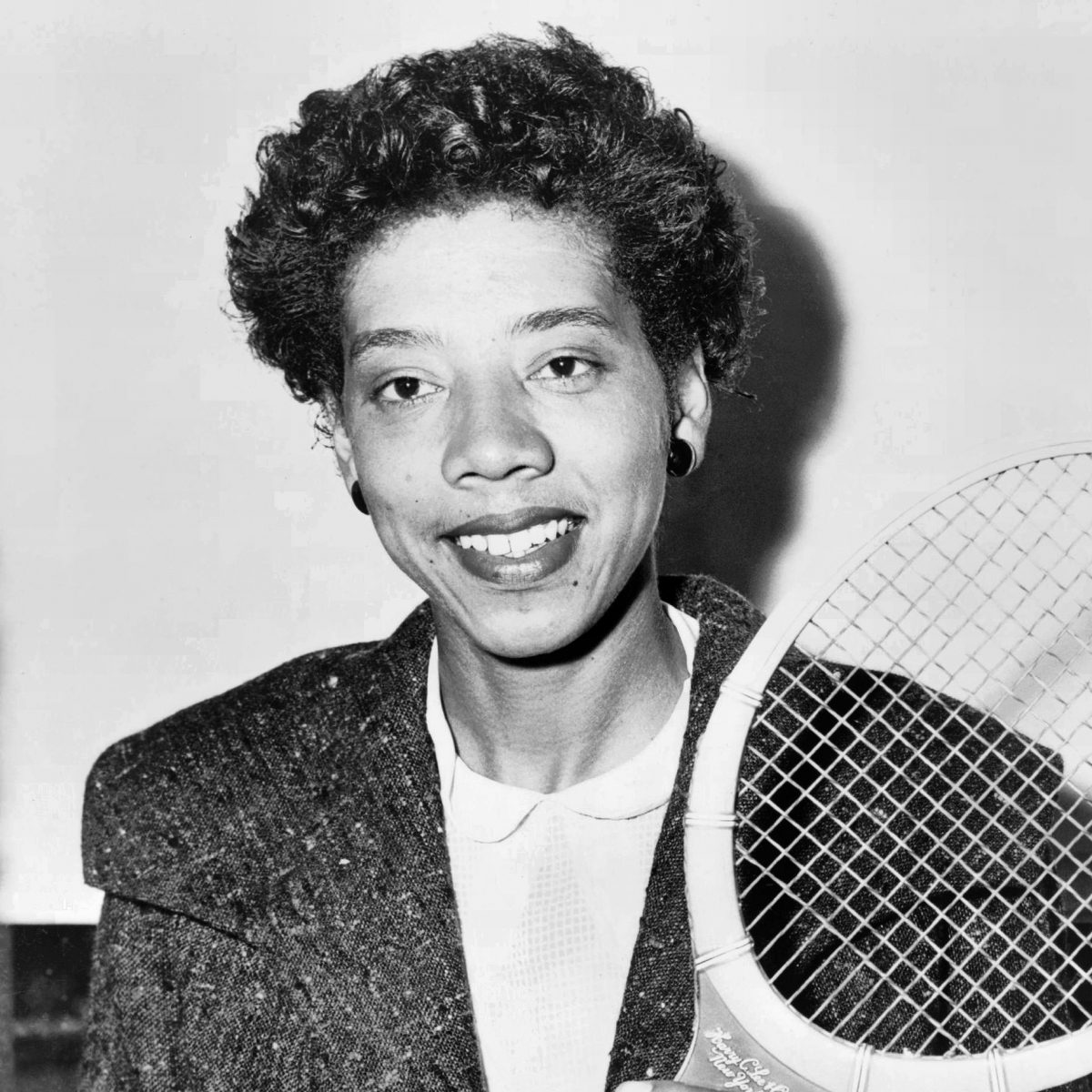 Althea Gibson
On May 31 she penned a letter to Margaret Court Arena which was published in its entirety in the May 31 Sydney Morning Herald. In her brilliantly intersectional missive the tennis great explains, :I had long ago forgiven Court for her headline-grabbing comments in 1990 when she said I was a bad role model because I was a lesbian." But then she illumines other things Court has said over the years.
"What I did not know about until now were the unabashed racist statements Court made in the '70s about apartheid in South Africa. Saying that South Africa dealt with the 'situation' (meaning people of color) much better than anywhere else in the world, particularly the US: what exactly did she mean by that?"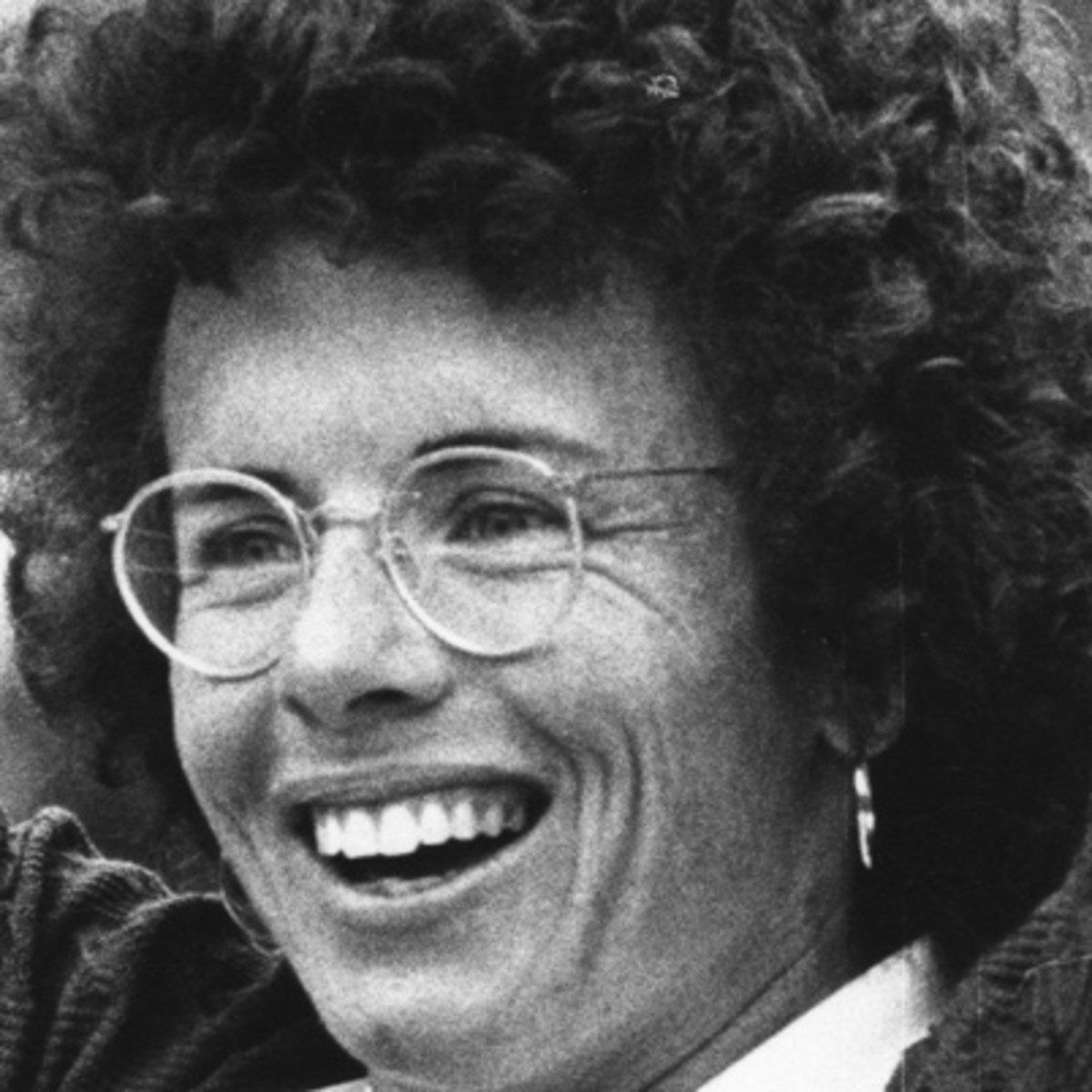 Billie Jean King
Martina catalogued more of Court's recent statements, including the accusation older lesbians were luring young women on the tennis circuit. Then she is succinct:
"It is now clear exactly who Court is: an amazing tennis player, and a racist and a homophobe. Her vitriol is not just an opinion."
Martina calls on the Arena to acknowledge the damage Court is doing to real human beings–notably the very kids she claims to represent. "And now, linking LGBT to Nazis, communists, the devil? This is not OK. This is in fact sick and it is dangerous. Kids will suffer more because of this continuous bashing and stigmatizing of our LGBT community," Martina continues.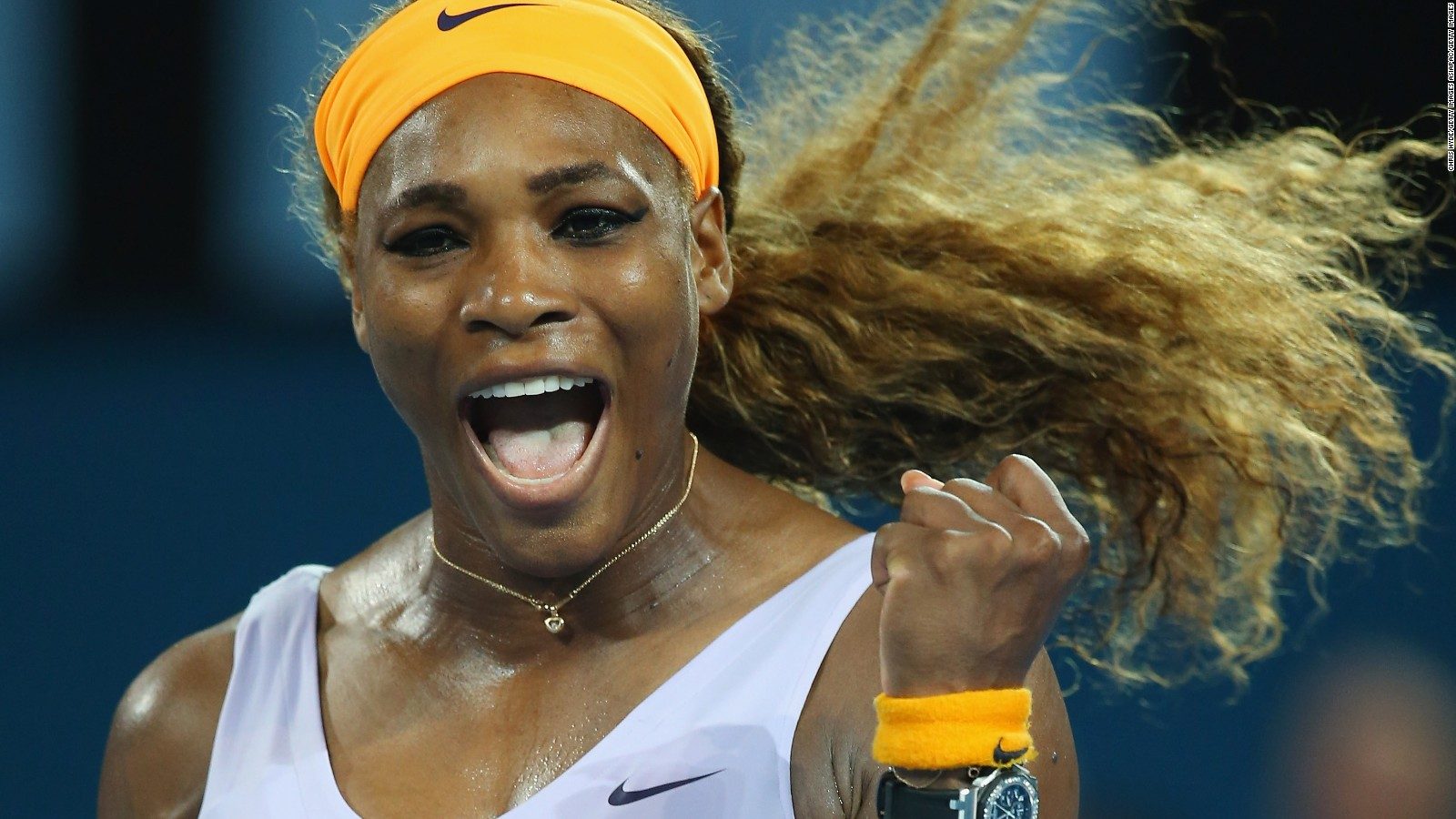 SERENA WILLIAMS
"How much blood will be on Margaret's hands because kids will continue to get beaten for being different? This is not OK. Too many will die by suicide because of this kind of intolerance, this kind of bashing and yes, this kind of bullying. This is not OK." She goes on to assert that free speech is one thing, demonizing another. And ends making a call for a name change to one of the great players–and first Aboriginal Australian–to replace Court in the arena's moniker, saying the platform for voices like Court's needs to be made smaller, not larger. "And I think the Evonne Goolagong Arena has a great ring to it. Now there is a person we can all celebrate. On every level."
It's a compelling and passionate letter from one of our iconic lesbian figures and one of tennis's all-time greatest players.
Martina ranks above Court–as a player and as a human being.
It is players who will force this issue with Tennis Australia. Rarely are names removed from arenas, but why laud a homophobic racist? A boycott of Margaret Court Arena has been raised several times at the French Open this week, It has been led by one of the younger rising stars, openly lesbian Dutchwoman Richel Hogenkamp.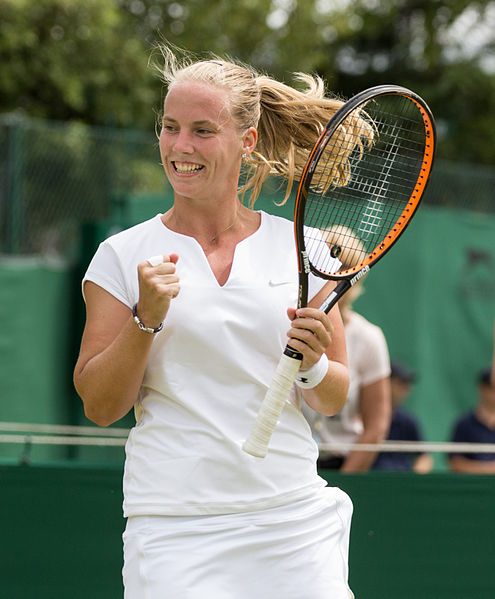 RICHÈL HOGENKAMP AT THE 2015 WIMBLEDON QUALIFYING
Tennis is a spectacular sport. Serena Williams has proven that the women can be greater even than the men. Who we honor should reflect the greatness of the players and the sport. Margaret Court's time as a role model ended the day she made those statements. Change the name of the arena.
For the good of the sport and the good of those children Court claims such concern for.