An in-depth look at the feature film Girltrash: All Night Long with the executive director herself.
The time has finally arrived for the world premiere of Power Up Films' movie, Girltrash: All Night Long.
The film is the next instalment from the already successful Power Up Films production company and is sure to be a show stopper with its clever lyrics surrounded by upbeat tempos in this widely anticipated lesbian musical comedy.
Based on the successful lesbian web series of the same title by Angela Robinson (The L Word, True Blood, Hung), this film follows five young women around on one crazy and unforgettable night. They find their true identities throughout the evening with a hilarious mixture of sex, drugs, and rock-n-roll.
The film has a demanding and growing fan base. Social media platforms that promote the film have seen a growing number of "likes", "views", and tweets over the span of the last several years. Lesbian cinema has come a long way and we spoke Stacy Codikow, founder of Power Up Films, to discuss Girltrash and her production company.
So Stacy, are you ready to get "trashed"? … GIRLTRASH: All Night Long was a long time coming. From previous Facebook posts it stems back to 2009. How does it feel for you, and for your company POWER UP Films, to finally be able to release this long awaited film to the public?
Fantastic, it really feels great to "finally" be able to share this wonderful pop comedy with an audience. I couldn't be more proud than I am of Girltrash: All Night Long. It's funny and clever and sweet, and I know all age audiences will go wild for it. The film was shot in 2009/2010 and we have all been waiting for its release far too long, but so happy to share it now.
Girltrash first started out as a web series. How and why did you and the POWER UP team choose this project to create the feature? Did you know it was going to be a musical?
None of us knew it was going to be a musical when we started, we didn't have a script. Angela and I talked about what she wanted to do and she said she wanted to work this idea of Girltrash within another genre, a comedy. So that was the plan a feature comedy. The lead actress of the film, Lisa Reiffel is a real life rock n' roller and it became apparent to Angela that this would be another layer to the story and so it transformed.
It was pretty much a no brainer on why, Angela Robinson is the answer. POWER UP made D.E.B.S. with Angela and feels privileged to have launched her introduction to Hollywood. She is an amazing storyteller and at that time we wanted to work with her again.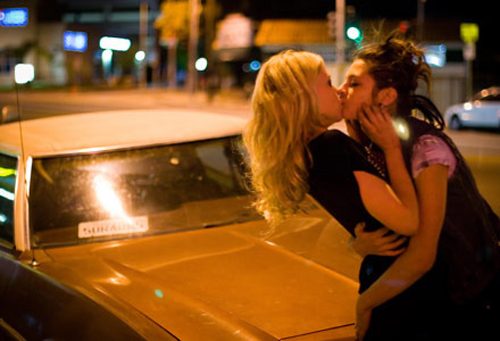 The DVD was set to come out late November of last year but was pushed back until February of 2015. Was there a specific reason for that? How have the sales of the DVDs been?
It was set to be released by POWER UP on December 15th, but some issues needed to be addressed and so we pushed back until Feb 1st and included the official Girltrash beanie in the package as a "hey, thanks for waiting" gift.
People keep saying to us that no one uses DVDs anymore, but we sold a whole lot of DVDs so…I don't know what to tell you.  Yet, the VOD release on June 3rd is the big deal. It will be available on iTunes, Amazon, Sony, Blockbuster, On Demand etc. and that's when we hope film goers "come out" to get it.
You are the founder of POWER UP films. How did you conceive this amazing company back in 2000? What was your mission? Why do think it continues to be a successful company?
I started POWER UP as a way to bring lesbians out into film/tv/entertainment. I myself was a TV writer and an independent film producer but didn't know lesbians in Hollywood and there wasn't any company out there that produced lesbian films and educated women along the way, and showcased their work to the Hollywood community so I thought, I could do that. I retired from my production company and became a full time volunteer for POWER UP a nonprofit 501(c) (3), here I could reach out to women and bring them up onto the business. I think our mission is true and POWER UP continues to be the place to "get a major leg up."
A lot of our success comes from our recognition of out/working women in Hollywood. For more than a decade, POWER UP, its films and Awardees have garnered much respect and media attention and POWER UP's' "10 Amazing Gay Women in Showbiz." Awards were even spoofed on Saturday Night Live by host, and POWER UP Awardee, Ellen DeGeneres. Moreover, the Awardees were even congratulated directly by Governor Howard Dean while he was running for the Presidential nomination for the Democratic Party and recently Katey Sagal called out Jane Lynch for receiving one, on the Comedy Central Roast of Rosanne Barr.
Being a gay woman in the film industry, did you have any challenges that needed overcoming to reach your goals? Were there any film icons that you looked up to for insight and inspiration?
Funny, in Hollywood being a gay woman can work to your advantage. Hollywood is a boys club and when they are forced to let the girls play, their wives prefer the non-threatening lesbian to spend 24/7 with their husbands. Aaron Spelling was my idol and I wanted to run a TV empire was I was a kid. But I really learned a lot from the TV business and it has helped tremendously as an indie film producer.
What kind of things do POWER UP Films offer the aspiring filmmaker? Why is it so essential?
Our greatest program is the mentee program where aspiring filmmakers go through a boot camp during the course of making a feature film. Wax On Wax Off is the most effective way to do this program. Mentees have meeting and workshops with writers/directors/producers, have roundtables on set protocol, learn about departments, classes, on the set training and unprecedented access to an invaluable experience. We also finance, produce and exhibit films and have many additional educational resources as well.
What other films has your production company produced and supported?
POWER UP has produced 15 films including Jamie Babbit's "Itty Bitty Titty Committee," Angela Robinson's D.E.B.S., Colette Burson and Cherien Dabis' Little Black Boot, Lee Friedlander's Give or Take an Inch, and Jessica Sharzer's Fly Cherry. We have supported filmmakers such as Guinevere Turner, Dan Faltz, Erin Greenwell and Andrea Sperling in some of their endeavors as well.
So why should people go see Girltrash: All Night Long?
It will make you happy, and we all know that happiness is the truth. It is super funny and really good, it will make you sing out loud and hell that's a fun time. Of course POWER UP appreciates your support of our release so we can continue to make films.
The world premiere of Girltrash is slated to hit the Film Out SD festival in San Diego, CA on Saturday, May 31st at 1pm at the North Park Theatre. The east coast premier will be at the Out Film CT festival in Hartford, Connecticut on May 31st at 5pm at Cinestudio, on the campus of Trinity College.
With screenings and premiers in the near future, Power Up is also preparing to launch Girltash on VOD (Video On Demand) June 3rd. Along with already being available on DVD, the film will also be streaming on iTunes, VUDU, Amazon, and Sony.