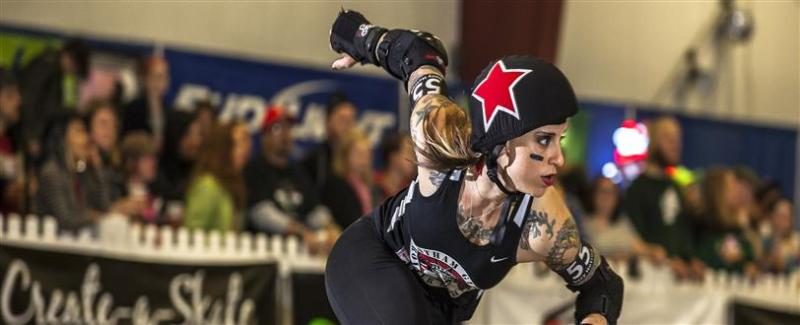 LOTL speaks with the directors and producers of these fantastic queer films!
This year's Mardi Gras Film Festival aims to deliver the best  LGBTIQ cinema, from ballerinas to roller derby players. The festival will be held at Sydney's Event Cinemas on George Street from 19 February to 5 March. LOTL spoke to the directors and producers of the films included in this carefully curated program.
Sorted alphabetically according to the film, read through them all and gain an insight into the creative process of your favourite films. You can also find out the directors' and actresses' favourite lesbian movies!
All About E​
BFFS
Derby Crazy Love
In The Turn
Life Partners
Lyle
Out In The Night
She's Beautiful When She's Angry
Skin Deep
Tru Love
ALL ABOUT E
ANSWERS BY LOUISE WADLEY
Tell us about your film!
All About E is a road trip, a comedy, and a love story. E, a beautiful, sexy DJ, seems to have it all as she cuts a swathe through her female fans. But they go on the run when she and Matt, her husband of convenience and best friend, stumble on a bag of cash. Suddenly E finds she has burnt too many bridges, and there is nowhere to run but outback Australia and into the arms of ex-girlfriend Trish who broke her heart. E has to learn to face up to her past. She has to give her family the chance to accept who she is and find the courage to live her dreams.
It was a long hard journey to raise the money, get the right cast and get everything in place, but we know because of our hugely successful Pozible campaign that the audience is hungry for good films with lesbian characters and decent production values.
What made you want to make it?
I want to create complex heroines who have a lot going on; I've wanted to do a film about a heroine like E for a long time. I wanted to do something about a flawed character carrying a lot of things but seemed to have everything from the outside.  I got so frustrated by the lack of interesting and complex female characters and so few stories with lesbians in the leading roles that we hardly ever see.  And I like blurring genres and subverting conventions. Instead of the guy being the love rat, the girl is the love rat.
I also wanted to explore some of the themes of being true to yourself and courage – particularly the courage to follow your passion even when there are many obstacles, and I wanted to have a film that took place in the country and the city, which is why it's a road movie.
Why should LOTL readers see your film?
I think LOTL readers should see this film because it is an entertaining film with interesting and diverse characters. The main characters are lesbians, but being a lesbian isn't the main reason for the story. And apart from being funny and entertaining – the cinematography is stunning – I had an excellent DOP in Justine Kerrigan – she is just incredible.
What are some of your favourite lesbian films?
I've recently loved Appropriate Behaviour, Reaching for the Moon, and Cloudburst. Some oldies that are goodies include Desert Hearts, When Night is Falling, Better than Chocolate, Debs – And while it is not a film, nobody can ignore Orange Is the New Black – the writing, directing and casting is just brilliant!
BFFS
ANSWERS BY ANDREW PUTSCHOEGL
Tell us about your film!
Kat and Samantha have been best friends for years. When Samantha convinces a reluctant Kat to take advantage of a couple's weekend retreat by pretending to be lovers, they're hoping for some time by the pool and maybe a few good stories. How hard could it be? Instead, they immerse themselves in an intensive workshop with real couples fighting to save their relationships. As the "Closer to Closeness" weekend progresses, Kat and Samantha are made to face their shortcomings and, by default, begin to believe their own cover story. When the lines of friendship begin to blur, they are faced with asking themselves: could it be there is something there or has this weekend just worked a Jedi mind trick on them?
What made you want to make it?
I worked with Tara Karsian (who co-wrote and co-stars with Andrea Grano) on a short film entitled Hello Caller, which was a lot of fun and did quite well on the festival circuit. So when Tara came to me with the script and asked if it was something I was interested in directing, I knew immediately that I wanted to work with her again. The writing felt so fresh, original, and funny that I wanted to jump on board and be a part of the project from the start.
Why should LOTL readers see your film?
Our experience playing festivals worldwide has shown us that BFFs appeal to audiences straight and gay, young and old. We feel incredibly fortunate, as our goal was to make something that resonated with people across the spectrum. Almost everyone should be able to find a character they identify with in this story, so I think LOTL readers will enjoy their 90 minutes spent watching BFFs.
What are some of your favourite lesbian films?
I think the top of my list has to be, But I'm a Cheerleader. While it's been a while since I last saw it, I love how ahead of its time it was and that the filmmakers were able to make the audience laugh, cry, think, and feel. Beyond that, I'm excited to see LGBT characters becoming more common in film and  TV. Especially those where the sexuality of a character is but one of many things that help define them. That feels much more genuine to me than creating an archetype.
DERBY CRAZY LOVE
ANSWERS BY MAYA GALLUS
Tell us about your film!
Derby Crazy Love is an adrenaline-filled ride through the extraordinary subculture of women's roller derby. We follow Montreal's New Skids on the Block (the top team in Canada) as they face off against the U.K.'s London Roller Girls – it's a nail-biter!!- and we meet the cooler-than-cool Suzy Hotrod and Bonnie Thunders of New York's Gotham Girls (the top team in the world). In addition, we meet beautiful characters like Smack Daddy and Plastik Patrick from the New Skids and Raw Heidi and Kamikaze Kitten of the London Roller Girls. These gals are hot!
What made you want to make it?
It's not a sport many people know much about, and we loved the subculture – full of arty misfits. Plus, the values – third wave, feminist, DIY (do it yourself) are ones we live by at Red Queen. Our mission at Red Queen is to put strong female role models on screen. We loved that the New Skids On The Block is so proudly queer – they are the Neon Army!
Plus, we made a documentary and series about women's boxing, called Punch Like A Girl, several years ago, and it was trendy. People began asking us when we would make a film about roller derby. Finally, one of our film editors was a roller derby gal, so we went to the inaugural world cup in Toronto. And it just clicked.
Why should LOTL readers see your film?
Suzy Hotrod rocks! The documentary is full of drama, with some of the most exciting people you'll ever meet. It's entertaining and informative – people who don't know anything about roller derby will learn a lot, and people who do know about it tell us it's the best roller derby doc they've seen. At any rate, what we're proud of is that it does capture the spirit, passion and heart of this modern, unconventional sport.
What are some of your favourite lesbian films?
Ha! That's a good switch. Blue is the Warmest Colour. Bound. High Art. You know, sex + tragedy, drugs or murder = good viewing! And although it's not a film, Orange is the New Black is addictive.
IN THE TURN
ANSWERS BY ERICA TREMBLAY
Tell us about your film!
In turn follows Crystal, a 10-yr-old transgender girl, as she navigates growing up in rural Canada. After being denied the right to join athletics due to her gender, Crystal serendipitously discovers the Vagine Regime, an international queer collective of roller derby players comprised of people of all shapes, sizes, backgrounds and identities. The Vagine Regime not only accepts Crystal but actively supports her journey. In turn, it weaves Crystal's story into the broader narrative of the evolution of roller derby from a niche sport into a social movement with strong roots in the LGBTQ community.
What made you want to make it?
I was 15 the first time I was called a dyke. Two girls were hiding in the basketball locker room bathroom, so I couldn't watch them change. I quit the next day and didn't participate in sports again until I discovered roller derby when I was 26. I had a personal connection to the transformative power of roller derby. I wanted to tell the story of the hundreds of queer skaters inspiring the next generation. You don't have to be queer to identify with this sport's magnificent power in changing your life. Also, every queer person I know can identify with the struggles the individuals in the film face. You don't have to play roller derby to join in the celebration of acceptance and empowerment.
Why should LOTL readers see your film?
This film tells the story of a fantastic group of queer athletes trying to take over the world with feminism and roller skates.  What started as a group of lesbians trying to network has become a global phenomenon with huge membership in Australia and beyond. In turn, it is prime programming for any lesbian on the loose!
What are some of your favourite lesbian films?
Fried Green Tomatoes (It counts!)
But I'm a Cheerleader
Tomboy
LIFE PARTNERS
ANSWERS BY SUSANNA FOGEL
Tell us about your film!
LIFE PARTNERS is a comedy about two codependent best friends approaching 30 – Paige (Gillian Jacobs) is straight, Sasha (Leighton Meester) is a lesbian – and how their friendship is inevitably affected when Paige meets the (romantic) love of her life. It's a spiritual love story about two friends who go through the universal experience of growing up and apart at different paces. Their separation forces them to redefine what's important to each of them and how they can find a new normal for their friendship.
What made you want to make it?
My writing partner, Joni Lefkowitz, and I always write grounded comedy based on our personal experiences. In this case, we have always been compelled by friendship stories because we feel those relationships in life are just as emotional as romantic ones, if not more s, especially for women and especially for a generation that is encouraged to hold off on settling down until we're ready. Friendships have a chance to become closer and more codependent than ever as people wait until their 30s to settle down, at least in urban centres where people are more focused on their professional lives.
It was also important to us to tell a story about a platonic friendship between girls with diverse sexualities because that's our friendship – Joni's gay, I'm straight – and the dating pool we draw from has always been in the backdrop of our love lives but not what defines us, or our close bond. Also, as writers, we wanted to contribute something a little different to the genre of queer films in the form of a movie that could cross over to a mainstream audience as a comedy. Our background is in comedy writing. In this case, we wanted to represent the lesbian community in a fun, upbeat way (the way Joni, through her sardonic eyes, experiences it) in a film that doesn't take itself too seriously like many queer genre films have historically done.
Why should LOTL readers see your film?
If LOTL readers are looking for 90 minutes that feels like hanging out and laughing with your best friend – whatever gender or sexual orientation they might be – this could be the film for you. It is definstalgic as emotional as it is comedic since it delves into the sadness of transitions in friendships and adult life as we come of age, so there may be some tears too. But good tears. They were quickly followed by broad, fun humour as we take some thinly-veiled satirical potshots at a handful of the extreme lesbian types Joni dated before she met her wife!
What are some of your favourite lesbian films?
Joni's all-time favourite is "Show Me, Love," a teen lesbian romance by Lukas Moodysson. It was one of our favourite movies when we were first becoming friends! We also both liked Kissing Jessica Stein.
LYLE
ANSWERS BY STEWART THORNDIKE
Tell us about your film!
I often describe LYLE as a lesbian ROSEMARY'S BABY. I wanted to tell a personal story that was also frightening and beautiful — like the kind of psychological horror films I love.
What made you want to make it?
The story for LYLE came to me suddenly when I was angry with my current girlfriend at the time — Ingrid Jungermann — who plays Gaby Hoffmann's partner JUNE. I wanted to have a kid, and she was totally against the idea. We had this short casual conversation about it right before she left for a trip, and I suddenly thought– she's a wrong person — she's stopping me from having kids. And then this story of a woman who prevents her partner from having kids popped into my head. I quickly jotted down the story and realised I had sketched out a strange new version of ROSEMARY'S BABY without realising it. But I didn't care. I was still compelled and pumped to make it and thought it could be fresh and exciting and maybe even essential to have this kind of story told about a lesbian couple.
Why should LOTL readers see your film?
LOTL readers might want to check out LYLE to see a fresh female take on horror — a genre that has been dominated by commercialism and the male perspective for a very long while. In the last year, there have been several excellent horror films by women, and I'm excited about the idea of women revamping this genre for a while.
What are some of your favourite lesbian films?
I've always loved to SHOW ME, LOVE, THE CHILDREN'S HOUR and TIME SQUARE (which should have been a lesbian love story, but the producer altered it — but you can still feel the chemistry of this crazy film)
OUT IN THE NIGHT
ANSWERS FROM BLAIR DOROSH-WALTHER
Tell us about your film!
Under the neon lights in a gay-friendly neighbourhood of New York City, four young African-American lesbians are violently and sexually threatened by a man on the street. They defend themselves against him and are charged and convicted in the courts and the media as a 'Gang of Killer Lesbians'.
What made you want to make it?
Immediately following their arrest on August 18th, 2006, I became interested in their case. I read the many salacious headlines like "Attack of the Killer Lesbians," "Gal Gang," "I'm a man, lesbian growled," and on and on. However, the first of many New York Times articles gave me pause. The headline read: "Man is stabbed after admiring a stranger." An admirer? I really could not believe it. A man does not 'admire' teenage girls on the street at midnight. That is harassment. And I have never met a woman who hasn't been harassed on the road at some point in her life, never mind in New York City, where it is commonplace.
A blog started as a community space for people to discuss what was happening in these headlines and news articles. I attended a community meeting in the West Village at the LGBT Center in New York City. The conversation wasn't about what happened that night, as it was so early and nobody knew the details. Still, people focused on how to protect yourself and your friends when you are threatened, who feels comfortable calling the police, and how to combat media bias.
I wanted to understand why this man was considered, in the mainstream news media, as a potential suitor and not a threat. Why weren't these women seen as survivors of violent, homophobic harassment? And why were a group of friends with no criminal records, who were not a gang, being charged as a gang?
I believe this story would have unfolded differently had the women and gender non-conforming youth involved been white. Race, class, gender and sexuality were critical issues in this case. For the next two years, I worked as a part-time activist around this case. I did not think a white director should tell this story.
Two years later, however, as their appeals were approaching, I could not stop thinking about this story. I wrote to each of the women in prison and asked if I could come to visit them and discuss the possibility of a documentary. I spoke with their family members to see if they were also interested. Immediately, the women were interested, but I was sure they knew what a documentary feature would entail. In retrospect, neither did I. So, I continued to visit them. I wanted to make sure we could get to know each other. If they weren't going to feel comfortable with me, then I wasn't going to make the film. I also began speaking with their family and appellate lawyers to handle the case better. So we went from there.
Why should LOTL readers see your film?
They should see nuance. They should see complexities and grey areas. They should see that self-defence is too narrowly-defined in the US Criminal Legal System and doesn't allow for context. The journalist should have provided this context. They did not. The film is about this context of self-defence.
They should also see that these women were a pocket of resistance that night. They fought back and protected one another AND were a force of resistance in the courtroom when they pleaded not guilty. They were facing 25 years, so pleading not guilty is a tricky thing to do.
What are some of your favourite lesbian films?
Well, it's not a "lesbian" film, but my favourite queer film of all time is Boy's Don't Cry, by Kimberly Pierce. That is my all-time favourite. Pariah, by Dee Reese, is another fantastic film. I enjoy Tipping the Velvet, Show Me, Love, High Art; Gia is a guilty pleasure.
SHE'S BEAUTIFUL WHEN SHE'S ANGRY
ANSWERS FROM MARY DORE
Tell us about your film!
SHE'S BEAUTIFUL WHEN SHE'S ANGRY resurrects the buried history of the outrageous, often brilliant women who founded the modern women's movement in the United States from1966 to 1971.  She's Beautiful takes us from the founding of NOW, when ladies wore hats and gloves, to the emergence of more radical factions of women's liberation; from intellectuals like Kate Millett to the street theatrics of WITCH (Women's International Terrorists Conspiracy from Hell!).
Remarkably, there has never been a theatrical documentary about the early days of women's liberation. She's Beautiful aims not to romanticise the early movement, but to dramatise it in its exhilarating, quarrelsome, sometimes heart-wrenching glory.
The film does not shy away from the controversies over race, sexual orientation and leadership that arose in the women's movement. She's Beautiful When She's ANGRY captures the spirit of the time — thrilling, scandalous, and often hilarious.
What made you want to make it?
I've been part of the feminist movement and a filmmaker since the '70s. I was frustrated that there have been so many films and television shows on other groups from the same period, such as the civil rights, anti-war and environmental movements. In contrast, the women's movement was virtually ignored. The women who started the 1960's feminist movement took a vast intellectual and emotional leap by challenging all facets of women's lives and redefining gender norms.  Most of these women had been involved in other movements until they realised they were treated like second-class citizens. Our film covers the beginning of people's consciousness about feminism, which few people know about.  I thought the early days also raised an important question:  how do you start a movement?
Why should LOTL readers see your film?
We're amidst a theatrical release in the US, and She's Beautiful has been very successful with audiences. The film covers a broad spectrum of activists, emphasising race, sexual orientation, and class issues. Like its title (which I LOVE and some hate), She's Beautiful is meant to be a provocative film because these women were not shrinking violets. I wanted to make an entertaining and in-depth look at a neglected topic.  At least in the US, this history has been utterly neglected and frequently disparaged.  People should be shocked that they don't know this history because they should!  At its core, this is a film about how to organise.  The women in the movie did an extraordinary job without the internet or money while fighting a tidal wave of ridicule. I hope they inspire people because ordinary people can make an enormous change  — but you have to work with others and organise.  It's uphill, and you don't always win the victories forever.  In the US, there's a severe backlash on many women's issues, particularly regarding reproductive rights and rape and sexual harassment.  As I hope we show, the women in the film share enormous pride that they did change the world.  Not 100% the way they wanted to, but in vast ways for the benefit of all of us.  Including me.   I got my first job as a television producer because of laws passed in the early 70s to prevent job discrimination by sex.
What are some of your favourite lesbian films?
Boys Don't Cry (Brilliant), Bound (Hot), The Kids Are All Right (Great acting and the new normal), Personal Best (Hot and groundbreaking for a mainstream film)
SKIN DEEP
ANSWERS BY MONICA ZANETTI
Tell us about your film!
Skin Deep is a story about two strangers, Caitlin & Leah, one dealing with a broken heart and one facing terminal melanoma. The women have a chance to meet one day on King Street, Newtown, and experience an adventurous night that leaves them both changed forever.
What made you want to make it?
Firstly, Melanoma is an issue very close to my heart, and I desperately wanted to see it represented in film. Mostly, however, it was the characters of Leah & Caitlin themselves. They were so clear and exciting and flawed to me; it was hard NOT to write their story.
Why should LOTL readers see your film?
I think it's a film with female characters that you don't get to see depicted on film very often. It's a love story, a friendship story, a funny story and a devastating story. I believe there is something in there for everyone!
What are some of your favourite lesbian films?
My Summer of Love with Emily Blunt, and I have to say that despite the controversy, I adored 'Blue is The Warmest Colour. I thought the two actresses were brilliant, and it's such a raw film.
TRU LOVE
ANSWERS FROM SHAUNA MACDONALD
Tell us about your film!
Tru Love is a story about three women who are frozen in life; it's a story about a love triangle between a mother, her daughter and her daughter's lesbian friend, which pushes the boundaries and allows for each woman's freedom; it's a mother/daughter story of resentment and reconciliation; it's a story about taking risks and living with abandon.
What made you want to make it?
When Kate approached me with the initial 10-page short film script of TRU LOVE, I instantly fell for the three female protagonists, each frozen in their lives, and knew this story had to be a feature. I also knew I wanted to play Tru, a woman stuck in rinse/repeat mode who needed that jolt of electricity, Alice, to jump-start her life.  So my collaboration with Kate began to develop this into a feature-length film and ended with me performing the character of Tru and co-writing, directing and producing with Kate.  I had been an actress for nearly 20 years, and while I loved acting and still do, I knew I wanted "more" out of the creative process. So I guess TRU LOVE was my ALICE – it woke me up! It gave me that kick in the pants to get out there and seize the day. I'm currently developing my second feature film, The Danish Ambassador's Wife, a political thriller with, you guessed it – strong female leads!
Why should LOTL readers see your film?
Oh, there are so many reasons to see TRU LOVE!  It's a great story!! We have a gorgeous and talented cast, we showcase a beautiful snowy Toronto, and you will laugh and cry and laugh some more…so it's a bit of a rollercoaster ride, and who doesn't love that?! SEE IT!
What are some of your favourite lesbian films?
Kissing Jessica Stein, Heavenly Creatures, Mulholland Drive, Cloudburst and Tru Love!
To view the entire program, visit http://queerscreen.org.au/mgff/.