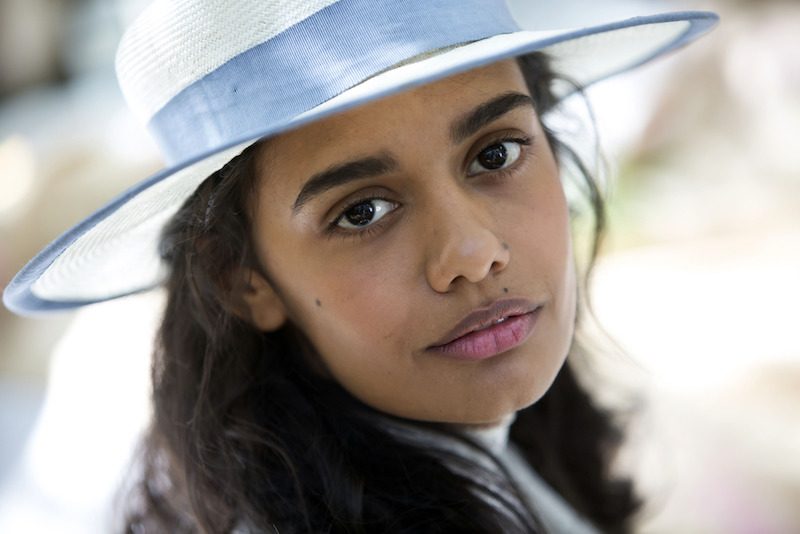 We meet Madeleine Madden of sultry new sapphic period drama, Picnic At Hanging Rock
We're totally hooked on Picnic At Hanging Rock,  a  must-watch period drama.
This provocative reimagining of Joan Lindsay's classic Australian novel tells the tale of the Victorian schoolgirls who go on Valentine's picnic, from which some of them are destined never to return.
Not only is this version stunningly shot and full of intrigue, but, best of all, it shimmers with sultry, sapphic sensuality.
We caught up with Madeleine Madden, who plays Marion Quade, to find out more.
How would you describe your character?
Marion is incredibly brave. To me, she's always been a woman before her time. She's not someone who would be celebrated in history because of her gender and skin colour, but she would have definitely paved the way for future generations of women. She prides herself on her intellect and independence because she knows she's going to have to support herself. We really see her courage in her relationship with Ms McCraw (Anna McGahan). She wears her heart on her sleeve and isn't ashamed of who she is.
It's a rare treat to see a TV character who is a queer woman of colour. How important do you think it is to have diverse representation on our screens?
I am a massive advocate for diversity on our screens. For me this role was monumental. Playing a queer black woman living in such a suppressive time was something I really sunk my teeth into. Exploring the challenges she faced during this time, not only as a woman but also being black and being a lesbian was really confronting.
Having diversity on our screens shifts people's perceptions and ideologies. It creates a dialogue and also gives us the opportunity to tell our stories and celebrate what makes us different. It tells marginalised people who are watching that's wonderful to be you and you should celebrate that.
How do you feel about the romantic storyline between Marion and her teacher?
This was my favourite relationship of Marion's to explore. Larysa [Kondracki] and Amanda [Brotchie] were directing this block, and to work with two female directors for this chapter of Marion's story was really important for me. In these scenes, we see how liberated Marion felt. She was safe and unfiltered and also intellectually stimulated by Ms McCraw. It was a dream working with Anna, we had great chemistry and I also loved how different we looked. It made these beautiful scenes even more enthralling. It was so heavily female-dominated this block, working with two female directors, I felt I could really go to these vulnerable places and trust the process.
How much does this version of Picnic explore female sexuality and same-sex desire?
This reimagining of Picnic captures the storm that is adolescence. There's this small moment of "freedom" the girls are in. They're exploring their identity and their sexual curiosities before they get married off and devote their lives to men. We've reimagined these characters in a more contemporary way for a modern audience and portrayed these women in a very honest way.
What sort of reaction have you had since the show aired in Australia, particularly in regards to the show's themes of womanhood and same-sex desire?
The amount of interest and praise we received at home and internationally was incredible. Even though it's a show set over 100 years ago, women can still relate to these women. I don't think any of us knew how much hype Picnic would get, but it's a very proud moment that our stories are being heard and celebrated and to give these women a voice.