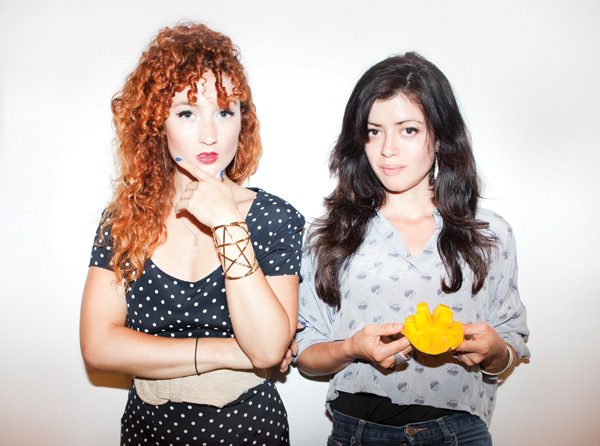 Knockout Pictures creator and the stars of "Be Here Now-ish" are taking the webseries world by storm.
Natalia Leite and Alexandra Roxo could not have picked a more appropriate moniker for their new production company, Knockout Pictures. Not only are they incredibly talented filmmakers—between them they have written, produced, and directed; worked on narrative, documentary, and short films; and promotional videos for fashion designers—but they are a couple of knockouts themselves. The duo partnered up with the intention of releasing female-driven, sexually progressive, and really funny material, and they're already making waves with their web series, Be Here Now-ish.
Be Here Now-ish follows Sam and Nina (played, of course, by Leite and Roxo) on a spiritual journey-slash-road trip from New York City to Los Angeles. Also starring in the series is Karley Sciortino from Vice magazine's online video series, Slutever.
"We decided to make this show because, well, for one, we really like to have fun, and mostly because we really felt that there aren't enough shows right now that reflect our lives and our community," says Leite. The hallmarks of the community they create onscreen include New Agey solutions to life problems, sexual fluidity, and an abundance of awkward humor. "We are interested in creating queer characters that are not the stereotypes we've seen on television over and over again. I mean, my character, for example, is kind of a player, but she's not at all the typical sexy dangerous butch-type. She's actually a little awkward, and maybe that makes her more endearing." Roxo adds, "Our characters are struggling—trying to makes ends meet, do things they love, find a sense of spirituality, and date in a new dating climate where lots of things are changing. We want to show that because we feel it's rarely depicted honestly on TV."
While Leite and Roxo want to depict queer characters in their work, they want to go beyond just reaching an LGBT audience. "I'm more interested in speaking to a larger community beyond the queer world, but with stories that reflect the LGBT community," says Leite. "I don't want my films to just preach to the converted. So we try to create stories that are accessible to a larger audience and don't get pigeonholed."
Knockout Pictures has gained serious momentum since the partnership began, in June 2012. After working together on some short projects and documentaries, Leite and Roxo decided to make it official, throwing a launch party in January 2013. Now, in addition to Be Here Now-ish, the two are taking on some hybrid performance-documentary films. "We just want to keep making original new work that can be viewed by a large audience, and give voice to people and ideas we feel aren't represented enough in media," says Roxo. "We both have feature films in the making and another TV series in development, and we plan on continuing to work together as we grow."