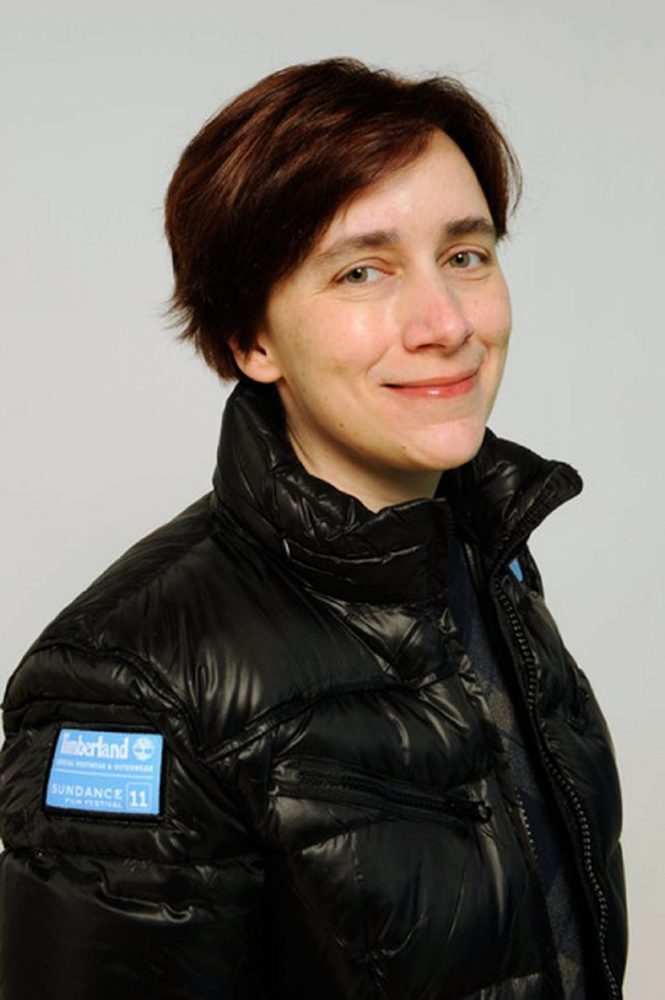 Of all the LGBT films announced in the 2011 Sundance Film Festival's lineup, it seems only one is exclusively lesbian: Codependent Lesbian Space Alien Seeks Same.
Of course, you really never know what some of the flicks at Sundance will really be about from their brief descriptions and complex trailers. But, we will find out January 20-30 when the film fest plays in Park City, Utah. Last year Sundance gave us The Kids Are All Right, Precious in 2009 and another breakout title in previous years.
GLAAD has blogged about the handful of the LGBT films screening at Sundance and all but two are by men with lesbian sub-plots, sub-themes, a stray lesbian character or just of general interest to the wider queer community. There is a feminist film about art and activism entitled! Women Art Revolution from director Lynn Hersman Leeson, but it appears Codependent Lesbian Space Alien Seeks Same, which plot involves (according to the press release) "adventures of lesbian space aliens on the planet Earth, and the story of the romance between Jane, a shy greeting card store employee, and Zoinx, the woman Jane does not realize is from outer space. Meanwhile, two government agents, or 'Men In Black,' are closely tracking Jane and the aliens while harbouring their own secrets" has the lezzie film market cornered at the prestigious film festival.
The film stars comedian Jackie Monahan and lesbian playwright/performer Lisa Haas and also includes actor Elizabeth Dahmen and others.
The director of Codependent Lesbian Space Alien Seeks Same is New York City-based indie filmmaker Madeleine Olnek, who has made several award-winning short film comedies. Hold Up and Countertransference both were official selections of the Sundance film festival in previous years. In fact, Countertransference will be on display during this year's festival as a "Sundance Classic" presented in the Youtube screening room and Hold Up is currently streaming on Logo.com. "Codependent" is her first full-length feature film.
Olnek took a break in preparations for her trip to Park City to answer a few brief questions.
How do you financially support your films? What type of budgets (in dollars) are you working with on a film?
I try to shoot in the cheapest format possible. I love the look of digital video, and the luxury it affords you in being able to shoot take after take to build rich and layered performances. I don't add 35mm lenses to the camera, which makes it possible to shoot mostly in the existing light. I also love the emotional quality of handheld work, so I skip traditional dollies and cranes, etc, which can really drive up the budget and requires more than a bare-bones crew.  I try to shoot all my movies within three blocks of my apartment so we can walk the camera equipment over, and I'm almost always shooting in open or stolen locations. My budgets have ranged from $800 … to the scary amount of my last film, which I'm still totalling.
Do you only make comedies? Do you only make films with lesbian-related content?
I only make comedies, and will only ever make comedies. I think it's almost immoral to make a drama if you can do otherwise. I've made a bunch of films on different subject matters, but quite a few with lesbian content.
How do you handle working with actors who are not lesbian and perhaps are not fully aware of the range or depth of lesbian experience? Do you think there is something to be said for/about working with queer actors (and other film participants) that brings an authentic experience to the process?
First of all, I loved Julianne Moore and Annette Bening in "The Kids Are Alright"– who didn't? They are amazing actresses and were totally convincing. Look, I think it's a fair question, but honestly, the divide between straight and gay isn't as big as it was even ten years ago. My own favourite lesbian movies are "Mulholland Drive" and "Being John Malkovich" made, as we know, by a bunch of straight people.
Is Codependent Lesbian Space Alien Seeks Same a sci-fi flick, a comedy film, or a romance movie?
It's a lesbian space alien bromance.