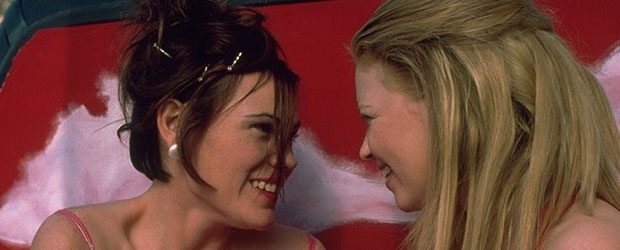 Megan is an all-American girl. She's a cheerleader, she has a boyfriend, she thinks she is 'normal'.
But she doesn't like kissing her boyfriend very much. And she's pretty touchy with her cheerleader friends. Her parents and friends conclude that she *must* be gay and send her off to a "sexual redirection" school, where she can learn how to be straight. Will Megan be turned around to successful heterosexuality, or will she succumb to her love for the beautiful Graham?
An audience favourite when we screened it at the 2001 Mardi Gras film-reviews Festival, BUT I'M A CHEERLEADER is a hugely entertaining look at the terrifyingly real 'ex-gay' movement. Starring Natasha Lyonne and Clea DuVall as two teenage girls who fall in love through the power of cheer, CHEERLEADER also features RuPaul, Cathy Moriaty, Mink Stole and Michelle Williams in supporting roles.
Join us at the Newtown for a great night with this camp retrospective – pompoms optional!
Date: Friday, 20 September 2013
Venue: The Newtown Hotel, 174 King Street, Newtown, NSW
Time: 7:00 pm