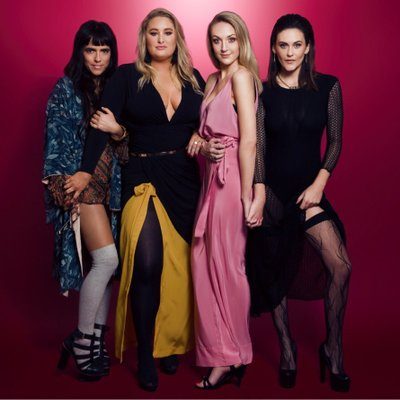 This uber-talented young Kiwi is making a big name for herself as a writer in theatre, on TV and on the internet.
If you're looking for a cute, funny and 'almost romantic' web series to binge on a lazy afternoon, check out the New Zealand production Auckward Love. While not specifically a lesbian show, Zoe is a charming, cheeky and incredibly gorgeous lesbian character, played by our co-writer and multi-award-winning playwright, 26-year-old Jess Sayer. Think Shayne from the L-Word, with long hair and you'll have a fair picture of Zoe!
Auckward Love is the brainchild of Sayer's close friend, Holly Survey, and follows the story of her character, Alice, as she tries to get back into the dating game after being dumped by her boyfriend. Her efforts are both thwarted and supported by her best friends – the aforementioned Zoe, hippy Grace, and the acid-tongued 'resting bitch face' Vicky. Season one focuses mostly on Alice, but season two expands and we see further character development as we delve deeper into the stories of the other three characters. Our queer friend Zoe almost gets her life together! Season three is currently in post-production and is due for release in the next couple of months.
We recently spoke to Jess Sayer about the series, and many of the other projects this extremely talented and highly motivated queer actress and writer is involved in. "I guess we should start with Auckward Love. Holly Shervey story lined the first series, then she slipped me the storylines and I wrote the episodes, but in Season 2 I did some writing for the storylining too.  It's been good, because with a group coming together, you have lots of different brains working on something, so you get a much better story where you can get into it a bit more so it's not so surface level."
Sayer pointed out that the generation of web viewers gives content creators a lot more freedom to make the kinds of shows they wanted to watch. "It's nice to not just sit and talk about it and go 'I wish there was this role' or 'I wish this would happen. Instead, you just think, 'I'm just gonna do it anyway, instead of waiting around. There is so much waiting in this industry, it's brilliant now that all these amazing web series are coming out all over the world because people are sick of not having their stories told and seeing these characters on screen."
Catching Sayer for the interview was a bit tricky at first, as she was working a 'day job' at the time. Her 'day job' turned out to be as a script coordinator for the popular Logie award-winning Australia-NZ co-production 800 Words. "I work on editing the scripts, and I'm in the production office. It's actually an amazing place to be, and it's teaching me a lot of respect for all stuff that you don't really learn enough about as an actor or a writer. It's quite a fascinating environment to be in, just to see how all the cogs turn, and how everyone fits together, and how much fucking work goes into creating a TV show!"
Sayer is a graduate of The Actor's Program, founded by Sara Wiseman – well known to Australian audiences for playing Carolyn Bligh in another Logie award-winning drama, A Place to Call Home. Sayer had never acted before she auditioned but felt that to become a good writer, she needed to understand how plays worked, and the processes actors went through. So how was a completely inexperienced actor chosen for such a prestigious program? "She's got a sense of curiosity and a mystery to her as well. She's not an open book. That's what we fell in love with. So you kind of want to dive in and see what's making her tick," says Sara Wiseman. "She's a thinker and a very sensitive soul. I mean she's obviously drop-dead gorgeous and has an X-Factor. That's a gift that you can't force. But she had intelligence and purity and simplicity to her that was just really attractive. It wasn't, 'Look and me, look at me,' it was, 'Come on over here and let's connect.' So that's kind of what intrigued us about her."
Wiseman is obviously a fan, and when Sayer asked her to play a role in season 3 of Auckward Love as an older woman who's basically there 'to fuck shit up', including having a fling with Sayer's character Zoe, Wiseman jumped at the chance. "It's infectious. They're great girls and great talents. You want to collaborate with them and get on board. And I wouldn't have done it if I thought it was crap. I find them highly entertaining and fresh. It's not Shakespeare, but its life and it's current and it's unique! I get to do a contemporary, outrageous, naughty little shit of a character with some good friends."
Sayer's other great talent is her playwriting. She's prolific and has won numerous awards for her work, including NZ's b425 award three times. When I asked her if she'd rather be known as an actor or a writer, her response is swift. "If I couldn't write I think I'd die!" Given the darkness of some of her shows, this could well be close to the truth! But there is also a lot of light surrounding what Sayer writes, and this includes the importance she sees in representing her community.
"The latest play I wrote I was thinking that I hadn't seen on stage, and possibly on-screen, a relationship between two women that wasn't pointed out like 'Oh they're lesbians. It wasn't about that. This was just a nuanced relationship between two people that exist worldwide, and why is this any different from any other relationship we've seen? Why do we always have to point it out or you know make a big thing of it that it's two women together?" she asks with exasperation, before continuing. "In this play, Sham, they're older women who have been together for nearly 40 years, and it was just really nice to be able to explore that relationship, and you know they had all these traits that my grandparents have – they kept picking on each other, they just got to show the years that they spent together."
The most important thing for Sayer in writing these characters and this relationship was not to acknowledge that they were two women together, that it was 'special' or 'different' or 'outside the norm'.  "I see hundreds of plays every year, and I think, 'where is it?' As a young lesbian looking at what's on stage and being like 'Where the fuck am I? Where am I supposed to be? Where are my role models? Where are my characters? Where am I getting my information from? Why is this not here?' So yeah – that's kind of a big thing for me."
This takes us back to Zoe and Auckward Love. "That's what I love about Zoe. Her sexuality is solid as a rock. She's not ashamed of who she is at all, that's quite new on TV, especially in New Zealand. In season 3 we get to explore more of Zoe and how she deals with her feelings and emotions, which is hard for her. But it's fun."
So in the words of the great Molly Meldrum – do yourselves a favour! If you find yourself in the Land of the Long White Cloud, look up 'what's on in theatre' and get along to one of Jess Sayer's shows. In the meantime, check out Auckward Love and get to know more about this gorgeous and talented writer/actress and have yourself a lot of entertainment at the same time.
Auckward Love - Behind The Scenes