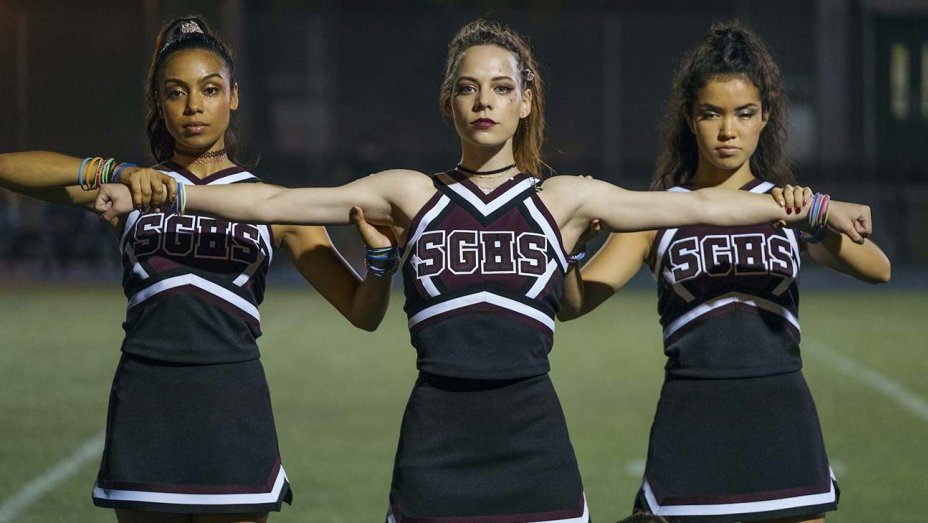 USA's simmeringly queer "Dare Me" is one of the best series
Based on Megan Abbott's best-selling novel of the same name and written and executive produced by Abbott, it is dark, darker, darkest.
Abbott describes her series as "an unflinching exploration of volatile female friendships, jealousy, loyalty and the dynamics of power in a small Midwestern town."
The series has that all-American Rockwellian facade: It's pretty and placid. That seeming perfection is immediately revealed to be a carefully constructed–and dangerous–lie.
"Dare Me" is all about the secrets hidden behind the cozy exterior of small-town life. Focused on the fiercely competitive world of cheerleading–one of the fastest growing sports–the series follows the triangulated relationships between Addy Hanlon (Herizen Guardiola), Beth Cassidy (Marlo Kellly) and their new coach, Colette French (Willa Fitzgerald).
French has been hired to turn the team into champions. But Coach comes with her own complicated back story and baggage. Addy, who is falling in love with her, and Beth, who is in love with Addy, are drawn into her web of deceit. Coach doesn't want to hurt these girls–she wants to turn them into stars of their own lives. But at only 28, with a husband she may or may not love and an infant daughter she adores, but who is another complication, it's obvious part of her aches for a high school do-over.
The claustrophobia of Sutton Grove is the driver for "Dare Me." People are either intent on being big fish in that small pond or they are aching for a way out. Addy, the series' narrator, is Still among the latter. For her, the daughter of a single-mom cop whose athlete dad bailed on them forever ago, Coach is the ticket to a better life outside Sutton Grove. Beth is trapped in the maelstrom of her mother's alcoholism and her father's desertion. He lives across the upper-middle-class cul de sac with his new wife and Beth's younger step sister, Tacy (Alison Thornton). Addy is Beth's refuge–or was until Coach hit town.
Coach knows teenage girls. Through her we see her squad: These are girls for whom boys are only a way to get off–the obverse of what we usually see on screen. They are driven. The shifting power dynamic on the team gives a hint as to where the world would be if teenage girls ran it. The tests and goals these young women set for themselves are grueling, from vomiting to get their weight down to ice baths to soothe the pain–or cause it–it's all just a little frightening.
When Coach moves in, she spots her acolyte immediately in Addy, the tall Black girl without money who is ready for a change. It's surprisingly easy for her to drive a wedge between Addy and Beth. The squad was Beth's before Coach. Beth was team captain and Addy was her lieutenant. But when Coach puts Tacy in the mix, a trajectory of damage is set in motion that even Coach can't stop.
The dynamic among Addy, Beth and Coach is rivetting. In the second episode Coach takes Addy to the woods for a private lesson and we see the adolescent yearning writ bold and large. Addy would do anything for Coach.
And does.
Without giving spoilers, the series evolves as a thriller. As each episode opens, there is a haunting preview of what's to come. Out of context, it's deeply unsettling. Once the context is exposed, it is often outright horrifying.
"Dare Me" reveals that teenage girls are at least as ambitious as their male counterparts–they want a lot, they dream big and many will do anything to get what they want. That what they want is often bad for them or does inexorable harm is collateral damage.
There is a lot in each episode and those episodes speed past quickly. So much happens that it can go by too fast and you have to re-watch. In the pilot episode, Coach drives Addy home and Addy tells her all about Sutton Grove. Coach tells Addy just enough about herself to make Addy feel special and like they are girlfiiends. Later, when we see Addy in Coach's bedroom–she has offered to babysit–we recall the stories each told.
These scenes can be just short of heartbreaking.
But it is not all Coach and Addy. Addy and Beth have such deep and unresolved feelings for each other–in one scene in the school hallway we expect them to fall into each other's arms. When it doesn't happen, we are left to wonder where that adolescent sexual energy will go and when or if they will find each other.
One night in the first episode Addy and Beth drive by Coach's house and Beth yells out the window that Addy wants to f*ck Coach. It is a perfect scene: Addy is embarrassed–or is she? Beth is trying to get something from Addy, but what? Coach is looking out her picture window and her husband hears the girls. It all works.
"Dare Me" is deeply, provocatively queer. It delves deep into the lives of young women on the cusp of adulthood who are using their beauty, bodies and power to get where they think they want to go. It's a masterful series with superb acting and writing, amazing cinematography, a Spotify playllist to die for and characters who are unforgettable. On USA, Hulu and Amazon Prime.