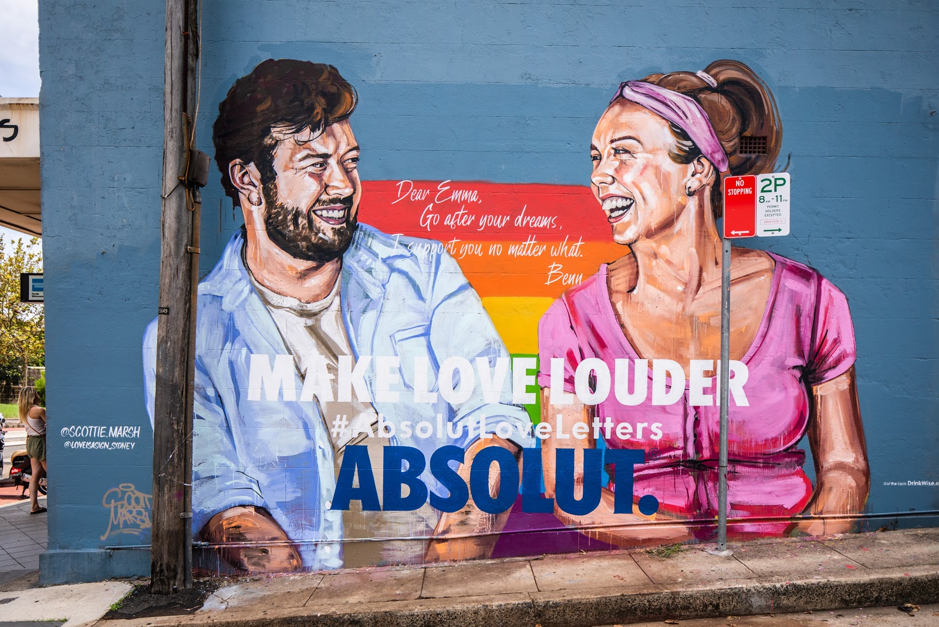 The majority of Aussies believe love is love, and consider themselves allies and friends to the LGBTIQ+ community.
But because the majority of allies and friends consider ourselves 'silent supporters', new research has found, while we quietly think love, what's heard is hate.
Absolut recently announced the launch of Absolut Love Letters, a project that celebrates the power and stories of the LGBTIQ+ community, their allies and friends and highlights the importance of being a vocal supporter in 2020.
Through Absolut Love Letters, they hope to gather one of the largest collections of positive messages Australia has ever seen – and share them publicly across the country during Sydney Gay and Lesbian Mardi Gras 2020.
Underpinning this project is the release of the Make Love Louder report, led by prolific researcher, author, and LGBTIQ+ advocate Dr. Shirleene Robinson, which found of 1000 LGBTIQ+ Australians:
3 in 4 have personally experienced negativity or discrimination relating to their LGBTIQ+ status
1 in 4 saw or heard negativity about the LGBTIQ+ community on a daily basis, while 2 in 3 said at least once a week
Right now, the debate on the Religious Discrimination Bill which will allow lawful discrimination against LGBTIQ+ people has crushed morale.
The community is at a new low. And allies and friends have gone quiet.
The research found only 1 in 4 allies and friends actively voice their support, particularly at a time when the LGBTIQ+ community needs support to stand up and make love the loudest message.
Dr Shirleene Robinson said, " The Make Love Louder report shows current debates around the Religious Freedom Bill are taking a heavy toll. This toll is particularly intense because an overwhelming majority of LGBTIQ+ people believe that the government is the institution with the greatest capacity to reduce LGBTIQ+ discrimination. Rather than debating a Religious Freedom Bill that would introduce new forms of discrimination, LGBTIQ+ people want the government to lead efforts against prejudice. Now more than ever, it is important that LGBTIQ+ allies speak up to make Australia a fairer place for everyone.""
To get involved, share your message of love, support and positivity for the LGBTIQ+ community on social with #AbsolutLoveLetters to help show love is louder.
Sydney dwellers can also check out Scott Marsh's latest mural on Oxford st, Paddington, celebrating the LGBTIQ+ community with a story of love from an ally and friend.
The story behind the mural: Emma and her ally Benn
For Emma, growing up in a small country town, she was told her LGBTIQ+ status was 'just a phase' and she would get over it.
For many years she spent her life focusing on work, trying to cover up and suppress that part of herself. That is until she moved to the U.S and confided with her old friend Benn, in Australia, that she had a crush on a woman. Benn was the first person she had come out to and his reaction meant everything, he was excited, accepting and encouraging and even wrote and recorded a song about it.
Fast forward to the present day and Emma has moved back to Australia with her fiance Desi. While she hadn't come out to her family when they first came home, Benn was the friend that supported her through this experience. He stood by her and reassured her that she was loved, her mum would come around and that you shouldn't let anyone that doesn't accept you pull you down.
For Emma, this was the unconditional support she needed to own her happiness, and the support she hopes every LGBTIQ+ person can have to be their true selves.
For more information on the project you can head to Absolut.com/au/loveletters