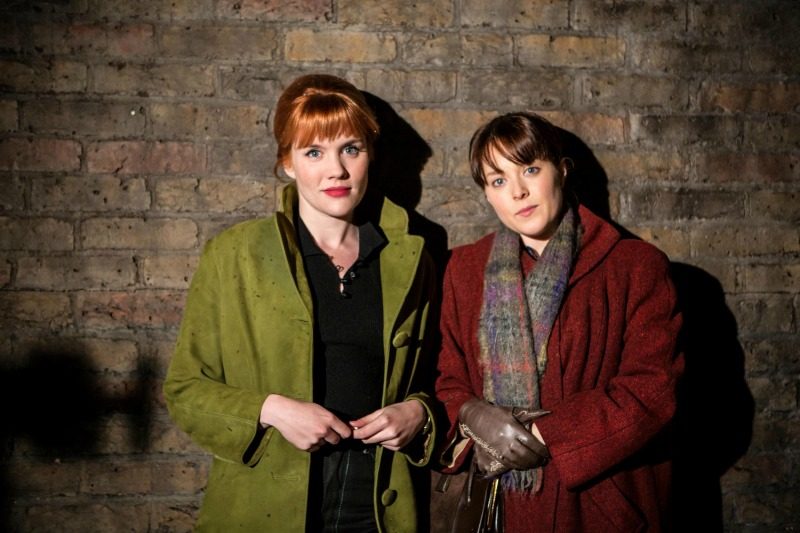 Will series six bring happiness for Patsy and Delia?
Almost killed off and absent from the Christmas special: what hope is left for Call the Midwife's lesbian couple Patsy and Delia?
Since the BBC drama first appeared on our screens in 2012, it's been a huge part of my Sunday nights. I can imagine most fans were upset when some of the original cast members departed from the show. But when Patsy Mount (Emerald Fennell) came in to replace Jenny Lee (Jessica Raine), my eyes lit up.
It wasn't just her tall figure, elegance and long ginger locks which grabbed my attention, but how she acted and responded to topics involving men and relationships. The way she replied when Trixie quizzed her on what she was doing dancing with her then-boyfriend and the look in her eyes when homosexuality was discussed around the dinner table.
But until she was actually shown to be in a relationship with welsh nurse Delia (Kate Lamb), I was almost convinced I had fabricated her sexuality in my head, a feeling I'm sure all queer women will know only too well. A lesbian? In my favourite show? It seemed too good to be true.
That initial excitement wore off pretty soon as I started to realise that simply including LGBT+ characters to fulfil diversity quotas wasn't good enough. Patsy deserved to be written and represented well too.
The recent Christmas special took us away from the snowy streets of Poplar to Hope Clinic, a tiny mission hospital in South Africa. At the start of the programme, which aired on Christmas Day, Sister Julienne receives an SOS call from the Mother House and orders the help of a group of midwives and a cleric and they are soon transported to South Africa to try and save the mission hospital. Disappointingly, Patsy and Delia were not taken on the trip, a marked absence from the hour and a half long episode, bar a two-second clip at the beginning of the show. Particularly disappointing, as midwife Patsy is one of the main faces of the show when more minor characters such as Sister Winifred did make the cut. So while the majority of the audience was in awe of Tom and Barbara's engagement, I was sat frustrated wondering what Delia and Patsy were getting up to back in London.
The show has received criticism from queer women before. At the end of series four, nurse Delia was hit by a car while cycling, causing amnesia. She failed to recognise her girlfriend, leaving poor Patsy heartbroken. This scene mirrored the plot in another BBC show, Last Tango In Halifax, which aired only a month earlier. Sally Wainwright's drama was initially praised for its late-in-life lesbian romance between characters Caroline and Kate, but just as it looked like there would be a happily ever after, heavily pregnant Kate was killed in a car crash the day after their wedding.
Killing off lesbians and bisexual women isn't unusual in TV, as we know. A recent GLAAD study showed that 25 queer female characters died on US scripted television shows in 2016 alone. Thankfully, Delia didn't end up roadkill at the hands of the dead lesbian cliché, but being alive isn't enough – lesbian and bisexual characters deserve more.
For example, the lack of physical intimacy between Delia and Patsy is a huge point of frustration for me. Call The Midwife is a Sunday evening family show; I'm not exactly expecting a sex scene. But a little hand-holding wouldn't go amiss. I've read so much fanfiction I could convince myself otherwise, but the pair have never even shared an onscreen smooch. If none of the other characters was seen kissing, then fine. But I'm so tired of watching Barbara and Tom make out against the wall of a convent while I'm still waiting for even a peck on the cheek between Patsy and Delia, even though there have been multiple opportunities to include one. I know this is the early 1960s, a time when homosexuality was still illegal, and lesbians like Patsy and Delia lived in the shadows; "the love that dare not speak its name" – but that doesn't mean they wouldn't have been affectionate behind closed doors.
That said, with intimacy between two women so frequently claimed for the gratification of men, it is nice to watch a show featuring a lesbian couple without feeling that their very purpose is to titillate. With sexual elements absent from the show, emotion becomes the focal point of relationships, a nice change in pace. And frustrations aside, it is good that LGBT+ characters are represented in period dramas and in family programmes.
But there certainly doesn't seem to be enough equality in the way straight and homosexual relationships are portrayed not just in Call The Midwife, but generally. There is still a visible difference in how straight and LGB couples are written, and so many shows hugely misunderstand their audience and the politics of minority representation onscreen. Minorities aren't disposable characters and marginalised storylines aren't good enough. It's not fair to use us for ratings and to show the world you're hitting your diversity criteria and then throw away the storylines and dispose of the characters.
Let's keep our fingers crossed that Patsy and Delia stay well away from their bikes.