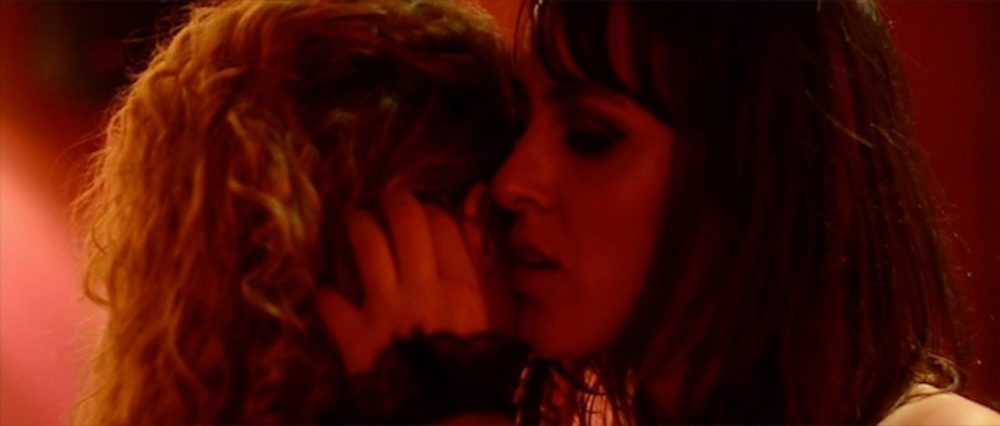 Slip into the sexy world of bar-encounters with this lesbian short.
Labeled an art concept film, The Incredible Girl is a thirst-quenching five-minute short that moves through scenes inside a dark club, scattered with party-goers drenched in rave-wear, eye-sexing one another as they pass dim corners, while one confident girl who makes all eyes turn, spots one unassuming girl, who arrives to the club shy, and then loosens up, dancing in all-white under the hazy spotlight of the gritty, anything-goes club.
Written by Celia Aurora de Blas and directed by Chingya Wang, the film was successfully funded by way of IndieGoGo, and was then shot in Los Angeles at The Saint, a Hollywood speakeasy turned swank-lounge that recently closed its doors. Aurora de Blas plays the girl prowling through the crowd, otherwise known as Incredible Girl, making her rounds until she spots the girl at the center of the dance floor, Innocent Girl—a premise Aurora de Blas created from behind the camera, that explores female empowerment, and the subtleties and starkness of presenting yourself to someone new, and spotting your match.
Shot like a music video, Incredible Girl delivers a pace that speeds up and slows down with every angle and flash of color. Each new breath illuminates a deepening sensuality; a provocative clip into the late night, leaving many possibilities hanging in the air, maddened with the exploratory chances of letting your anonymity let you be wild and untamed—even incredible.
Remember in episodes of The L Word when Shane would make her way into a club and you could feel the beats, the eyes and the open hunt of opportunity? This short film exposes one of those telling, spec moments that go without much conversation—a meeting between two people when expression by any form is overwhelming, scary, tempting, thrilling and vulnerable. In the end, what do we walk away with? Sometimes, we are simply left with an impression. And sometimes we are given a glimpse into our own psyche, that only someone likeminded can spot upon first glance. (incrediblegirlfilm.com)