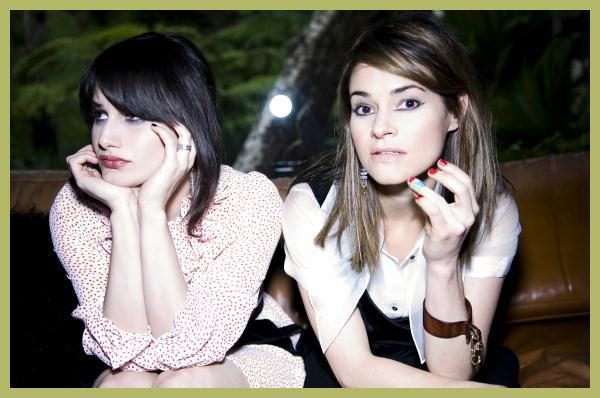 Camila Grey and Leisha Hailey, better known as the musical duo Uh Huh Her, divulge the secret behind their musical partnership and their upcoming gig at The Dinah.
The year was 2007, and Leisha Hailey was riding a wave of popularity playing the character Alice Pieszecki in Showtime hit, The L Word. You'd think the world couldn't get any more peachy for the actress, but Hailey, who had made up one-half of the by-then-defunct jangly guitar girl group The Murmurs, must have been feeling a musical itch that needed a big long scratch.
After meeting bassist Camila Grey (The Mellowdrones) through mutual friends, that itch was about to be satiated, and new indie electro-pop outfit Uh Huh Her was born. PJ Harvey fans will instantly recognise the moniker – a nod to the singer's 2004 album of the same name.
Remarks Hailey: "I called Camila to ask if she wanted to meet and discuss the possibility of starting a band. We got together, talked about our different influences, and started forming UHH that week."
The pair's creative juices must have flowed at a rate of knots. By July 2007, they had released their first EP, I See Red and already had a growing fan base.
Perhaps the speed of this first EP could be marked down to the pair's creative process, which seems complementary. According to Hailey, they usually start the writing process alone.
"Each song has it's own process. Cam writes alone, I write alone, we start together from scratch. Lyrics always come last for me. I'm driven by melody first."
Grey, who has a strong background in theory, is slightly different.
"Music always comes first," says Grey. "I come from a very compositional background.  I started out writing instrumental classical music believe it or not, and then those kind of turned into pop songs later on. I usually start with a beat and layer over that all the other parts in my head. I always make the song in one fell swoop, stream of consciousness style."
The pair both concede that the Uh Huh Her Sound, which had a solid indie pop flavour, has evolved over the past five years. "I think we have incorporated more of what we love into our sound with each record," says Hailey.  "Beats and heavy grunge power chords influence me, and Cam is very electronic and 80s driven. I think our next record will combine those even better."
Grey agrees: "I think we've gotten way more experimental and are willing to try new things instead of staying in this 'Electro' box.  We were doing Electro Pop in the early days, and now I feel like everyone has an electro-throwback band.  That said, it's better than boy bands dominating the market.  Oh wait, I love One Direction. They can stay," she laughs.
Both would say they write from a very personal place. With Grey adds, "while we will always take from our personal experiences, however, I love to write from other perspectives. I like to make belief still, which is a good thing…."
The bassist-turned-singer cites musical greats such as Chrissy Hynde, Dave Gahan and Thom Yorke as 'big influences", saying, "I love how Chrissy was this tough rock chick (still is) in a very male-dominated rock scene back in the 80s.  I love her look and her attitude to this day.  As far as Thom and Dave, I feel they need no explanation.  They are just pioneers of a new sound in general."
Something young musos may be saying about Uh Huh Her in days to come…
As for what's next for the musical duo, Hailey says the rumours of a dance album are true and admits that the pair have just started writing tracks. They will also appear as the headlining act at The Dinah In Palm Springs this April. The girls will be appearing at the annual event for the third time. For Grey, playing at the Dinah is a highlight as she believes the event "represents freedom of expression and a place where women can come together safely and have a good time".
Meanwhile, Hailey says her favourite Dinah memory comes from "watching Katy Perry when she first started and Cam tugging on her hair backstage and asking her if it was a wig," she laughs.
Uh Huh Her will be performing Sunday afternoon (April 7, 2013) during Club Skirts Dinah Shore Weekend's Pool Party at the Hilton Hotel in Palm Springs.