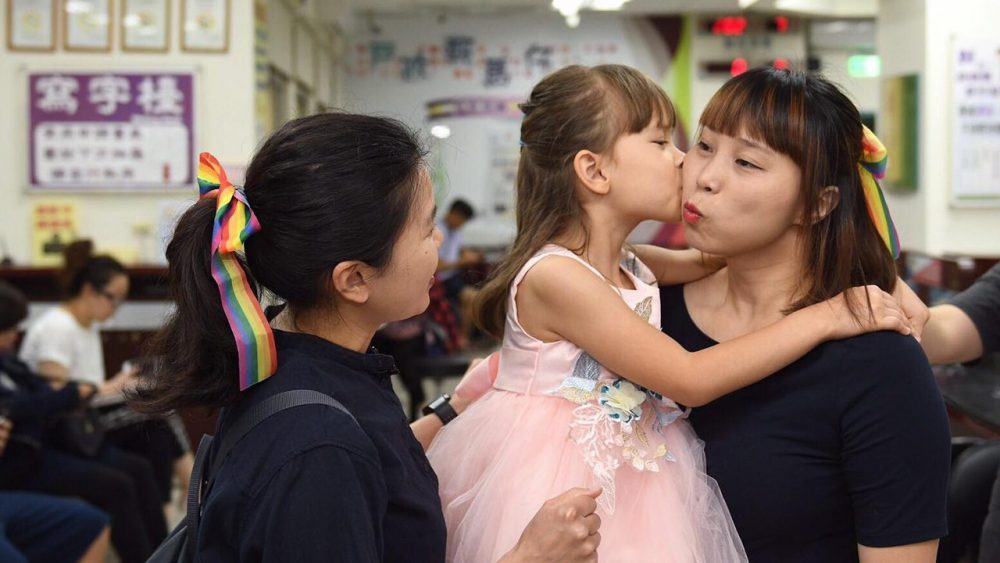 On the anniversary of same-sex marriage in Taiwan, three couples show us the importance of keep fighting in the documentary "Taiwan Equals Love." 
Recently, Taiwan has been back in the news due to its effective response to the current COVID-19 crisis. However, one year ago, the island hit the world's headlines for a very different reason: on May 24, 2019, Taiwan became the first country in Asia to legalize same-sex marriage.
To commemorate the first anniversary of this milestone, streaming platform GagaOOLala is releasing a three-years-in-the-making documentary, Taiwan Equals Love (Yan Zhexuan, 2020), chronicling the local LGBTQ+ community's fight for this landmark achievement.
The documentary depicts the chain of events that started in 2016 when the different political parties of the Taiwan Legislative Yuan (Taiwan's Parliament) submitted their draft bills on marriage equality but were quickly opposed by anti-LGBTQ+ groups.
From that moment on, the film explores three different generations of love, three other same-sex couples, as they go through the hardships of starting and supporting a family while witnessing some of the major political movements in the following years: the pro and anti-LGBTQ+ rallies, the national referendums and the final passing of the law.
Tien-Ming and Ho Hsian have been together for 37 years, but their health is starting to fail them. Two years ago, Ho-Hsian was diagnosed with Parkinson's disease, and Tien-Ming also had a minor stroke, and they decided to take action to protect their relationship. Jovi had always wanted a perfect family. She and her former partner travelled abroad to have a child through artificial insemination, but they eventually broke up, and Jovi got together with Mindy.
Now, Jovi, Mindy, and their child Miao-Miao are adapting to a new life. Mindy hopes to receive the love and trust of Jovi's child and become her legal parent. A-Gu decided to end his long-distance relationship and move from Macau to Taiwan to live with Hsinchi. A-Gu's foreign status in Taiwan made it difficult for him to find a job, and the economic difficulties threatened his stay on the island. Their struggles, their ups and downs, are all a reflection of the country's issues on its path towards marriage equality.
Taiwan officially legalized same-sex marriage on May 17th, 2019, and from May 24th, 2019, many same-sex couples started to register. Up until May 2020, more than 3,500 same-sex couples have married in Taiwan, and the latest national polls report that 92.8% of the Taiwanese think society has remained the same after the passing of the law. Yet transnational same-sex marriages where one partner is from a country that does not recognize gay marriage are still prohibited, which prevents A-Gu and Hsinchi from getting married.
Taiwan Equals Love releases on GagaOOLala on Friday 22nd. The platform, which launched its services globally last week, is also one of the founding members of the Marriage Equality Coalition Taiwan, the main lobby pushing for the passing of the same-sex marriage law during the past years.
GagaOOLala's CEO, Jay Lin, revealed that, "I knew when we founded the Coalition that this journey, no matter how it ends, was going to be a vital in Taiwan's civil rights history and be a boost in the global LGBT movement. I am glad that almost four years later we can share this film globally to thank those that supported us during all these years. Taiwan Equals Love is proof that even though there might be times when all seems hopeless (same-sex marriage was rejected by almost a 70% of the voters in a 2018 referendum in Taiwan), we always need to keep fighting. At the risk of sounding cliché, yes, love really wins."
In 2016, the parties of the Taiwan Legislative Yuan submitted drafts of the marriage equality act but were confronted by anti-LGBTQ groups. Meanwhile, three same-sex couples are also facing family issues. Tien-Ming and Hsiang have been in love for over 30 years, but their love is tested by old age and illness. Jovi and Mindy spend most of their time protesting for marriage equality, fighting for the rights of Jovi's daughter. A-Gu flew from Macau to live with Shinichi but is now struggling with finances and the pressure to come out to their parents…