The biopic of Elton John hits screens with a truckload of glitter and gumption.
How did a shy, working-class English "fat boy from nowhere" get to be one of the biggest musical stars in the world? And a gay one at that?
Rocketman is the story of Elton John's early years as he climbs out of toxic domestic obscurity — he's saddled with an aloof father and a nasty, sniping mother — to transform himself from Reginald Dwight to Elton John.
He forms a musical partnership with lyricist Bernie Taupin and the pair combine Bernie's wordsmithing genius with Elton's incomparable piano skills and flair for stage antics to establish a genre-busting performance act that transports them across the Atlantic to America and almost instant fame and fortune.
Together they conquer continents and the musical genera of blues, rock 'n' roll, glam rock, soft rock during three decades out of a 60-year career.
Comparisons to Bohemian Rhapsody are inevitable, but there is a lot to distinguish the two films from each other. The over-the-top gay British musician is about all they have in common. Most importantly, Rocketman's subject is still alive, and the approach to this biopic is generically different: this is a musical of Elton John's early life using his music and, like most musicals, it's an inspirational fantasy in which chronology is bent, emotions are heightened, and the cast sings beloved songs as thematic turning points.
"Saturday Night," "Crocodile Rock", "Your Song," "Tiny Dancer," "Rocketman," and "I'm Still Standing" are just a few that become show-stopping performance sequences in which the impossible happens: people's feet lift up off the floor, or there's a little boy playing a toy piano at the bottom of a swimming pool.
That would be young Reggie, and the conceit in which the older, addict-in-recovery Elton must locate and love the little version of himself is the most moving aspect of the film for me.
Taron Egerton's performance, including pitch-perfect singing, is nothing short of miraculous. He's energetic, egomaniacal, and yet somehow thoroughly worth empathizing with. Taron and Elton, who met on the set of Kingsman: The Golden Circle, bear more than a passing resemblance to each other.
But the supporting cast is also outstanding. Richard Madden plays the Machiavellian John Reid, Elton's lover/betrayer; Bryce Dallas Howard is excellent (and perfectly unrecognizable) as Elton's gimlet-eyed, prickly and narcissistic mother, Sheila Farebrother; and Jamie Bell is tender, sensitive and stalwart as the insanely talented lyricist Bernie — who was arguably a magic ingredient in Elton's breakthrough success.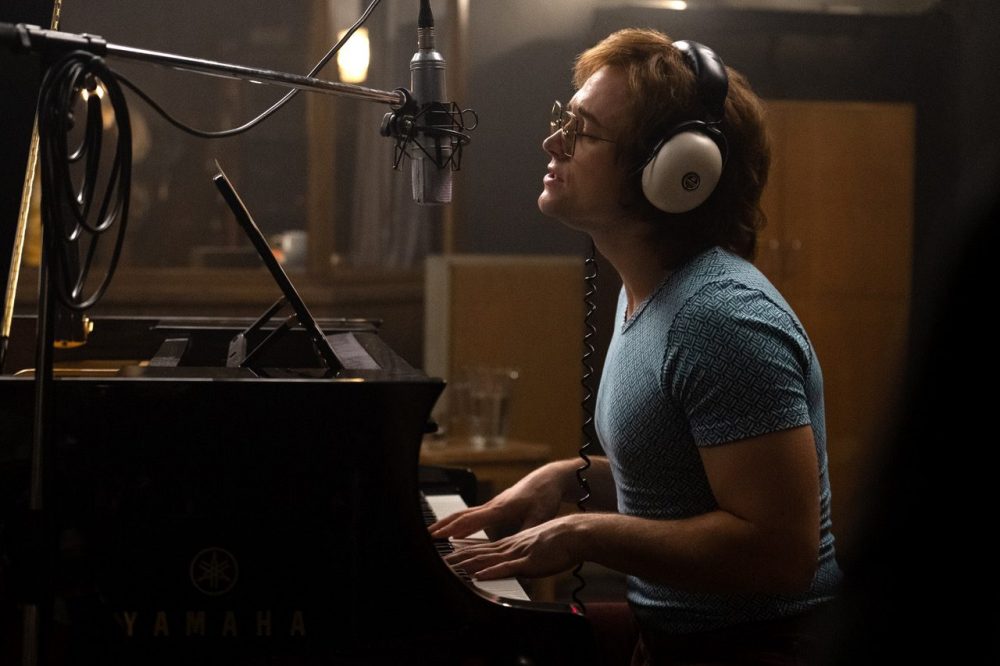 The film doesn't have many significant female characters but Kiki Dee ("Don't Go Breaking My Heart") and poor Renate Blauel — a German sound engineer who Elton married in a desperate attempt to find the love that had eluded him, and a last-gasp attempt to deny who he really was: a very gay man — receive fond if cursory treatment. Keep your eyes open for a nice cameo by Harriet Walter as Reggie's strict piano teacher. And Gemma Jones is wonderful as always as Reggie's encouraging grandmother (you might recognize her as the elderly mom in Gentleman Jack).
This is a personal roller coaster ride that takes risks in the way it tells its story. Unlike Bohemian Rhapsody, Rocketman addresses Elton's sexuality head-on (the kissing, the orgies all tastefully done), as well as his substance abuse and narcissistic wound. The film is, however, essentially a love story between Elton and Bernie, but also between Elton and Reggie.
The adventurous direction is delivered by Dexter Fletcher, who was once himself a child actor and deftly transports us into the difficult world of the preening prodigy who should be unsympathetic but is really relatable: just a boy who wants to find a way to fit in, hoping that if he gives enough he'll be loved in return.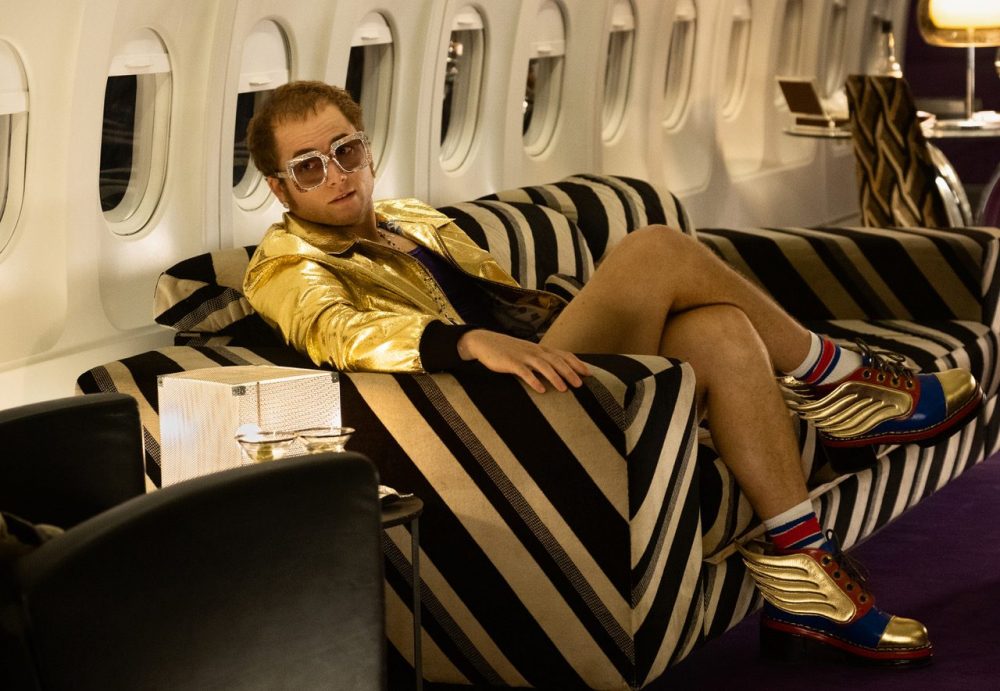 Elton's outlandish eyewear and his hilarious costumes that perfectly encapsulate the insanity of the end of the psychedelic era, the glam rock of the 1970s, and the cocaine-fueled 1980s are worth the price of admission. Rocketman is an ode to living and living out loud. Elton's manager John Reid predicts that his client and lover will end up overdosing — and I've heard many gay men wonder aloud why Elton wasn't a casualty of the AIDS virus. But he didn't, and he wasn't, and he went on to sell more than 300 million records and raise $450 million for AIDS-related causes.
The film is executive produced by Elton John, but don't expect a vanity project. He's pretty unsparing in his self-criticism, poking fun at his self-indulgence, his excessiveness, but underneath it all is the deep urge felt by every queer: the desire to be seen, accepted and loved.