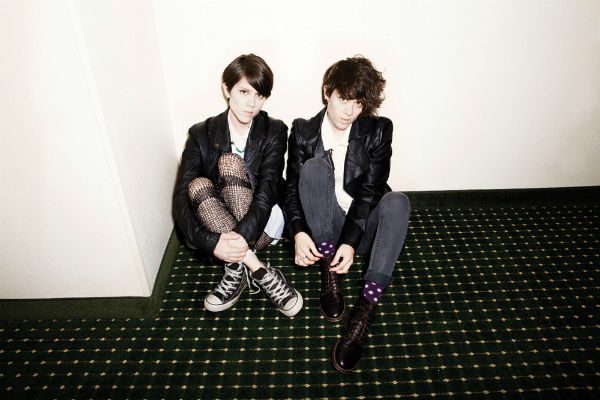 The indie darlings reach the top and make our hearts throb.
"We have never been indie anything. We signed to a major label when we were 19 years old."
"We wanted to access the mainstream and make a difference…but we are still Tegan and Sara and that hasn't changed."              *                    *
Tegan Quin swears she never saw it coming. Long known as half of the Canadian indie rock band Tegan and Sara, she says she had no idea that their latest studio album would catapult them to mainstream pop success. In fact, the thought that she would even have a career in music never crossed her mind when she was young. (She and her twin sister Sara are now 33.)
"We didn't really imagine we'd be doing this, so I think Kid Tegan would be like, 'Whaaat? Whaaat?' We didn't sit down and decide that this is what we wanted to do," she says, at home in Los Angeles on a rare break from touring.
Sara agrees, phoning in from her own vacation to discuss the remarkable changes in the duo's more than 10-year career.
"Our audience has become so diverse," Sara says. "We play shows with Paramore and Katy Perry and it's 13-, 14-, 15-year-old teenagers now, all kinds of kids. And we weren't introduced to them as a gay band. We were introduced to them through a mainstream pop song on the radio."
When the twins were just teenagers themselves, they started out playing earnest, guitar-driven alternative music with the impudence that's characteristic of most kids their age.
"We thought we knew everything, like any 15-year-old," says Tegan. "Our label was like, 'You don't know anything about love or life, and when you get to your 30s you're going to write something important, you're going to reach people, and you're going to experience something. I don't think Young Tegan would have understood that," she says.
Now that they are actually in their 30s, Tegan and Sara have written a glossy pop masterpiece, an album that stands out from their previous six.
Each song on Heartthrob leads into another, narrating love and loss with the angst of a John Hughes film, plus a whole lot of shiny production. The latter is something Sara hopes the duo can bring to their upcoming headline slot as part of the Club Skirts Dinah Shore Weekend, held April 2–6 this year in Palm Springs.
"It seems like such a totally different type of event from something we would normally do," says Sara. "We do a lot of festivals, but they're mostly indie rock festivals, so there are a lot of shorts and sunburns. From what I gather from my friends, [Dinah Shore] is more of a glamorous event. It's sort of like Spring Break. People are there to mingle and meet. Everyone's all about being hot, and they're there for a really good time. We'll have to bring our A game."
No doubt they will. "Closer," the debut single on Heartthrob, has made its way onto Billboard charts and Top 40 radio across the country. Until now, that was unexplored territory for the sisters, who were counted among the darlings of indie music by critics and fans alike.
"Even though people have called us indie for 10 years, we have never been indie anything," says Tegan. "We signed to a major label when we were 19 years old. To us, what indie rock means is that we were niche, or not popular. What's been super interesting about delving into that pop world and allowing our music to be on the radio and in film and on television, with more corporate mainstream attachment, is that it has allowed us to meet more people. It's about reaching more people and keeping the music alive."
Since Heartthrob's release, attention from the media has evolved to include the morning news staple The Today Show as well as public radio. The duo has made major guest appearances—the most notable of which was a sold-out Staples Center show in Los Angeles with pop-country megastar Taylor Swift. This marks a departure from the last time Curve talked with Tegan and Sara.
The tracks that now make up Heartthrob existed amid more than 40 new songs, a collection that needed to be whittled down to 12. "We put it up to a vote," Tegan says, explaining how they chose the tracks that would go on to become Heartthrob.
"We had a group of people we really trusted listen to the songs and we would vote, and it always came back to the same 12 songs. They were leaning more toward pop music, so we picked a producer who would both respect what we had built and also bring us into new territory. Sara and I felt that making another record that sounded like Sainthood or The Con would be repetitive or counterproductive to what we have created. As artists, we wanted to challenge ourselves and challenge our audience to do something different," Tegan says.
"One of the things that I'm quite proud of about the band is that we're a very versatile band," says Sara. "We like to think that we're able to meet the needs of whatever audience we're playing for, which has allowed us to do a lot of different kinds of things. We've toured solo, we've opened for people, we've done rock tours, we've done pop tours. We really think we're able to tailor our body of work and build a set list and a show to be appropriate for any audience."
"When we went into the studio, it quickly became obvious that we were making a much bigger record that would stand up against a lot of the music that was out there—and that to us was a thrill because for a long time it felt like we had a glass ceiling over our head," Tegan says. "I think it was self-imposed."
Although Heartthrob has brought Tegan and Sara many new fans, some of their longtime supporters are uncomfortable with this mainstream success, a fact that Tegan is keenly aware of.
"We wanted to make new music and we wanted it to sound completely different," she says. "We wanted to access the mainstream and make a difference, and from a musical perspective we wanted to be heard by more people, and it has changed the game for us and it does feel good, but we are still Tegan and Sara and that hasn't changed."
With the success of Heartthrob have come opportunities for song placements and corporate sponsorships, an often-divisive subject among indie music fans, and yet another new opportunity for the women.
Making music together for more than 15 years is an accomplishment that the Quins value, and one that they never lose sight of, despite the thrilling moments they have racked up recently.
"It's a pretty big spectrum," Tegan says, recounting some epic moments in the Heartthrob record cycle.
"Standing on stage with Ellie Goulding and Katy Perry and Sara Bareilles, and all of those moments are fucking crazy, head-out-of-body experiences. On the other end of the spectrum is debuting on the Billboard charts, or in the Top 20 on Top 40 radio. These are all crazy achievements that I never assigned any value to until recently, and to have them appear in our life, and to realize how valuable they are, these are all incredible things that I am terribly, terribly proud of."
As for what's next, the women are content to continue riding the wave of Heartthrob, touring until Christmas 2014 and reaching more fans, new and old alike.
As Tegan says, "Every day you pick up a little more speed, and you spread your arms a little bit wider."