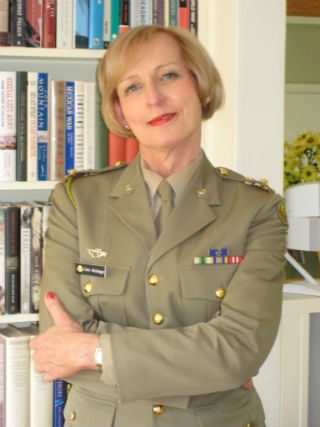 Sydney's Town Hall will be filled with the voices of women breaking through the ceiling as Women Say Something (WSS) has started announcing its diverse line-up of inspiring women for Dancing on the Ceiling
Presented in partnership with IVF Australia, the event celebrates the achievements of women in an evening of insightful dialogue, entertainment, engaging films, fine food and wine, lavish spectacle and inspiring stories.
Lt. Col. Cate McGregor, joins the line-up as the highest-ranking transgender individual in the army and well-known cricket commentator. Cate has been instrumental in pushing an agenda in the Australian Army against unacceptable behaviour towards women.
Popular 2013 keynote speaker, Clover Moore will also be joining the discussion. Currently serving her third term as the Lord Mayor of Sydney, she will be bringing first-hand insights into the world of women in politics. From the world of sport, beach volleyball star Natalie Cook will be bringing her experience as the first female Australian athlete to compete at five Olympic Games.
"We're celebrating women who have been inspiring and successful in their chosen fields," says WSS Founder and artistic Director Steph Sands. "It's an empowering and entertaining event. People can hear individual stories and be inspired by other women who have 'made it' regardless of any adversity they have had to face along the way, while at the same time be entertained by women who use their voice in other ways  such as music and lyrics. "
Dancing on the Ceiling will be an event not to be missed, bringing together women from all walks of life to share their stories and struggles, and discuss issues ranging from feminism to family, from pop culture to politics. This fully accessible event caters for all audiences including event-only seating through to packages with fine food and wine for tables of up to 10 friends.
The impressive line-up will also see Australian country music singer, Beccy Cole, and jazz performer, Libby O'Donovan, take the stage alongside two-time Aria award winner  Sally Whitwell, and performers Sexy Galexy and Martine Locke. Daring insights can also be expected from Recognise's Tanya Hosch, Winemaker Lisa McGuigan, and editor-in-chief of Curve Magazine, Merryn Johns.  More speakers will be announced shortly, adding to this highly anticipated event line-up.
What: Women Say Something: Dancing On the Ceiling
When: Friday, 28th February 2014, 6:30pm onwards
Where: Sydney Town Hall, 483 George Street, Sydney, SW, 2000
Tickets: From $30 + BF