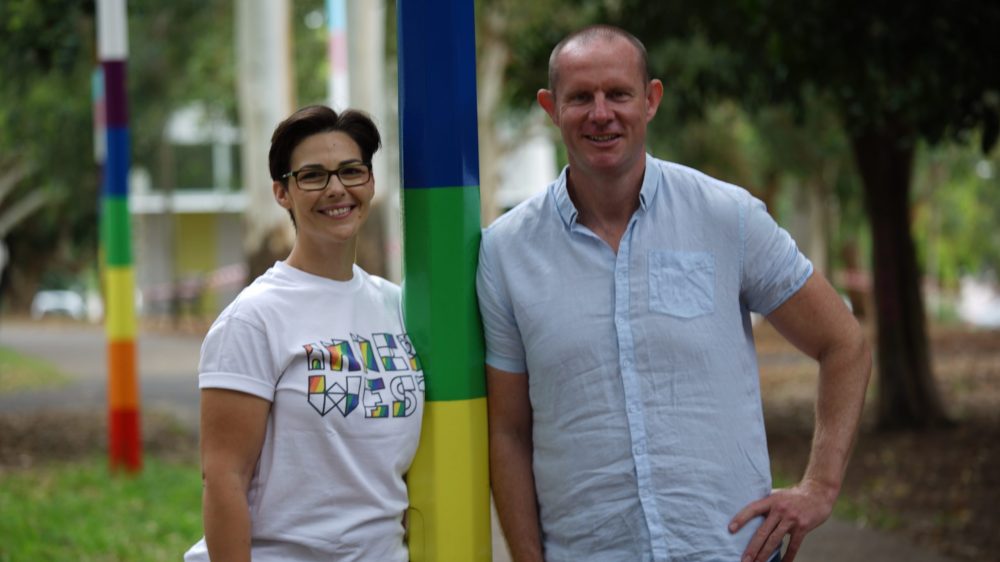 Towering Flag Beacon recognises LGBTQ Community
Inner West Council is thrilled to officially open Pride Square in Newtown on Saturday, 11 February, from 11 am. Council renamed the space outside Newtown Town Hall in November last year from Bedford Square. The square will feature a stunning progress flag beacon and timber seating clusters scattered throughout the space as part of beautification works.
"The Inner West community has been the beating heart and soul of the long struggle for equality and civil rights in Australia," said Inner West Council Mayor Darcy Byrne. "Our naming of Pride Square is an act of recognition and respect for the LGBTIQ+ community."
The naming ceremony will see the wrapping come off the towering flag beacon and kick off the Pride Inner West festival.
The three-week festival will showcase a vibrant mix of more than 50 community-inspired performances, workshops and activations, presented in the lead-up and alongside Sydney WorldPride.
"Inner West Council is one of the most diverse local government areas in NSW, and as a council, we have an abiding commitment to inclusiveness and diversity," said Pride Inner West Committee Chairperson, Councillor Jessica D'Arienzo.
"We honour the diverse individuals and groups, past and present, who have championed pride in our local areas. Pride Inner West supports inclusive and safe spaces for connection and celebration, from sporting fields to community centres, art spaces and beyond. Pride Inner West is for everyone."
The Pride Square launch will feature a dazzling line-up of performers, including Deep Sea Astronauts, the Sydney Gay and Lesbian Choir, Worship Queer Collective, Sexy Galexy and The Kings.
Speakers on the day will include former Matilda's vice-captain, Moya Dodd; ParaMatilda Nicole Christodoulou; Trans Pride Australia President, Anna Pye; and CEO of BlaQ Aboriginal Corporation, Shane Sturgis.
Pride Inner West festival schedule
When: 11 am-1 pm, Saturday 11 February 2023
Where: Outside Newtown Town Hall, 1A Bedford St