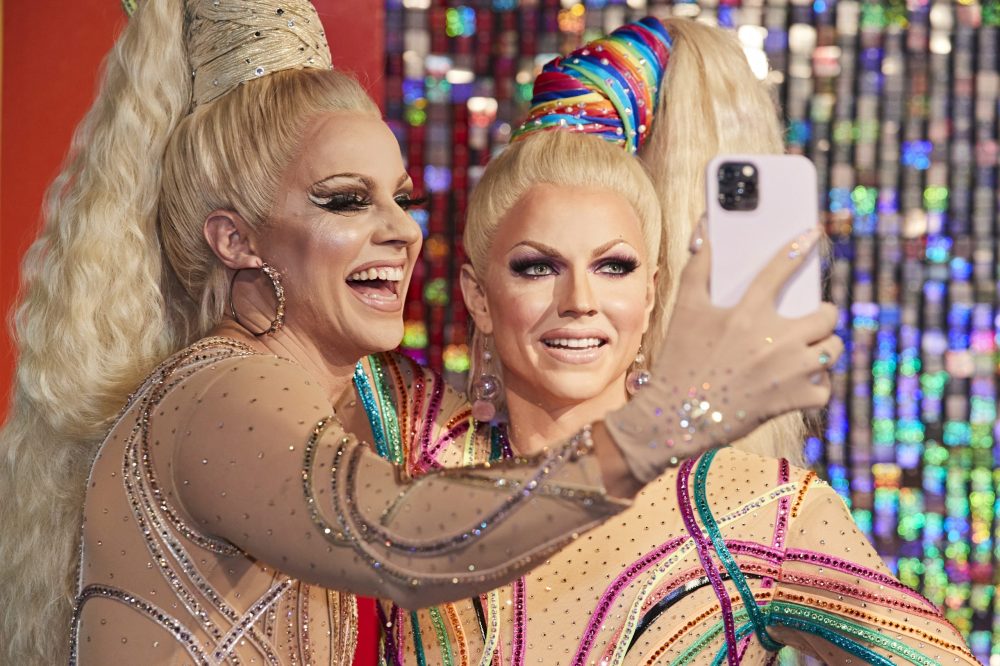 When global drag icon Courtney Act first saw her sparkling new wax figure, unveiled in time for World Pride, take its place amongst performers she idolises like Kylie Minogue and Katy Perry, she responded with one word.
"Epic."
Dressed in her iconic 2020 Mardi Gras rainbow outfit, wax Courtney wears a Swarovski-covered dress and glitter Louboutins, with hair styled in her signature high ponytail.
There's a reason she donated such high-end sartorial spoils. "Madame Tussauds always represented the height of quality and sophistication," Courtney says. "I remember going when I was younger and seeing memorable wax figures like Kylie Minogue."
If someone had told 14-year-old Courtney, aka Shane Janek, they'd be made into a wax figure, what would his reaction have been?
"I'd have been overjoyed, and I think I would've worried a lot less," Courtney says. "Because it would've meant that things turned out okay."
Strutting through the wonders of Sydney's own Madame Tussauds, Courtney was struck by two things.
First, how interactive the experience is – visitors can join the parade on a Mardi Gras float adorned with a giant unicorn head, sit on a 'real' bike as one of the iconic 'Dykes on Bikes', and pose inside a giant stiletto with Priscilla Queen of the Desert's Guy Pearce.
But second, she noticed "just how many of the world's celebrities are Australians" and "just how good their wax figures are." She adds, laughing, "maybe it's because we Aussie celebs have a bit more time – or because we can sit down and follow orders for longer!" Wax Courtney took shape after a team of eight took over 100 measurements and 300 photographs over a five-hour sitting.
"Australians sometimes have cultural cringe about the idea of celebrity and popstars," she says. "But when I got in there, I realised just how many talented, famous Australians there are: Nicole Kidman, Kylie, Hugh Jackman, Rebel Wilson, Jimmy Barnes, Harold Bishop!" It was the level of detail on them that really impressed her. "So intricate."
It was once Courtney saw the level of fine detail the wax figure artists go to that she thought she'd offer some guidance.
"I was quite specific about the details!" the control freak drag superstar says. "I wanted it to have a lace front wig as opposed to having the hair punched. I wanted you to be able to see the texture of the glue stick on my eyebrows, where I glue down my boy eyebrows and then paint on my drag eyebrows. They even included the little nub in the middle – the few hairs of my boy eyebrows that mark the start of my new drag eyebrows.
Courtney's wax figure makes world history: it's the first in Australia and only the third in the world after Conchita Wurst in Austria and RuPaul in America.
She surprised fellow RuPaul drag stars with a FaceTime on the day of the unveiling, "I knew Bianca Del Rio would appreciate the fine craftspersonship, Willam would want to know if it had genitals and nipples (it doesn't) and Katya would want to see the webbed toe!" she says
The figurine forms part of Madame Tussaud's new PRIDE Zone – the first zone of its kind across any Madame Tussauds sites globally – which celebrates the history-rich Oxford Street, home to Sydney's LGBTQIA+ community, paying homage to its struggles and its achievements. A 3D set encompasses a replica Oxford Street sign and Pride flag alongside a shopfront in the décor of an Oxford Street address. Guests can 'Join the Parade' with a unique experience allowing them to create their very own fabulous Pride outfit in front of interactive mirrors.
Courtney, of course, is queen of Oxford Street – but her versatile talents have stretched globally since competing in Australian Idol twenty years ago. Since then, the 40-year-old had won UK's Celebrity Big Brother, competed in Drag Race and Dancing with The Stars, written a memoir, presented for the ABC and made her Sydney Theatre Company debut in Blithe Spirit last year when she proved that Courtney really could act.
With so many triumphs under her sparkled belt, what other pinch-me moment is next?
"I want 2023 to be the year of music," she says. "My new single, 'Celebrate' kickstarts that. I want to have a hit song everyone knows the words to, like Kylie.
Courtney will be introducing Kylie herself as host of the upcoming World Pride opening party.
It'll be another 'pinch me' moment in the varied life of Courtney Act, just like sharing her new wax figure with her fellow drag friends. What was their ultimate reaction?
"They all appropriately gagged, and Bianca says she has more personality than me," Courtney says.
"I'm sure if they weren't so jealous, they'd be happy for me!"
To enjoy the new PRIDE zone, purchase tickets, or for more information on the celebrities, you can meet at Madame Tussauds Sydney, visit: https://www.madametussauds.com/sydney/
ALSO: To mark the arrival of World Pride in Sydney this summer, SEA LIFE Sydney Aquarium and WILD LIFE Sydney Zoo are celebrating diversity and relationships in the animal kingdom at our brand new event – Dating & Mating! Launching this Valentine's Day, join us from 14th February – 5th March for an incredible insight into the world of dating and mating across our many animal species – both on land and underwater. Enjoy fun activities, cute photo opportunities and the sweetest discoveries where you will find out if there really is plenty more fish in the sea…
To experience 'Mating & Dating' at SEA LIFE Sydney Aquarium and WILD LIFE Sydney Zoo, as well as PRIDE at Madame Tussauds Sydney, Book online and save up to 50% with a Sydney Big Ticket sydneybigticket.com.au