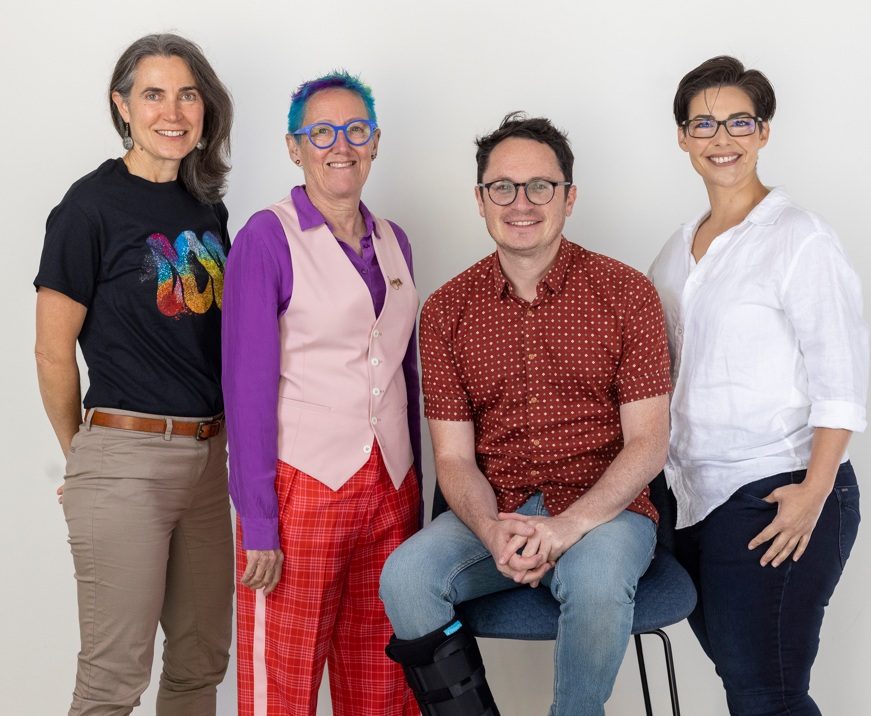 The inner west is ready to celebrate its rich history of LGBTQ communities with today's full program launch of Pride Inner West – a joyous three weeks of events and activations.
Inner West Council has curated a vibrant mix of more than 50 performances, workshops and activations that uniquely reflect inner west LGBTQ communities.
For three weeks, Inner West sporting fields, community centres, art spaces and public domains will be illuminated with free and low-cost events.
Make a splash in the council's aquatic centres, honour LGBTQ trailblazers in the libraries, compete for the top title on sporting fields and discover legendary legacies in art spaces.
The festival proper will kick off spectacularly with the official naming ceremony of Pride Square on Saturday, 11 February and ignite three weeks of entertainment, insight and inspiration.
The space outside Newtown Town Hall underwent a name change last November – from Bedford Square to Pride Square – to recognise the long and proud history of the LGBTQ communities and their essential role in shaping the area's character.
An initiative of Inner West Council, Pride Inner West, is designed to appeal to all audiences and be accessible on the hip pocket, with free entry or nominal fees.
"Inner West Council is one of the most diverse local government areas in NSW, and as a council, we have an abiding commitment to inclusiveness and diversity," said Pride Inner West Committee Chairperson, Councillor Jessica D'Arienzo.
"We invited the community to bring forward their ideas to include in our Pride Inner West program, and they have delivered a wonderful diversity of community-led events, engagement and activations across the LGA," said Councillor D'Arienzo.
The international focus is set to shine brightly on Sydney WorldPride 2023, which runs from Friday, 17 February, to Sunday, 5 March.
Pride Inner West kicks off a week earlier and stands as a micro-festival, complimenting WorldPride and celebrating the LGBTQ community thriving in the inner west suburbs.
Pride Square in Newtown will be the beating heart of Pride Inner West, inviting the community to gather and experience a hive of activity.
Pride Square will feature a towering progress flag beacon and illuminated seating across the square in the final stages of a stunning upgrade. At the same time, rainbows spill out throughout nearby Camperdown Park.
Packed with dynamic programming, Pride Square has free events, including Big Thick Energy's celebration of body positivity and liberation, FAMBO's series of creative workshops for little loves, the honouring of Queer Asian Excellence with Dynasty: Queer Asian Pride and more!
Across two days, 18 and 19 February, BTE will take over Pride Square with local artisan markets, panel discussions, workshops and high-energy entertainment, with thick, curvy performance artists breaking stereotypes and celebrating self-love.
"It's extraordinary for BTE to connect with the community but more importantly for the community and QTPOC (Queer Trans People of Colour) fat youths to see representation, connection and radical self-expression," said Demon Derriere, Big Thick Energy Creative Director.
The International Gay and Lesbian Football Association World Championships, Amazon Tennis Tournament and an Aqua Festival will feature in a packed sports schedule.
Petersham Town Hall will host the Youth Ball and Vogue Workshop, allowing queer youth to explore elements of this innovative art form.
The history of Drag Kings across Australia will be displayed in Behind The Zip, a multimedia exhibition featuring photographs, video and object installations at Chrissie Cotter Gallery.
Drag King performances will ignite the festival opening night, and attendees can learn more about local and interstate icons or try their hand in a Drag King workshop.
Stay tuned and keep up-to-date at the official Pride Inner West website www.innerwest.nsw.gov.au/prideinnerwest