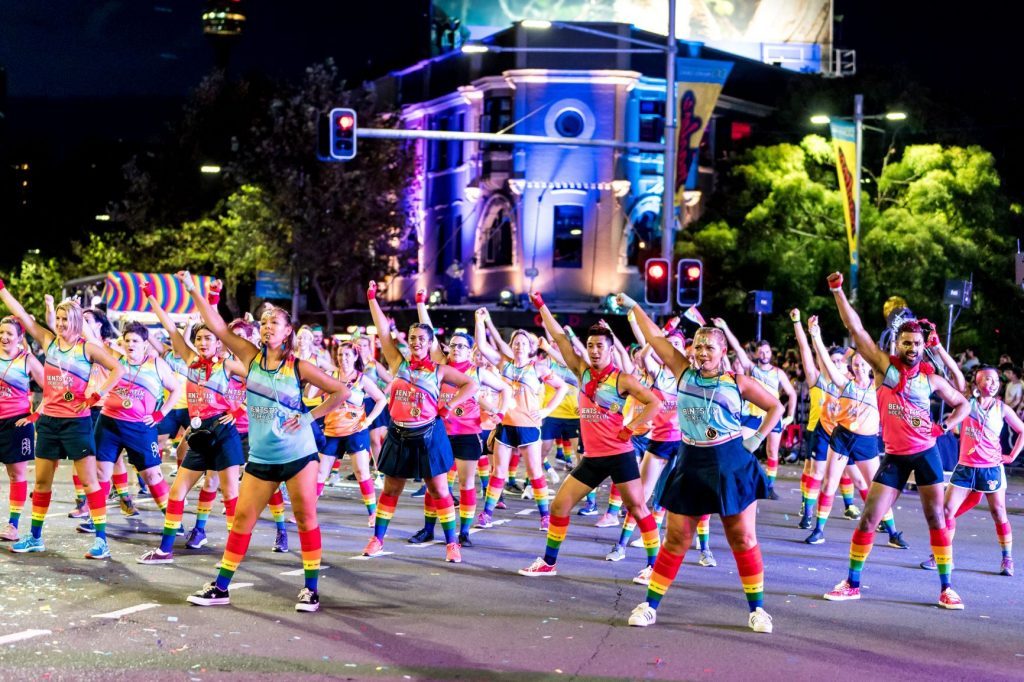 Working together to make community floats in the 2020 Mardi Gras Parade bigger, brighter, bolder and as spectacular as they can possibly be, Sydney Gay and Lesbian Mardi Gras is proud to partner with Google for the annual Mardi Gras Parade Grants program.
With more than 12,000 participants and hundreds of thousands of spectators lining the streets, the Mardi Gras Parade is one of Australia's largest events. The elaborate procession is the perfect opportunity for LGBTQI individuals and groups to showcase their work and causes in the largest night-time parade of its kind in the world.
Mardi Gras Parade Grants provide capacity building funding to individuals, community groups and not-for-profit groups to ensure parade entries are as eye-catching and attention-grabbing as possible, so that organisations can deliver their messages loudly, proudly and clearly during the Parade.
2020's Mardi Gras theme is WHAT MATTERS. Google Mardi Gras Parade Grants will help ensure LGBTQI groups can amplify their Parade message about What Matters to them, creating a 'wow' experience for the vast crowds cheering them on.
SGLMG CEO Grant Lowe says: "It is vital that the annual Sydney Mardi Gras Parade is accessible to all of our wonderful community, and we recognize that putting together a parade entry can be costly. Over the past three years this program has helped many community organizations and groups send their message loudly and proudly across Australia, it has ensured diversity across the LGBTQI community is represented in the Parade, and that marginalized people have a voice in Sydney Mardi Gras."
Google's Sam Thomson says: Fundamentally, life is all about connection. And for marginalised communities, the importance of this connection is often amplified. We hope that by enabling more LGBTIQA+ individuals, community groups and not-for-profit groups to bring their WOW factor to Parade, they not only have an amazing opportunity to connect with each other, but also have a platform to share their message and connect with the wider community.
Last year's Mardi Gras Parade Grants awarded $66,000 divided among 24 applicants from all over Australia, including Aboriginal Project ACON, Diversity Launceston, Bi+ Visibility, the Harbour City Wrestling Club and People with Disability Australia.
Andrew Farrell, President of the Harbour City Wrestling Club says, "The grant from Mardi Gras and Google helped us elevate our float in 2019 which allowed us to create our biggest float to date while keeping entry costs to a minimum."
Ben Graetz from Party Passport's 'RED HOT TERRITORY- FIREY, FEARLESS, FABULOUS' float showcasing the Northern Territory says: "Without this year's Mardi Gras google grant we wouldn't have been able to deliver this year's Northern Territory's float. The grant ensured that our regional voice was seen and heard and helped to produce a high-quality float which had impact and flair."
Mardi Gras Parade Grants range from $2,500 – $5,000 and will be awarded to the most compelling applicants who can demonstrate a clear message, excellent organisational skills, relevance to the LGBTQI community and a high level of artistic merit.
Mardi Gras 2020 Parade entries can apply for Mardi Gras Parade Grants from Friday 22 November. Applications close Friday 6 December 2019. Apply at https://www.mardigras.org.au/parade-grants