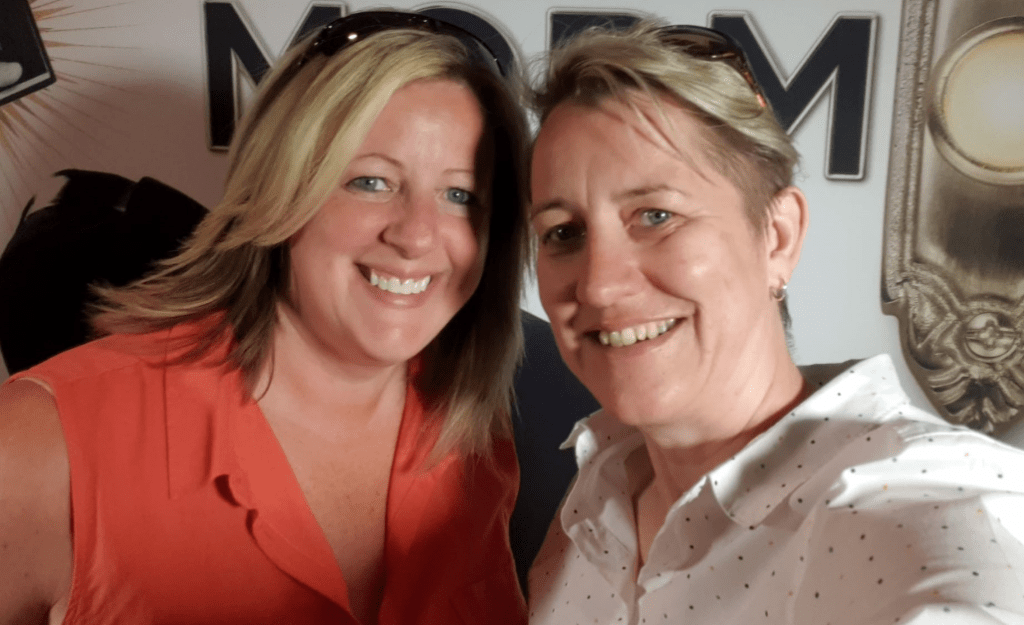 A new online dating website for lesbians is more than just a traditional heterosexual site rebranded with a touch of pink.
Rainbow Love, launched by power couple Jo Hilton and Victoria Eppler, creates community and connection for lesbian women, regardless of their relationship status. Jo and Victoria met online despite the cards being stacked against them.
"The whole online dating experience is currently just awful. There's more to dating than simply swiping left or right," says Jo.

"After spending many hours discussing all the things we hated about our personal online dating experiences, we decided we could do better."

"We both understand how lonely and isolating being a lesbian woman can be," Victoria explains. "We are passionate about creating a platform to change the lives of lesbian women around the world."
Rainbow Love's market research uncovered some "sad but unsurprising statistics," Jo adds.
"While almost 75% of our respondents said they would use a dating website to find a partner, more than 50% said they weren't limited to love, and just would like to meet like-minded women."
Victoria says Rainbow Love's market research found most respondents do not feel connected to the LGBTQI community. More than half feel lonely and isolated and almost three quarters find it hard to meet like-minded people.
"Feeling isolated and disconnected from community is a real problem – something we are determined to address with Rainbow Love," Victoria says.

"There is a profound lack of insight into the needs of lesbian women because most lesbian dating websites are not owned by women, let alone lesbian women. Rainbow Love is more than another dating website – it's a place for community,

connection and friendship," Jo concludes.
Rainbow Love will be launched on 23rd November 2019 at 12pm to coincide with Pride Month in November. A launch event will be held at Lamb Bar this Saturday at 8pm on.  book your ticket
Here is Jo and Victoria's story:
The gay pride rainbow is a symbol of peace and pride in the LGBTQI+ community, but it holds an extra special significance for us.
We, Jo and Victoria, met online thanks to a technical glitch on a dating website. Jo was in Australia and Victoria in the UK. It should not have been possible for us to find each other but that fateful glitch made sure that we did.
From the time we met online, to the time we first met in person, we talked and texted non-stop. As you can imagine, with one of us in Australia and the other in the UK (an eight-hour time difference), we were up at all kinds of crazy hours. It was a whirlwind of laughter, communication, exploration, exhaustion and undeniable connection.
When you reach our age, you have enough experiences in life to know what it is you are looking for and what you want in a partner. When you know you have found it (and when you know, you know), you grasp it with both hands and you don't let it go!
Our interests, our values, our core selves were so aligned. We each consider ourselves to be spiritual, empathic and well-grounded people and we recognised those same qualities in the other. We knew, almost immediately, that we were soulmates.
We wasted no time in making plans to meet one another. Jo had booked a flight to the UK to visit family prior to us finding each other online and we saw this as a great opportunity to meet in person. As Jo was driving to the airport to catch her flight, she was thrilled to see a beautiful rainbow spread across the Perth sky, almost as if it was guiding her journey.
At the same time, it had been a bleak winter in the UK and the sky had been cloudy and grey for the longest time. Victoria was thinking about Jo's impending arrival when, almost miraculously, the clouds broke, the heavens opened, and a stunning rainbow split the sky. ''It's a sign,'' were the exact words that came to her mind.
When we first met in person, we exchanged our rainbow experiences and it became the first of many coincidences or "spiritual meanings" as we have come to see them.
Since that moment, the rainbow has become a beautiful symbol of our relationship: the two of us, all that we are, and all that we believe in. It means a lot to us not, just as lesbian women, but as loving partners. When we decided to create this online community, it seemed only natural to name it after the symbol of our community and the symbol of our love for each other: the rainbow and love itself.
We are insanely proud of what we have created here at Rainbow Love and hope that others find the same meaningful connection that we've made.