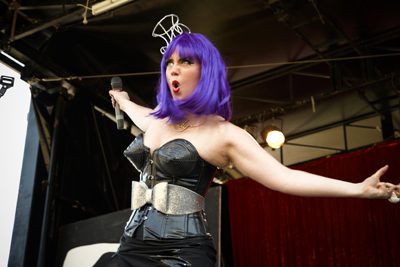 What's in store for Fair Day, the official launch of Sydney Mardi Gras 2012?
Get ready for this Sunday, February 12th, when 70,000 people descend on Victoria Park for Fair Day. Featuring a rip-roaring line-up of programmed entertainment, the best in local and international delicacies, more than 200 stalls to browse at, refreshing bars, rides to thrill and games suitable for the whole family, Fair Day is the day when the whole community comes out to play
Setting the main stage (presented by ANZ) alight will be a line-up of hot Australian talent, including the impressive voice of Sydney singer-songwriter Maxine Kauter, whose mellow and enchanting sounds will enrapture Fair Day attendees. Rising star and Triple J host Brendan Maclean, will also appear on the Main Stage, with a performance that will demonstrate the raw talent that has seen him snapped up for Baz Luhrmann's remake of The Great Gatsby.
Powerhouse singer Mary Kiani will appear ahead of her album launch taking place later in the Sydney Mardi Gras season. The Newtown based Scottish singing sensation will excite and inspire, wowing the crowds with a big personality and an even bigger voice. Some of our much-loved community groups to the main stage, presented by ANZ, including the Sydney Gay and Lesbian Choir and the NSW Police Band.
Wowing crowds will be the rich melodies and gravelly voice of Gen Chadwick, the alluring Shimastic, Brisbane-based alternative folk singer Kristy Apps. Candy Royalle and Sloppy Joe will be gracing the main stage with their distinctive and arresting blend of monologues, poetry, storytelling and song. Giving a sneak peek of the delights to come will be performers from the Sydney Mardi Gras Festival including Michael Leslie who will star as Miss Gaynor Tension, as she struggles through life in show business understudying the greats. You'll witness Miss Tension deal with the trials and tribulations of always being second best— but doing it fabulously, of course.
The blackcat showcase will show off some of the amazing queer cabaret events being hosted by blackcat lounge this Mardi Gras season.
The performers will deliver live music that is both powerful and playful, giving audiences a delectable taste of what's coming up later. The irrepressible and hysterical Trevor Ashley will also hit the stage, channelling the one and only Dame Shirley Bassey, in a preview of his Diamonds are for Trevor show that will take place on March 2nd.
New to Fair Day in 2012 will be a special cooking stage, where former Masterchef contestants Cleo Kerameas and Peter Vickery will fight it out in a Celebrity Chef Challenge, by Martin Boetz of Longrain Restaurant. Make sure you head to the food area on Fair Day to get some hot tips and see these Masterchef favourites whip up a storm!
Fair Day gets interactive this year, as people are invited to participate in the making of a Mardi Gras Parade float. Stay tuned for more details about the Pot of Love, a special installation generously loaned by Sydney Opera House. This work has been created by artist Amanda King and was part of Sydney Opera House's free Creative Play program for young people in January. Participants will be able to make flowers with recycled materials supplied by Reverse Garbage, and by adding to the wire sculpture, contribute to the final result.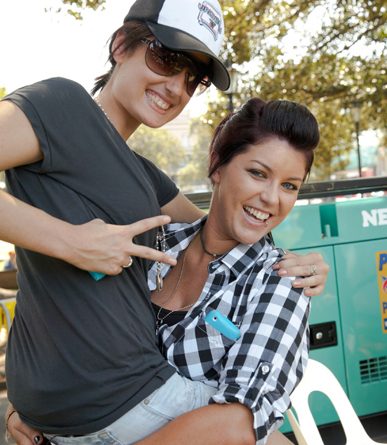 The LOTL Bachelorette of the Year Awards will show off fifteen of the sexiest lesbians in Sydney to the Fair Day audience.
Once checking out the lovely (and eligible!) ladies, Fair Day attendees can vote for their favourite at the Fair Day LOTL stall. The winner will be announced at a later event at the Bank Hotel, but we'll see the BOYs again throughout the festival— they'll be in the Parade and even at the Mardi Gras Party!
The popular Mr and Mrs Fair Day competitions are back, with a stack of hot prizes up for grabs. The divine Charisma Belle (Diva Sydney's Favourite drag-queen 2000 and 2011) will be hosting the proceedings of Mardi Gras' favourite pageant on the ANZ Main Stage. Anthony Defina (Chelsea Bun), of House of Priscilla, will be joined by Glenn Hansen of the Stonewall Hotel and Fiona Gamble from Solei Tanning to decide who is the most beautiful and charming of them all! With prizes including Solei Tanning vouchers, silk massage vouchers, as well as House of Priscilla, Daly Male, Stonewall Hotel and 2EROS underwear packages, you'll want to be in to win it this Fair Day!
Fair Day is not just a day for the whole family, but our furry friends as well. Doggywood, our annual festival for our four-legged friends is back and will be holding its popular judging competitions for your pet to take part in! Brought to you by Williams Natural Pet Company, Doggywood is a much loved annual Fair Day tradition.
This year's competition will have four rounds, running from 11.30 am to 1.30 pm.
Pet owners are invited to bring man's best friend along to compete in the following competitions:
Round 1: Owner/Dog Look-A-Like
Round 2: Best 'Pick Up' Dog
Round 3: Best Dressed Dog
Round 4: The Famous Doggywood Obstacle Course
Later in the afternoon, Doggywood will take over the Main Stage for the Doggywood: Best in Show Judging!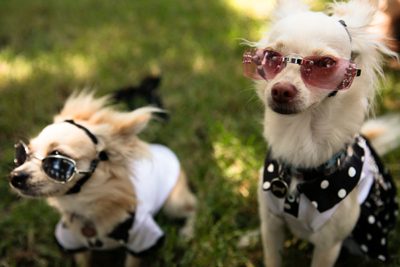 For those wanting to cool off after a busy day in the sun, the Gaydar Lounge is the perfect place for some respite.
A new addition to this area in 2012 is the Finlandia Bar, where Fair Day attendees can treat themselves to a Bay Breeze or Helsinki Mule cocktail while surrounded by the unforgettable Gaydar hotties.
There's a whole lot of family-friendly fun in store for Fair Day as well, with a RAINBOW REUSE crafting workshop for all those young, and young at heart! Reverse Garbage is excited to celebrate Fair Day with Rainbow Babies and is running a festival workshop to bring some sustainable fun to Fair Day. Participants can craft their way to DIY heaven by making RAINBOW REUSE accessories!
Explore your inner villain as Shopfront Contemporary Arts and Performance kick off a fun-filled day for young people with a multimedia workshop creating bespoke contemporary villains from 10 am to midday.
Budding thespians and poets will also be able to get involved in Fair Day, as they show off their stuff on the Youth Hub stage. Participants in the Papercuts Sydney Mardi Gras Youth event developed by The Red Room Company will perform the spoken word pieces and poetry they developed with Candy Royalle.
Participants in the ATYP Character Creation masterclass will also be roving around Fair Day performing characters they devised. The Youth Hub will also be throbbing with the tunes of popular Sydney DJs Cunningpants and Nat Noiz throughout the day.
Entrance to Fair Day is by gold coin donation, although attendees are asked to give generously and help support this very special community event.
Donating is a great way to not only support Fair Day and keep it free but in the draw for the Fair Day raffle. This year's Fair Day raffle is bigger and better than ever, with more than $3000 worth of prizes up for grabs! Donating $5 will entitle you to one raffle ticket, while $10 gets 3 tickets in the draw. Prizes include premium Mardi Gras Party tickets, Harbour Party tickets, Glamstand tickets, an Apple iPad2, Virgin flight vouchers, a Star Shot Perfection Gift Card Package and Gaydar membership!