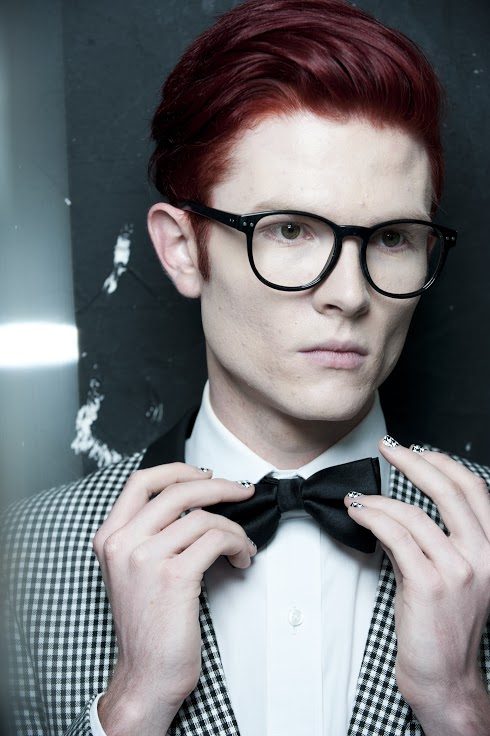 Gretel Killeen and Rhys Nicholson are hosting Mardi Gras' exclusive viewing area
Sydney Gay and Lesbian Mardi Gras have announced that immensely popular presenter, author and TV personality Gretel Killeen will join regional NSW's funniest export Rhys Nicholson to host Parade Sideshow, Mardi Gras' exclusive viewing area at this year's Parade on Saturday 7 March.
Offering a fantastic view of every sequin, every dancer and every float, Parade Sideshow is a great way to experience the world's most spectacular night-time parade, with Killeen and Nicholson coming on board to make sure revellers get the best there is to offer for their Mardi Gras Parade experience.
Hosts Killeen and Nicholson will offer their own unique take on the passing parade with a witty and colourful commentary that will both inform and entertain. There'll be lots of audience interaction on the night (if you're game!) and there are more surprises in store.
Gretel Killeen's career started as an accidental stand-up comic when she was attempting to present a profound poem. Since then she has written over twenty books, taken centre stage on a variety of television shows, and dominated our TV screens for seven years as the host of Big Brother Australia. Killeen is a much-admired supporter of the LGBTQI community as well as being a seasoned Parade commentator, having hosted the TV broadcast of the event in 2003.
Newcastle born and bred, Rhys Nicholson is one of Australia's most outstanding young comedians, having supported comedy kings such as Louis CK, Kathy Griffin and Jim Jefferies. With full houses at the Brisbane Comedy Festival, MICF and Sydney Comedy Festival, Rhys has received rave reviews for his stylish, black comedy.
With exclusive access to bars, food stalls, screens capturing all the action, precious bathrooms, and seating for when the feet need a rest, Parade Sideshow will deliver the ultimate parade viewing experience. It's perfect for locals and visitors, straight and gay, singles and couples, adults, kids, families – everyone is welcome at Parade Sideshow.
Member for Coogee Bruce Notley-Smith said: "The Sydney Gay and Lesbian Mardi Gras Parade in Sydney's biggest annual celebration of diversity, and an event the NSW Government is very proud to support through our tourism and major events agency Destination NSW."
"The Parade Sideshow gives audiences the chance to experience all the colour and excitement of the Parade up close and in maximum comfort, and the announcement of Gretel Killeen and Rhys Nicholson as hosts is sure to delight ticket holders and give them a wonderful experience on Parade night."
The annual Sydney Gay and Lesbian Mardi Gras Parade is one of the most established events on the Australian cultural calendar, attracting tens of thousands of international and interstate visitors to Sydney each year. Lining the streets, the crowds wear their most fabulous outfits in preparation for a night of dancing, marching, and celebrating love and people of every colour of the rainbow.
PARADE SIDESHOW – PARADE VIEWING AREA
Date and time: Saturday 7 March, 7-10 pm
Location: Flinders Street, Darlinghurst
Cost: General Admission – $149, Child (Under 14) – $85, Family (2A + 2C) – $400
For more information about Mardi Gras' jam-packed calendar of summer events, head to www.mardigras.org.au