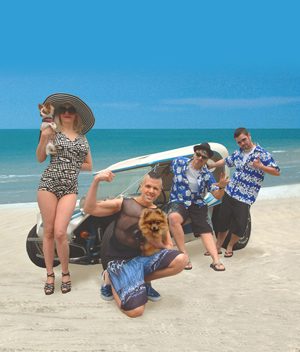 A plumber, a magician, a Mexican wrestler, and even a Thanksgiving turkey, no these are not the members of a strange version of the Village People, they represent just a few of the drag performers at the 14th Annual San Francisco Drag King Contest held at DNA Lounge on August, 15.
Despite the steep competition, drag king Delicio Del Toro walked away with the first place title after he wowed both the crowd and judges with his sexy and hilarious performance.
Del Toro came out in La Lucha Libre drag and proceeded to erotically wrestle a piñata until tortillas sailed across the stage. His act ended with him topless as he "reach[ed] into his pants to pull out a huge burrito which he took a big bite out of before hurling it into the crowd—they went wild," event organizer Lu Read said.
As the first-place winner, Del Toro walked away with a slew of goodies including a crown, a huge silicone dildo, a three-month yoga pass, porn from Buck Angel (the famed trans pornstar) and much more.
The performances varied from the more expected lip-synching and dance numbers to the strange when Dean Disaster performed dressed as a turkey accompanied by two women sporting potato costumes who threw food into the audience during the act.
"The act was to the song "Eat Us" from Addams Family Values and only lasted 30 seconds," Read said. "People were like what the fuck?! It was hilarious!"
Dressing in drag and taking on the persona of a man can be a powerful experience and women are drawn to it to "break down stereotypes and poke fun at them," Read explained.
"I think everyone should dress as the opposite sex to experience what it is like," she said. "It's empowering for women because in our society men, unfortunately, have more privilege."
But the reasons behind choosing to dress in drag vary from performer to performer.
"It's not that I want to be a male and it's not that I want to present male," Dean Disaster said in a backstage interview shortly before the show began. "It's like I want to be a performer and sort of have people question gender and think about what gender really is…as well as the idea of gender performance and gender illusion."
A large portion of the proceeds from the show was given to Pets Are Wonderful Support (pawssf.org), "a volunteer-based organization that provides for the comprehensive needs of companion animals for low-income persons with HIV/AIDS and other disabling illnesses," Read said.
For drag king troupe Fella-Fem, who holds the 2008 Drag King Contest title, participating in this event was important to them because of the donations that were given to P.A.W.S.
"Giving back to the community too, that was really important to all of us, said Fella-Fem member Dicky Luv. "To make a change, I mean we want to bring smiling faces, but also do something that helps." (sfdragkingcontest.com)