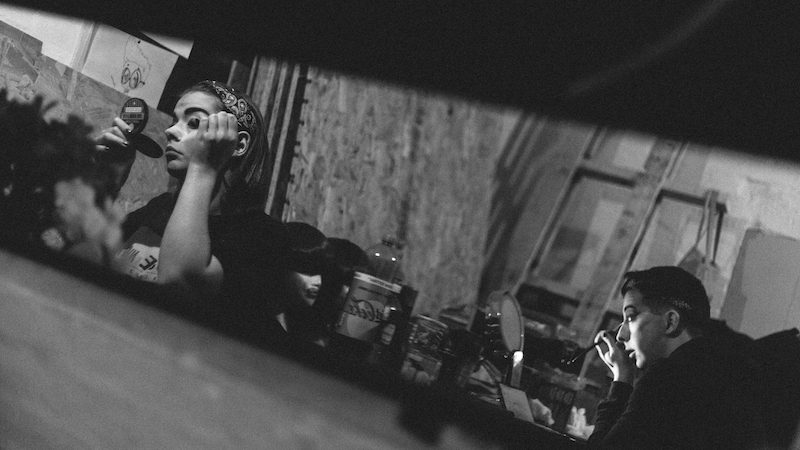 Theatre company Bonnie And The Bonnettes using drag to explore gender
It's a glitter fuelled riot of 80s pop anthems and teenage exploration. It's Doncaster, 2009. Drag Me To Love is the first show we, Bonnie And The Bonnettes, have ever made and we're bringing it to the 96 Festival at Omnibus Theatre in Clapham, on 3 of February 2018!
As companies go, Bonnie And The Bonnettes are a small band of three – Hattie, Cameron, and me, Becky. Originally, we were three singular performers brought together to make the show, but two years later we're a tight little team.
Drag Me To Love is a three-person autobiographical show which tells the story of 14-year-old Cameron as he throws himself into a pair of six-inch stilettos. Much like the show, the heart of Bonnie And The Bonnettes is our fun nature, our need to be loud and have a good time with what we're doing.
The story of the show is about becoming a drag queen, and when I first became part of the cast around two years ago, I had to get used to being in drag pretty quickly. I didn't know girls could be drag queens. I thought a drag queen was just a "man in a dress" but throughout the process, I stopped seeing being a man as a requirement. It's a lot more open than that.
When I first started getting into drag I had no idea what I was doing, at all. I used to just stare helplessly at different shades of contour hoping one would speak to me. My gender has never been particularly fixed but heightening my own femininity in the way that drag does was completely new to me. Drag queening always seemed like this really feminine thing, and I'm not.
We knew the show would involve us playing with drag and gender, and we wanted to do it in a way that we felt safe exploring. Drag can be a really fun way of exploring gender, especially your own. I've learnt that I don't have to be either masculine or feminine; I can be both at the same time, or move between them as I wish. I know it's not breaking news, but it was huge for me and something I wouldn't have thought of before the show.
The world we've created with Drag Me To Love is a bit much, and we've enjoyed taking that and making it part of our characters. Drag to me is all about taking something and heightening it, playing with it, exposing it, and that's something I'd have never had the chance to do were it not for this show and this company.
We're so excited to be performing our show at Omnibus in Clapham as part of the 96 Festival, and hope to see you there!