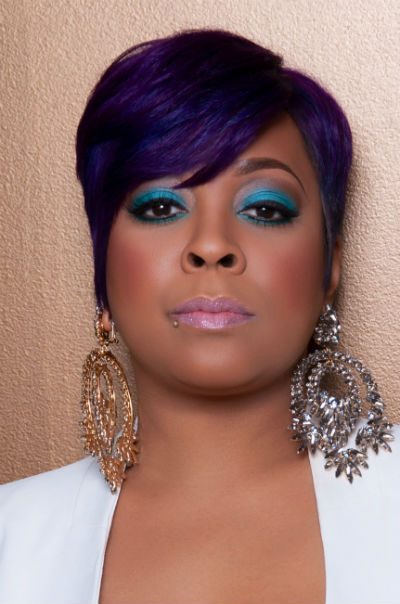 The out R&B icon to be honoured at OUTmusic Awards.
Out R&B recording artist Monifah will receive the 2015 Vanguard Award at the 9th annual OUTmusic Awards in New York City on January 19. Monifah, who received 2 OUTmusic Award nominations, will join a lineup of other legendary honorees and nominees, including Holly Near, Ember Swift, Antigone Rising, Charice, and Tegan & Sara. Orange will host the Outmusic Awards ceremony: The New Black star Lea DeLaria.
It's been 14 years since Monifah released an album, but she has been busy. She was the star of TV One's reality show R&B Divas Atlanta, in which she was not only out and proud but also married her girlfriend, Terez Thorpe. Their wedding in Hawaii became the first African-American celebrity same-sex union wedding unique to air on national television.
Monifah also has more music on the way. She has released the single "The Other Side" from her upcoming album Invincible, and the single earned her two nominations for Song of the Year and Best R&B Song for the 9th annual OUTmusic Awards.
"What an amazing feeling to be honoured and nominated," said Monifah. "Wow, it is gratifying to be recognized among such amazing artists. So grateful!"
OUTmusic announced its annual awards ceremony at New York City's Town Hall on Monday, January 19, 2015. It is the 25th anniversary of the organization, which furthers the cause of LGBT people in the recording industry.
Presented by the LGBT Academy of Recording Artists (LARA), the evening recognizes LGBT artists and producers who have significantly contributed to music. Lea Delaria, "Big Boo" of Orange is the New Black, and Ari Gold, known as the King of Gay Pop, will host.
Monifah, a New York native from East Harlem, and a graduate of the famed New York's F.H. LaGuardia High School for the Performing Arts, burst onto the R&B music scene in 1996 with her self-titled album Monifah: Moods…Moments, featuring the double-platinum single "I Miss You (Come Back Home)" and "You Don't Have To Love Me."
She is probably best known for her Top Ten R&B single "Touch It," which also became her first crossover hit, charting at #1 for four consecutive weeks on the Billboard Hot Dance Club Play charts. Her albums Mahogany and Home consolidated her reputation, with the latter going gold.
Congratulations, Monifah, for making history again!