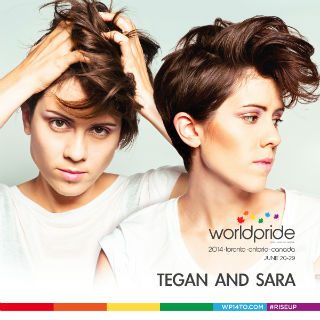 Toronto's WorldPride will wrap up with an electrifying performance from Canadian singer/songwriter duo Tegan and Sara
The 2014 JUNO Award winners Tegan and Sara will join WorldPride 2014 for an amazing, upbeat performance at the closing ceremonies on June 29th at Yonge-Dundas Square in downtown Toronto. With a longstanding career of 13 years, the two sisters from Calgary, Alberta, have built an avid global following; and after winning Single of the Year, Group of the Year, and Pop Album of the Year at the 2014 JUNO Awards, they are the perfect choice to close Canada's largest arts and culture festival in 2014 and the first WorldPride ever to be held in North America.
WorldPride 2014 Toronto will present various musical genres from Rock, Pop, Dance, Hip Hop, R&B, Country, Traditional, Folk, Retro, and Disco. All performances will be live and will occur on 10 free-to-attend, all-ages, open-air stages across the festival footprint.
"The Canadian singer/songwriter duo has become a force on the world stage. Tegan and Sara are the perfect artists to spread WorldPride's message of love, hope and tenacity with their infectious sound," says TK, Arts and Culture Manager, Pride Toronto.
"It is so important for LGBTIQ people to see ourselves reflected in the culture around us."
WorldPride 2014 Toronto is an international celebration, taking place June 20-29 2014, incorporating activism, education, and the history and culture of global LGBT communities. WorldPride 2014 Toronto is presented by Pride Toronto, producer of Canada's largest annual festival of LGBT culture and human rights. The celebration of WorldPride highlights Canada's continued progress in human rights and also celebrates the diversity and dynamism of Toronto, one of the world's most progressive and livable cities.
"We attended our first Toronto Pride in 1999! Yup, we're THAT old! Since then we have had the pleasure of celebrating Pride in Toronto with friends too many times to count. But this year is extra special! It's WorldPride in Toronto! And WE are going to be there. Not just wandering around drinking lemonade and checking out the festivities this time. We're actually playing this year! We couldn't be more proud to be involved! See you there!" says Tegan Quin.
Pride Toronto is the not-for-profit organization that hosts the city's annual Pride Festival in downtown Toronto during the last week of June, and one of the premier arts and cultural festivals in Canada. It is also one of the largest Pride Celebrations in the world, with an estimated attendance of over one million people. It celebrates the history, courage, diversity and future of Toronto's LGBT communities.