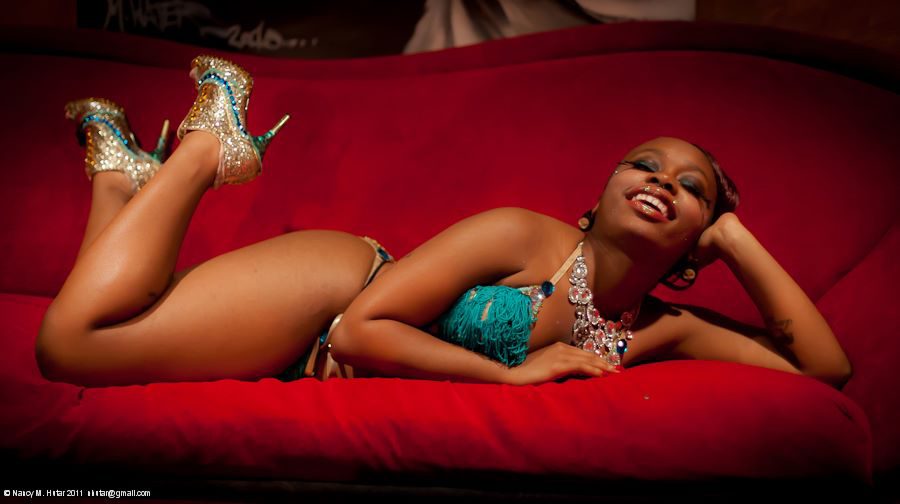 Burlesque's Basquiat breaks all the rules.
There are lots of burlesque troupes in the San Francisco Bay Area, so what can people get at Livid Cult Burlesque Theatre that they can't get anywhere else?
High art, pop art, live music, hip-hop, metal, indie rock, political protest, racial commentary, voodoo, Andy Warhol, sharp objects, glass walking, live piercing and possibly even the dead rising. The troupe's founder, 22-year-old Dorian Faust, has one word for it all: colour. "There was a need for colour" in the burlesque community, Faust says. "Not just skin colour but colourful performances with interesting subject matter that is challenging and cerebral and has more integrity than just your normal prancing, dancing girls."
Faust started her career as a burlesque dancer two years ago in New Orleans, and she noticed right away that there was something missing from America's resurrected cabaret scene. Few notable performers were women of colour, few were the opportunities for queer women to express their sexuality, and few venues allowed for the kind of experimental neo-burlesque acts that Faust specialized in. "Burlesque is supposed to be provocative, but primarily sexually provocative," Faust says. "People don't come to shows expecting people to talk about coming out of rehab, or taking their clothes off to a funeral dirge." But that was the kind of show that Faust wanted to put on, a jarring contrast from the jazz-drenched classical burlesque scene's feather boas and pin-up girls.
Faust saw other performers who wanted to do experimental, satirical and even political burlesque acts: women who wanted to tell coming out stories, women who wanted to pay tribute to drag queens, women who wanted to talk about social injustice or mix performance art with dance. So Faust quit the New Orleans scene and moved to Oakland, Calif. founding Livid Cult as a "safe space for talented queer performers of colour" and a venue where audiences could see a different kind of show with a higher standard for production values.
Faust promises diversity at her shows above all else. One of the first acts she brought on was Sgt. Die Wies (pronounced "device"), a Bay Area tattoo artist and metalhead. For Die Wies, Livid Cult offers the freedom to express herself musically. "I love incorporating metal into my performance," she says. "Yes, metal can be angry, but sometimes it's about beautiful things too."
She made her Bay Area premiere at Livid Cult's very first show last July. She did two sets, one to Deftones "Diamond Eyes" and the other to Harry Connick Jr's "You Didn't Know Me When." So, just a little change of pace between the two acts.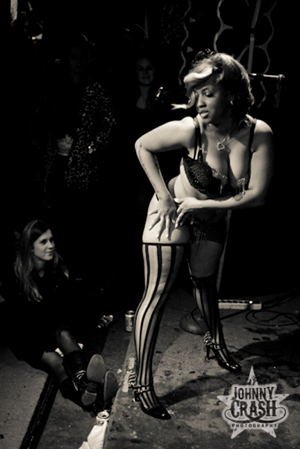 Elyse Elaine (photo credit: Johnny Crash)
Die Wies considers her sets to be among the more conservative pieces at Livid Cult. Compare this to what you might see from "Mistress of Ceremonies" (and founder of her own company for plus-sized women, Rubenesque Burlesque) Juicy D. Light: "I had a piece where I come out dressed as Mammy and I pass out watermelon to the audience," she says. "People get uncomfortable, but the point of that is this is not who I am." At the act's conclusion, she does an "angry striptease", tearing off the costume and throwing the caricature back in the audience's face.
Or there's Livid Cult newcomer Mojo Deville and her specialized "grotesque burlesque": "I'm performing to a remix of 'The First Cut is the Deepest' […] playing an angry housewife who ends up pulling her knives out. There will be blood," Deville says. She adds, "I don't think I could do that kind of thing at other shows."
Faust says that Livid Cult's first show was "a flop" but that she still received enough positive feedback from it to chart a course forward. She marks their February show in Jack London Square as a watershed for the troupe because of some of the big-name performers who agreed to appear at a show by a fledgling troupe in an East Bay venue. "A lot of those performers won't cross the bridge unless they think it's worth their while," Faust said of names like Dottie Lux.
Now Faust is planning her biggest, most elaborate show yet, set for August. "It's a Warhol and Basquiat-inspired tribute," she says. "I'm assigning each performer a painting to interpret through dance." Faust herself will be doing a "reincarnation number" based on the Jean-Michel Basquiat painting "EXU". "I'm going to come out of the grave […] and do a moderate Haitian voodoo-inspired strip number," she says. It's good that she's being moderate; extreme fundamentalist voodoo striptease might freak people out. Juicy D. Light will perform a number based on Basquiat's "Irony of the Negro Policeman" which she says will evoke the deaths of Oscar Grant and Trayvon Martin, and Mojo Deville will be doing a piece inspired by Basquiat's "History of the Black People."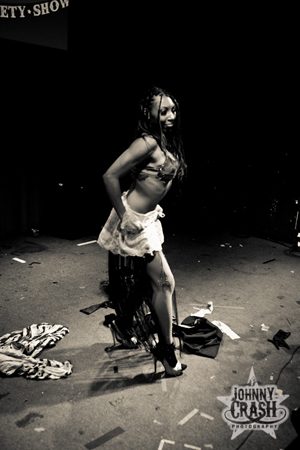 Mojo Deville (photo credit: Johnny Crash)
Self-described "Burlesque Creature" Saranaqued received Warhol's famous soup can and flowers as her assignment, and "The Bay Area's Betty Boop" Elyse Elaine will embody Warhol outcast Isabelle "Ultra Violet" Dufresne. Elaine says that the difficult assignment was in fact a blessing in disguise. "For my piece, I'm telling her story about not being with the team anymore," she says. "Many of my numbers are about sexuality, love, and intimacy, but I've never done anything on the sadder side of storytelling."
After getting the cold shoulder in New Orleans, how has the Bay Area scene reacted to Faust's brand? "Sometimes we get new audiences who aren't familiar with what we do, so sometimes you get people who are conflicted or people projecting their own insecurities," says Sgt. Die Wies, notes the "controversy of thin girls vs. fat girls, black girls vs. white girls" and the conflict with latter-day burlesque imagery. "Right now the standard is classic burlesque," says Juicy D. Light. "A friend of mine calls it 'Princess Prancy time'. It's an art unto itself, but it's definitely time for something else."
So what can Livid Cult's audience expect when they sit down for a show? "A new IFC film starring me," says Faust, "A crazy indie perfume commercial, some weird propaganda for a new movie coming out; an Aronofsky or a Kubrick."
"This Pharaoh mindset, this goddess, this golden age of Egypt," says Deville, "but in a dark and twisted way that touches on what's going on in the US."
"A whole other side of me," says Elaine. "A real, raw person."
"Hot metal and gasoline," says Sgt. Die Wies.
"It's all in Dorian's head," says Juicy D. Light, through whatever "it" turns out to be, she's confident that the women of Livid Cult will leave the stage certain of one thing: "I finally found a place where I can do my show."