A new film project unearths archival films, interviews, and footage from 36 years of New York's longest continuously-running women's, queer, and trans-person's theatre.
It is beyond easy to forget past progress when faced with new challenges. This is something known to be dishearteningly true by members of the LGBTQ community, especially in a city like New York, which faces the challenges of gentrification and the loss of spaces for queer women.
We need to take the time to celebrate how far we have come, how much love, support and activism our LGBTQ communities have engendered, and how to support the work, the spaces, and the collectives that we have created over the years.
As such, we are so, so pleased to tell you about a new film anthology being produced as part of New York's Lower East Side History Month, entitled, "Theater of Desire: The Anarchic History of the WOW Café Theater."
The project's director, Shelby Zoe Coley, explains, "Theater of Desire is a short film anthology that takes a look at the history of the WOW Cafe Theater through the lens of desire and survival. Namely, the longest continuously-running trans-person's and women's theatre, WOW has for 36 years been home to artists who have achieved Tony Awards, Obie Awards and NEA controversies. Its non-hierarchical structure has invited a hostility that has threatened its very existence and simultaneously inspired a distinct aesthetic that connects a membership base spanning race, class and the gender spectrum."
The anthology will integrate exclusive interviews and archival footage with intimate follow-along moments and text recitation.
"The anthology," explains Coley, "is an artful and historical exploration of what 'theater of desire' means and how it serves an anti-capitalistic institution in a capitalist society."
She adds, "I recognized how little this institution with its far-reaching history has been chronicled and took up the mantle of tackling the oral and archival history of WOW via film for posterity."
On May 21, Coley and her team are offering the public an exclusive opportunity to come along to WOW to watch a 'work-in-progress' screening of the project.
While all members of the public are welcome to attend, students and educators of Performance are particularly encouraged to come along, as are members of the Lower East Side (LES) community, the queer feminist community and the downtown theatre community at large.
"This is their story, hopefully, well-told," concludes Coley humbly.
The screening event is to be co-produced by WOW Cafe collective member Sir Real. It will include two short films from the anthology, totalling a 35-minute run time, including "Theater of Desire: Split Britches" which features world-renowned performance troupe Split Britches––Lois Weaver, Peggy Shaw and Deb Margolin––explicating the autobiographical and queer ancestral elements of their eponymous debut.
Split Britches Teaser 2: Della from Shelby Zoe Coley on Vimeo.
The second short film "Theater of Desire: The WOW Aesthetic" features interviews with Executive Producer Holly Hughes, Madeleine Olnek, Susana Cook, Hanifah Walidah and more on their favourite WOW productions from 1980 to 2016 and how WOW's content changed as the collective became more diverse.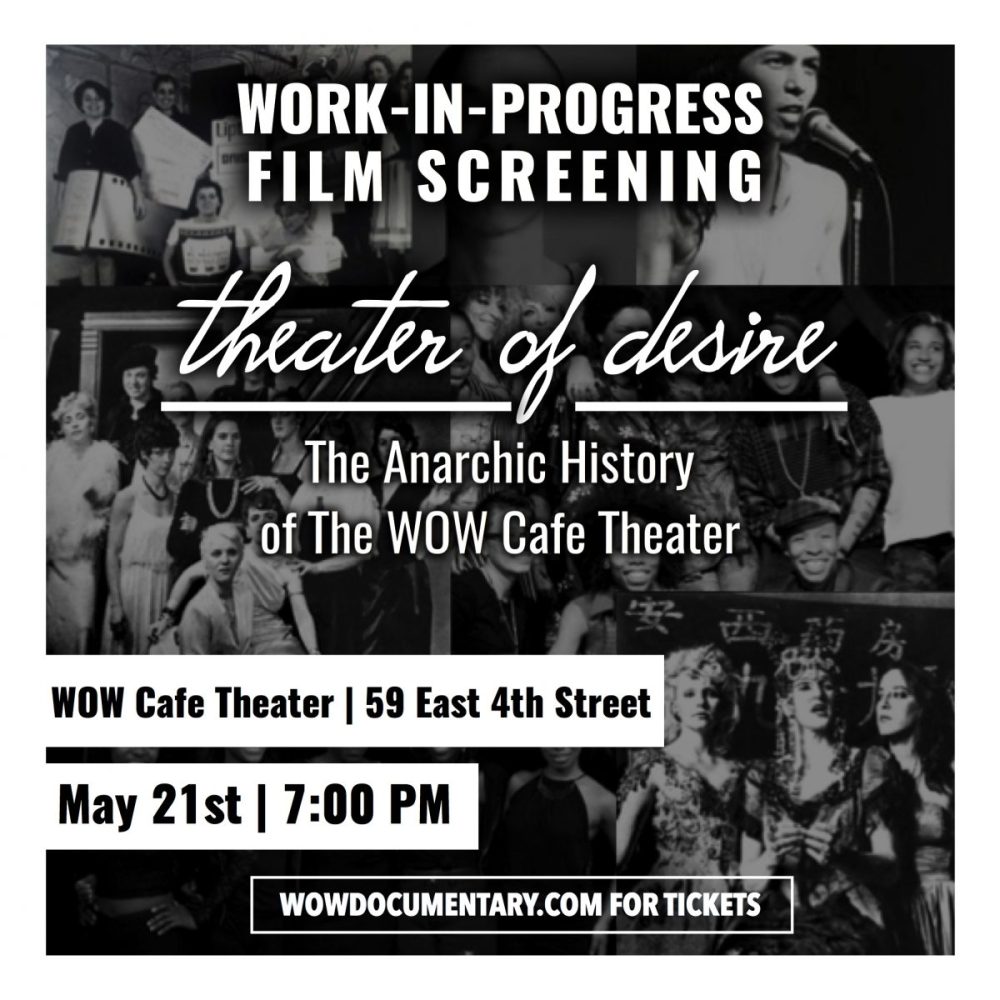 Special guests include Director Shelby Zoe Coley, Madeleine Olnek, Susana Cook, Sharon Jane Smith and more. Like and follow the Facebook page for updates on the screening, surprise guests and exclusive clips.
If you're in New York on May 21, get to 59 East 4th St. Tickets are $5 dollars for Educators and Students, $8 for the general public, $10 at the door. Advance tickets can be purchased here.
We still have a lot of work to do – but we can't forget the live and ephemeral, although indelible, work we've already done as lesbians, feminists, queer women and transgender people, and the passion and sacrifice of the amazing activists and queer performers whose shoulders we now stand on.