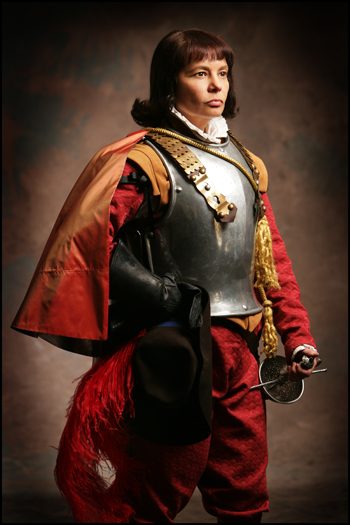 10 lesbian-centric plays you should know about.
Whether you want to laugh or cry, be provoked or just flat out entertained, there's a lesbian-centric play to satisfy your craving. We've made a shortlist of the hottest lesbian plays and performances on our radar. Hulking, Broadway behemoths these may not be, but if you're after some thoughtful, lesbian-friendly theatre, here are 10 shows to look out for.
1. The Lieutenant Nun
From award-winning writer-producer Odalys Nanin, the play is based on the true story of Catalina de Erauso, a 17th-century nun who dressed as a man, seduced women and joined the Spanish Army. Saludamos!
2. My Left Breast:
Susan Miller's Obie award-winning play, about a "one-breasted, menopausal, bisexual lesbian mom." The play was recently revived at the sixth annual Philadelphia Gay and Lesbian Theater Festival.
3. Your Life as a Dyke
From Rachel Forgasz and Nik Willmott, the minds behind the hit comedic play My Life as a Dyke, came this new, hilarious and interactive piece. Featured at Australia's Midsumma 2008 celebration, Your Life offered audience members a chance to share their stories and then watch as these funny ladies performed them.
4. The Beebo Brinker Chronicles
Based on the lesbian pulp novels of Ann Bannon, The Beebo Brinker Chronicles is a stage adaptation that began a 10-week Off-Broadway run in February, proving pulp is good in more than just O.J.
5. Without You I'm Nothing
20 years later, the one-woman show that launched outspoken comic Sandra Bernhard's career back in 1988 has returned to the stage. This past September, Bernhard kicked off a worldwide tour of the show in Washington, D.C..
6. The Second Coming of Joan of Arc
This "one woman-lesbian play" from Carolyn Gage finds St. Joan returning to share her story and its implications with an audience of modern women. The play was even a national finalist for a Lambda Literary Award.
7. Fluid
Written and performed by Erika Kate McDonald, Fluid delves into the murky waters of sexual and gender identity. This smart and comic solo show played at the 2008 San Francisco Fringe Festival.
8. Brave Smiles…Another Lesbian Tragedy
This darkly comic two-act play examines the role of lesbians over time in the arts. Brave Smiles is one of four plays from veteran theatre company The Five Lesbian Brothers.
9. Boston Marriage
From legendary playwright and wordsmith David Mamet, Boston Marriage is a story of lesbian love set in the Edwardian era. Think Henry James with a lesbian twist. Does Mamet hit those Sapphic high marks? You be the judge.
10. Hedda Gabler
Henrik Ibsen's classic has been overhauled and re-imagined as a lesbian drama. Playwright Caroline Kava and the Mauckingbird Theatre Company are breathing new life into the old drawing-room. (Jan. 10–29, 2009)