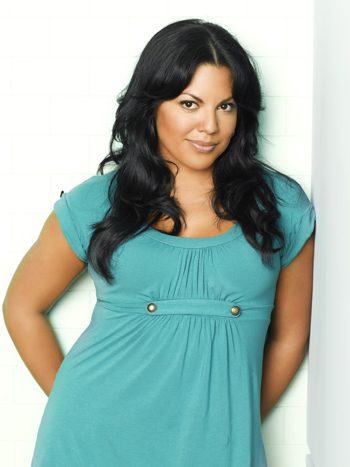 Last week ABC sliced lesbian fave, Dr Erica Hahn, from the show. What's the deal?
Fans of Grey's Anatomy will have to bid Sapphic elevator smooches and awkward motherland-south-of-the-border discussions adieu following ABC execs' shocking and unexpected move to axe actor Brooke Smith from the popular show's cast. Smith, aka Dr Erica Hahn, along with Dr Callie Torres (played by Sara Ramirez) made up the lezzie phenomenon known as "Callica."
The two began a subtext-heavy friendship in season four, which culminated in the season finale, with Torres giving the boot to her occasional bed companion, Dr Mark Sloan, in favour of a parking lot smooch-fest with Hahn. This move was met with a resounding cheer from lesbian and bisexual viewers and spawned numerous YouTube tribute videos and fan fiction sites aplenty.
Season five picked up with the two tentatively beginning their relationship. They went on a date, processed at length—and then finally got their groove on. With a Sapphic session so earth-shattering it led to Hahn's joyful realization that she was "So gay—so, so, so gay—extremely gay."
So, despite some minor, but alarming, phallic backpedalling on Torres' part, the pair had promise. That was, until suddenly and without warning it was over, with Hahn making her final exit following an abrupt break-up with Torres on the November 6th episode, "Rise Up."
Officially, Smith was given her walking papers due to a lack of "chemistry" between the actors. "Unfortunately, we did not find that the magic and chemistry with [Smith's] character would sustain in the long run," said producer and show creator Shonda Rhimes.
However, the marked change in new cast member Melissa George's character from sexually open-minded to, well, not so open-minded, leaves fans to speculate that Smith's unceremonious exit had less to do with on-screen sizzle-factor than a return to a more traditional couples-only attitude.
Out producer Nikki Weiss who (along with Trish Doolan) consulted when the lesbian storyline was introduced, had this to say of the network executive's decision: "It's disappointing but I have high hopes that ABC will continue developing Callie's journey as a lesbian woman," adding "I am a lesbian woman in the entertainment industry, so obviously I am fighting the cause for all of us…but unfortunately there is only so much I can do."
So, for those of you who are counting, we are now down to a sad, four bisexual and three reoccurring lesbians (four, if you count Aunt Patty from the Simpsons) characters on network television.
But on the bright side, at least Dr Hahn was able to make her exit without descending into the pervasive stereotypes for lesbian characters on network TV—she was neither pregnant nor a sociopath bisexual killer.