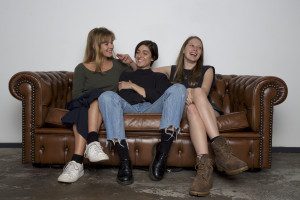 A play about a complex lesbian relationship
Written by the American playwright, Audrey Cefaly, 'The Gulf' was the recipient of the 2016 Edgerton New American Play Award and explores the volatile and tender relationship between Betty and Kendra; two women deeply entangled in the throes of love, who are forced to examine the waters that divide them.
At the helm of LUME Productions are three outstanding women – Brenna Harding (Puberty Blues, A Place to Call Home), Mia Lethbridge (Barefoot in the Park, The Cafe) and Diana Popovska (PLANS, Cowboy Mouth).
"After Brenna and I worked together on a short film, we felt driven to explore the world of complex same-sex relationships further," says Diana Popovska, playing Kendra. "I set out to find a play that did this and we were lucky enough to find Cefaly's 'The Gulf.'
"Our search for this play made it clear that lesbian characters are barely present on stage, and when they are they are often stereotyped or on the sidelines," says AACTA nominated and Logie Award-winning actor Brenna Harding, who plays Betty in 'The Gulf'.
"Queer women should see themselves represented in nuanced and diverse ways and this play offers that opportunity."
Director Mia Lethbridge is honoured to bring this beautiful work to the Australian stages for the first time. "This is what Australian stages need more of," Lethbridge says. "The Gulf is a story about two people exploring what it means to be in love. Cefaly puts women at the centre, whilst destigmatising same-sex relationships. I am beyond excited to be bringing this important piece of theatre to life".