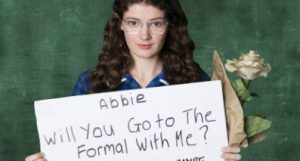 A new romantic comedy about a teenager struggling with her sexuality.
From acclaimed triple-threat, actor-writer-director, Monica Zanetti, comes a brand new romantic comedy in the tradition of Holding the Man. Ellie & Abbie (& Ellie's Dead Aunt) is a touching and timely look into the heart of a teenager as she struggles with her sexuality and her simple wish to ask a girl to the formal.
Coming to the Depot Theatre this month is a hilarious, heartwarming, romantic comedy that you won't want to miss! It's thrilling to finally start seeing an increase of, not only lesbian productions, but theatre involving all letters of the LGBTIQ+ community – it's about bloody time! Not only does this play address real-life obstacles LGBTIQ+ youth face in their day to day lives, it also explores how deeply important the love and acceptance from our families, or lack of, can impact us on a multi-faceted level. 
When Ellie, an 18-year-old student, realises she has fallen for a girl in her class, Abbie, all she can think about is how much she wants to ask Abbie to the formal. But, it's just not that simple, in a world where girls are still supposed to ask boys to school dances. Luckily Ellie's deceased Aunt has turned up in the form of a fairy godmother to help her navigate not only the awkwardness of first love but also the disapproval Ellie faces from her mother.
With a stellar, all-female cast, including local theatre legend, Margi De Ferranti, Ellie, Abbie and Ellie's Dead Aunt was inspired by a lack of romantic comedies featuring and focusing on lesbian relationships. Zanetti, herself a proud member of the LGBTI community, wrote this beautiful show amidst the disheartening environment of the 2016 plebiscite bill and the hateful, deadly shooting in Florida. Zanetti wanted to create something positive. A show that was important, yes, profound, yes, but also one that is charming, sweet and entertaining regardless of the sexual preferences of those viewing it.
Ellie, Abbie and Ellie's Dead Aunt is a love story, one that all people can enjoy. Like Cinderella before her, Ellie, with the help of her own fairy godmother, will find out if love indeed conquers all!